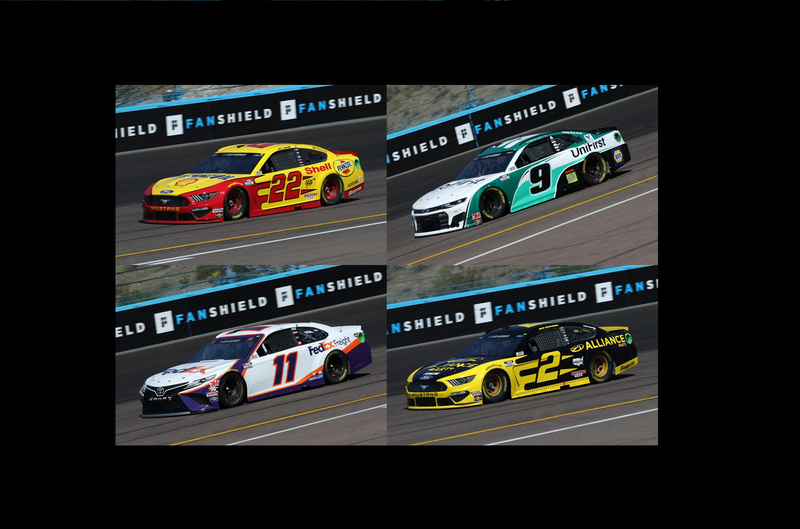 By Zane Miller
The 2020 NASCAR Cup Series season championship will see Joey Logano, Chase Elliott, Denny Hamlin and Brad Keselowski face off to win the 72nd championship in Cup Series history. The race will also be the seventh since the Championship Four format was established in the 2014 season.
Logano is 1 for 3 in his previous Championship Four appearances, losing in 2014 and 2016 before earning his first championship victory in 2018. As for the 22 car, it has won the championship three times prior in 1949 with Red Byron, 1983 with Bobby Allison and in 2018 with Logano.
This is the first Championship Four appearance for Elliott, however, the 9 car is no stranger to championship success, winning with Chase's father Bill Elliott in 1988.
Hamlin is 0 for 2 in his past visits to the Championship Four, losing in 2014 and 2019. On the other hand, the 11 car has won eight championships previously, winning with Ned Jarrett in 1961 and 1965, Cale Yarborough for three consecutive years in 1976, 1977 and 1978, then three more with Darrell Waltrip in 1981, 1982 and 1985.
Keselowski is the only returning champion other than his teammate Logano, however this championship was won in 2012, before the current playoff format was introduced. Keselowski is 0 for 1 in his only prior Championship Four appearance in 2017, while the 2 car has two championships under its belt, winning in 1980 with Dale Earnhardt and in 2012 with Keselowski behind the wheel.
Championship Four Results (since 2014)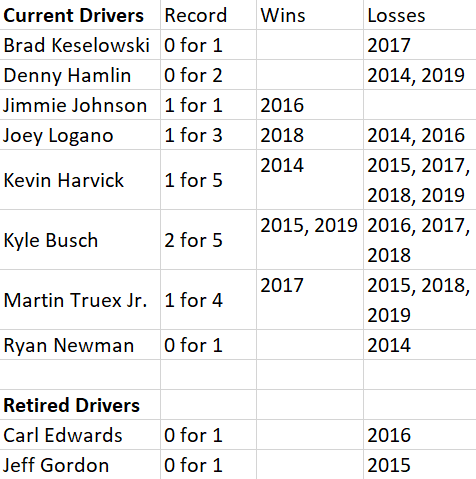 Follow me on Twitter: https://twitter.com/Zmiller_82