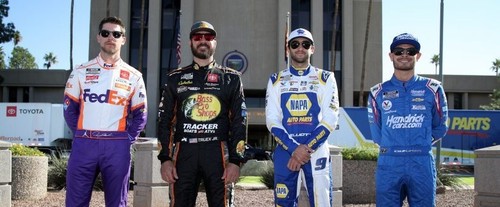 By Zane Miller
The 2021 NASCAR Cup Series season championship will come down to Kyle Larson, Chase Elliott, Denny Hamlin and Martin Truex Jr. battling it out to win the 73rd championship in Cup Series history. The race will also be the eighth since the Championship Four format was established in the 2014 season.
Larson is making his first career Championship Four appearance, however, the 5 car has previously won a Cup Series championship with Terry Labonte taking Rick Hendrick's number to the 1996 title.
Elliott is 1 for 1 in his only other Championship Four appearance, as he claimed the title in the 2020 season, adding to the 1988 championship won by his father Bill Elliott, also running the 9 car.
Hamlin is 0 for 3 in his past visits to the Championship Four, losing in 2014, 2019 and 2020. However, the 11 car has stockpiled eight championships, winning with Ned Jarrett in 1961 and 1965, Cale Yarborough for three consecutive years in 1976, 1977 and 1978, then three more with Darrell Waltrip in 1981, 1982 and 1985.

Truex has also somewhat struggled in his Championship Four opportunities, going 1 for 4. While winning the championship in 2017, he has come up short in 2015, 2018 and 2019. On the other hand, Truex earning the championship this season would make history as the first Cup Series title for the 19 car.
Championship Four Results (since 2014)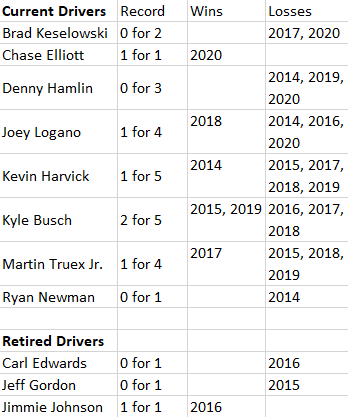 Follow me on Twitter: https://twitter.com/Zmiller_82