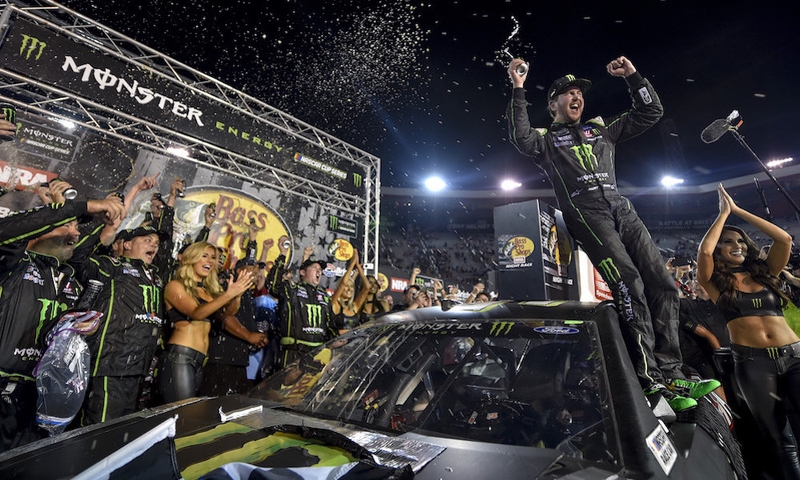 Photo Credit: Harrelson/LAT
Kurt Busch broke a 58 race-long winless streak in the Monster Energy NASCAR Cup Series after winning the Bass Pro Shops NRA Night Race at Bristol Motor Speedway on Saturday night, also securing his spot for the first round of the playoffs.

The race started out with Kyle Larson leading the first 13 laps after winning the pole, but was overtaken by Kevin Harvick after a 15 car accident set up a restart. Despite the large number of cars involved, only AJ Allmendinger, Bubba Wallace, Michael McDowell and Jesse Little exited the race as a result of the wreck. Larson briefly retook the lead, but was passed again, this time by Ryan Blaney, who held on to win stage one at lap 125.
When the race resumed however, it was Kevin Harvick who held the top spot going into the restart, but it was Chase Elliott who took the lead and held it for the next 54 laps. Blaney regained the lead on lap 192, but a spin on lap 199 set up a restart that allowed Joey Logano to take the lead and go on to eventually win stage two at the halfway point of the race on lap 250.
Logano continued to hold onto the lead going into the final stage, but Elliott grabbed the lead once again until an accident that took Reed Sorenson out of the event set up a restart that allowed Clint Bowyer to take the top spot and hold it for the next 86 laps, until another caution came that took Martin Truex Jr. and JJ Yeley out of the race. Bowyer held the lead throughout the next green flag run, however another spin set up another restart with 24 laps to go. This time, Kurt Busch took the lead for the first time in the race and looked to be cruising to victory until yet another accident set up a restart with 13 laps to go. However, Busch would make no mistake on the restart as he held off Larson to win his first race of the season and his first race since the 2017 Daytona 500.
Blaney led the most laps in the race with 121, going on to take a seventh-place finish.