By Zane Miller

As of the 2021 racing season, there have been 14 drivers in the Cup Series with their hometown listed in Nevada. So far, drivers representing the Silver State have picked up 89 wins, 369 top-fives and 659 top-10s in 1,462 starts.
Currently, Nevada is represented in the Cup Series by brothers Kurt Busch, who made his debut in 2000, and Kyle Busch, making his debut in 2004. However, the duo could be soon joined by fellow Nevadan Noah Gragson, who will be attempting to qualify for the 2021 Daytona 500.
5. Bob Ruppert (Active 1955-56)
Ruppert claimed one top-10 in three Cup Series starts, as he finished sixth in his debut race at Las Vegas Park Speedway in 1955.

4. Brendan Gaughan (Active 2004-20)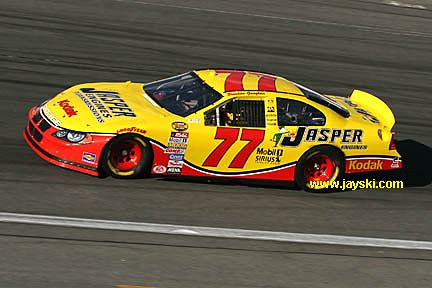 Gaughan took one top-five and eight top-10s in 67 races, with his career-best finish of fourth at Talladega Superspeedway in 2004. Gaughan only made one full season in the series, as he finished 28th in points during the 2004 season.
3. Eddie Skinner (Active 1955-58)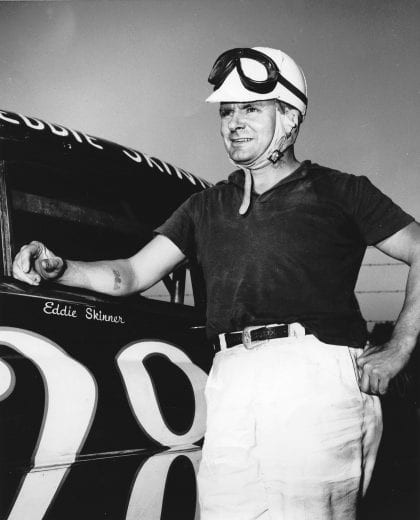 Skinner picked up four top-fives and 17 top-10s in 72 starts, claiming a best finish of fifth four times during the 1955 season. The 1955 season was also the only season in which Skinner drove more than half the schedule, as he earned a seventh-place points finish.
2. Kurt Busch (Active 2000-pres.)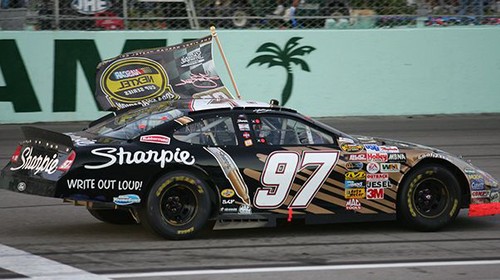 The 2004 Cup Series champ has scored 32 victories, 150 top-fives and 317 top-10s in 720 races so far. Along with the championship win in 2004, Busch won the 2017 Daytona 500 and has finished in the top three in points three times.
1. Kyle Busch (Active 2004-pres.)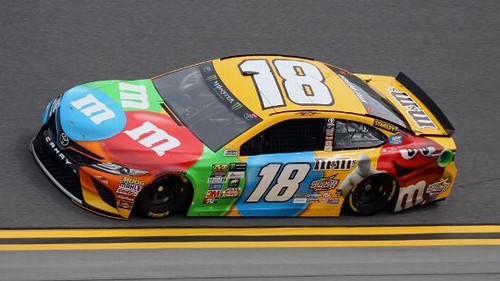 The 2015 and 2019 champion has taken 57 wins, 214 top-fives and 316 top-10s in 570 starts to this point, on top of winning rookie of the year honors in 2005. Busch also has the longest active winning streak by season, as he has won at least one race in every season since joining the series full-time in 2005, and has finished in the top three in points four times.
List of Cup Series drivers (current drivers highlighted in yellow)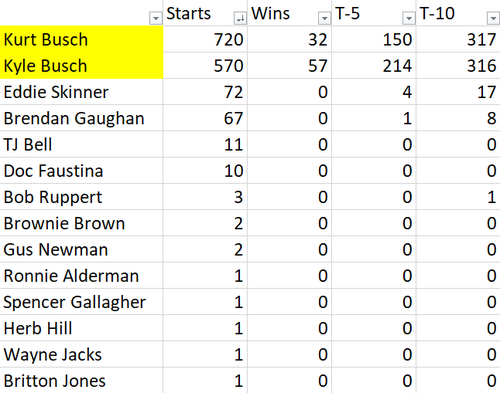 Follow me on Twitter: https://twitter.com/Zmiller_82