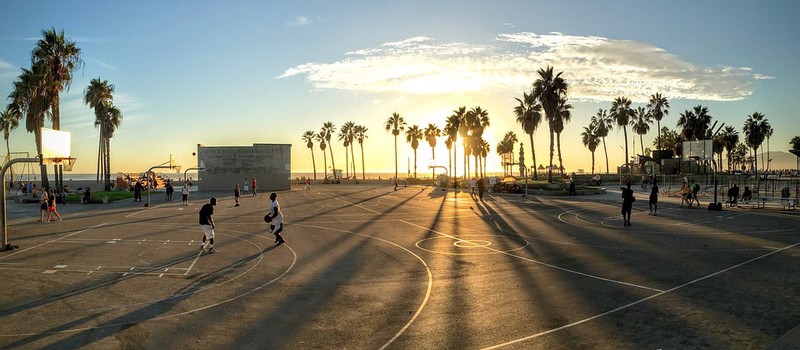 I love sports, and I mean all sports. So long as I can win or lose and there is something competitive about, where I can try to do something better than someone else, well then you have my attention. I have played a bunch of sports competitively over the years - soccer, golf, squash, Gaelic football, Hurling, Athletics, Triathlons, but I never played basketball competitively, yet I do have a love for the sport and a nostalgic connection to it. And, I suppose in a way I actually do play it competitively every now and again these days when my 5 year old son and I battle it out in Wii sports to see who can shoot the most hoops against the timer!
I'll elaborate on that a little later on, but let's kick off with my introduction to basketball in the schoolyard, and maybe this goes some way to explaining why I never played it competitively as a child!
School Yard Basketball
It was 1986 and I was almost old enough to go around to the big yard at the back of our primary school. Back then the front yard was for the younger kids in baby infants and senior infants, but once you hit the dizzy heights of first class, you could go around to the big yard all by yourself on lunch break. It was near the end of my senior infant year, and I was curious to see what all the fuss was about this back yard, so one day I decided I'd have a sneak peak.
I would nip around the corner, have a quick look about and come back and tell all the boys and girls in my class what it was like and show off that I had been brave enough to sneak around the corner for a look. The scene was set, it was a nice sunny day, and I was ready for my adventure. As I rounded the corner, before I could even take in the wonderful surrounds of the big boy yard, I was knocked to the ground with a thud. My head was spinning and all the big boys and girls were gathered around me. I had no idea what had just happened, until I saw the basketball lying there beside me. It turned out that one of the big boys had let fly with a kick and sent the basketball hurtling towards the corner just as I rounded it, and I took the full force of it straight in the mush!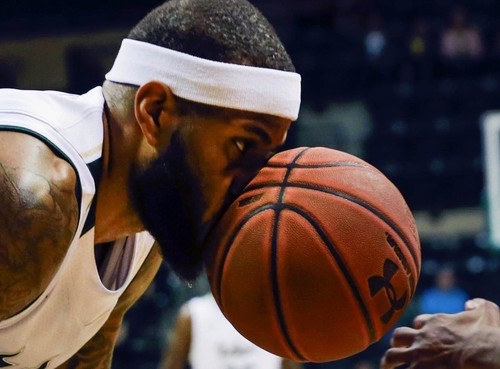 So suffice to say, I didn't sneak around the corner again any time soon, I had no fantastical stories to share with my little buddies and I developed a healthy suspicion and distrust of basketballs!
Secondary School
On I went to secondary school, and I was playing loads of sports at this stage, but basketball wasn't one of them, that sunny day in 1987 probably played its part in me never bothering with this sport in my early years.
The school I choose turned out to be a very successful basketball school, and won lots of local titles, and had competed in national finals on a number of occasions over the years, so it turned out that some of my best mates at school played and loved basketball. On lunchbreak, we often played one sport or another, but because our school was on a tight campus in the city centre, space was at a premium, and the football and rugby pitches were a 10 minute walk away, but there was a basketball court, so oftentimes, we would shoot a few hoops together. Some days there would be full court games, other days we would all shoot into the same basket in 2 on 2 or 3 on 3 matches. Now, I was nowhere near as good as my mates who played basketball for a team, but I was handy enough, and used to really enjoy these little lunchtime battles.
Another thing we used to do was have competitions to see who could score a basket from the furthest away from the basket, and we would start with say 6 guys right under the basket, and all have a go, then take a step back and all have a go again, and keep going back and back until there was only one guy left. If you missed you were out. I remember a few times when the best players would be getting 5 yards out past the 3 pointer line. One time when I had been knocked out from early on, and ran to get a stray ball and I stood on the halfway line, and said: "Hey lads, will I have a go from here!?" I went for it with a football goalkeeper type throw and I shit you not that badboy swoshed straight into the middle of the basket and the lads went wild!! That was my best moment on a basketball court and I still remember it fondly!
Swoosh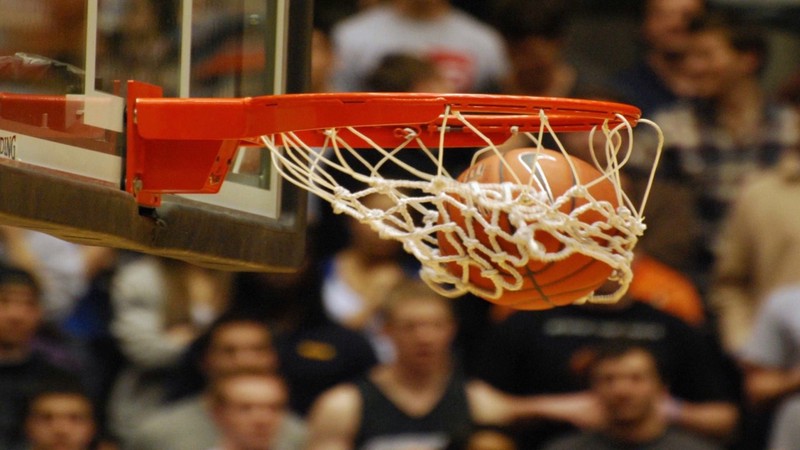 The sound and sight of that swoosh shot is a really cool part of this sport. I haven't had too many of them from outside the 3 pointer line, but that one from the half way line in secondary school will live long in my memory :o)
NBA in 1990s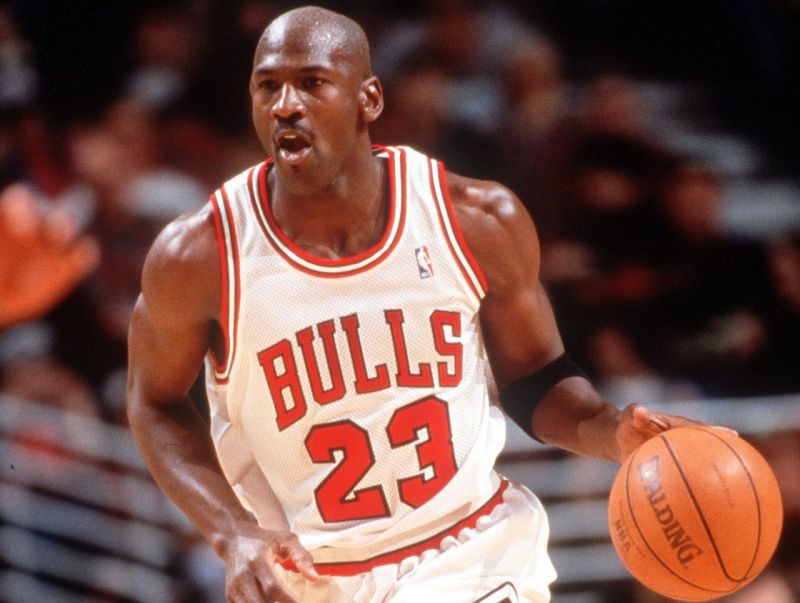 My mates in school were big into the NBA, and I guess if you grew up in the 90s, you'd have to have known about the NBA. Names like Michael Jordan, Scottie Pippen and Shaquille O'Neal were known all around the world and in Ireland the Chicago Bulls and the Boston Celtics were the popular teams.
I never had any of the basketball singlets growing up, it was all football jerseys for me, but now after some visits to America, I am the proud owner of 2 Boston Celtics singlets and a Chicago Bulls one, they are the perfect material for a hot summer day on holidays.
Thinking back to these NBA days though, for me one player sticks out more than all the others, and that is Tyrone Curtis "Muggsy" Bogues. The incredible thing about Muggsy was that he managed to play basketball at the highest level, even though he was only a little over 5 feet tall!!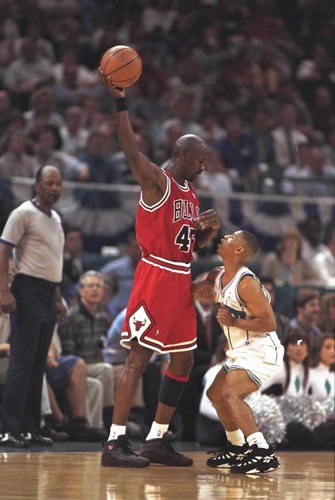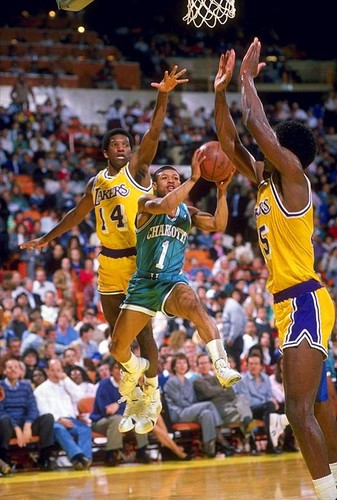 In his rookie year with the Washington Bullets around the same time as I was taking basketballs to the face in 1987, he was drafted in as one of the top picks and ended up on a team with the tallest player in NBA history, Manute Bol, who stood at 7 foot 7 inches. Now that's what you call a contrast! He had a great career, and was classed as an exceptional passer, a brilliant stealer, and unbelievably one of the fastest players on the court. There was just something about seeing Muggsy playing against these huge men that was like a modern day David and Goliath, which I just couldn't take my eyes off.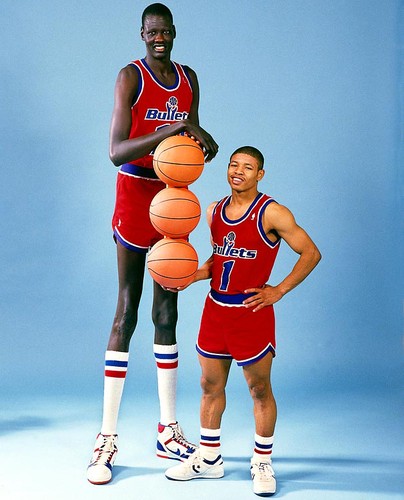 Irish Basketball Finals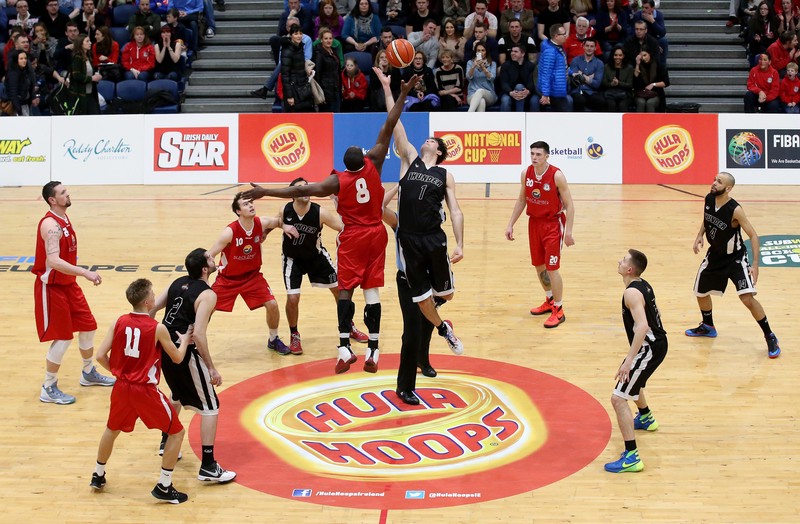 While basketball would not be anywhere near the pinnacle of sports in Ireland, they do show the national final on television every year and I remember seeing some very memorable finals down through the years. It wasn't all slam dunks and trick shots like the NBA, but it was very entertaining stuff, and the games were usually very close and it would be nip and tuck for the 4 quarters. Back then Neptune and Star of the Sea were the big teams and it was usually one of them that took the honours each year, but more recently college teams from UCC and UCD have been taking the title, and it is safe to say that the future of basketball in Ireland looks bright.
Olympics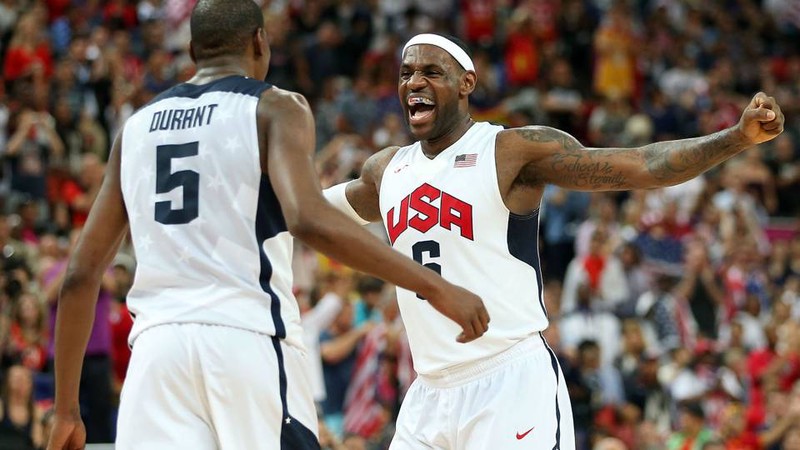 Since basketball became an Olympic sport way back in 1936, the Americans have ruled with an iron fist. They claimed the gold medal in 1936, and continued in this fashion for the next 6 Olympic games. It would not be until 1972 that the Soviet Union would topple them into 2nd place, and over the next few Olympic games, they won every second one, with Yugoslavia spoiling the party in Moscow in 1980, and Soviet Union again in Seoul in 1988. Since then only the Argentinians in 2004 have managed to pry the gold medal away from the USA dream team.
This type of domination in sport usually leads to people wanting to see you lose or see someone else get a shot at the glory, but seeing the USA basketball in full flow, with unique flare and skill means I would happily see them win year after year, just to watch them play in this way.
Well done to those Soviet, Yugoslav and Argentinian teams of yore though, it's no easy feat to beat the Americans as basketball.
Playing virtual basketball
I've played my fair share of sports games over the years, and there were some great basketball games which I tried my hand at over the years, but the games consoles have long since been put away in the attic.
Recently though, we dusted off the Wii to allow my 5 year old boy have a few gos of Mario Kart and Wii Sports, and it turns out he loves both of them.
Basketball on Wii sports is a firm favorite and he's getting pretty handy at it now.
Just remember to use the wrist band!!!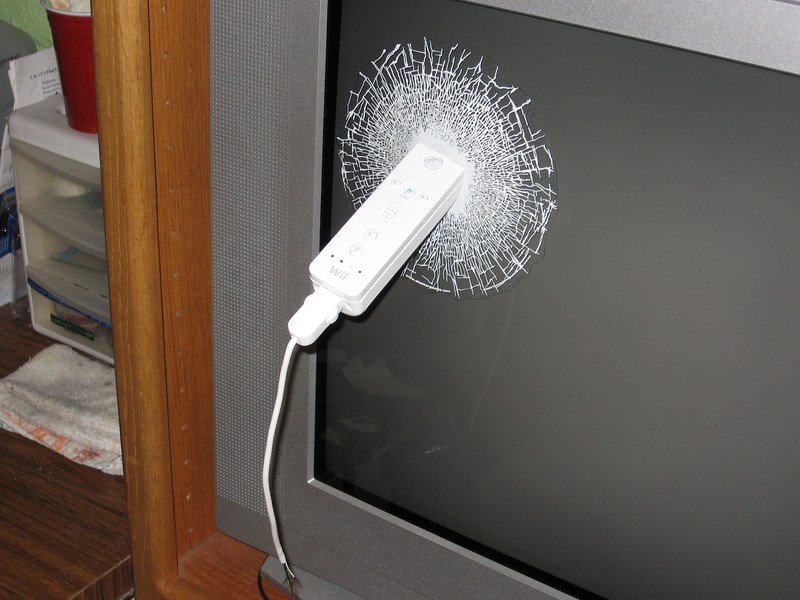 Hall of fame entry
This is my entry into @liuke96player's Hall of fame contest. I was lucky enough to win this last week when I talked about my love of football. You basically talk about your passion for a particular game or sport each week, and this week, the sport of choice is basketball.
Why not have a go yourself? Write up a nice post about basketball and post a link in the comments of the post below, which also outlines the contest.
Good luck to everyone.
https://scorum.com/en-us/basketball/@liuke96player/scorum-hall-of-fame-week-3-winners-and-basketball-50-scr

Thanks as always for taking the time to read my post.

Peace Out.