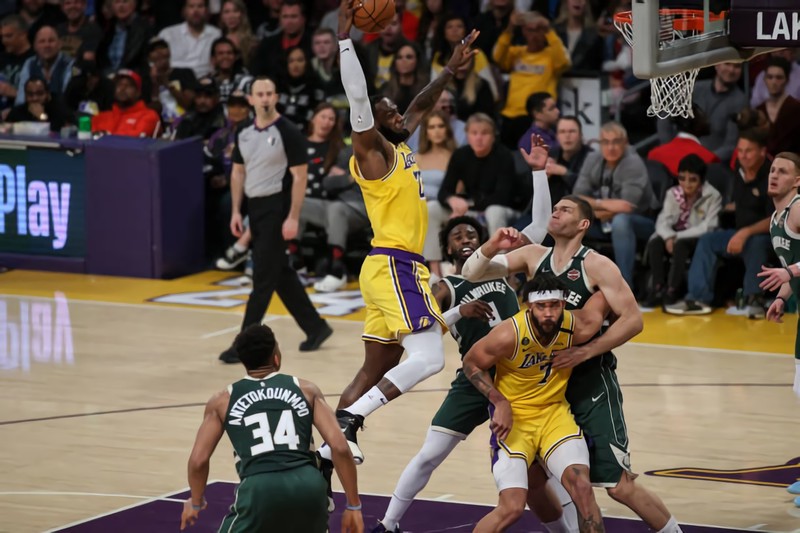 Los Angeles Lakers vs. Milwaukee Bucks
The weekend was interesting because of the sports day that I was able to enjoy and analyze, more specifically about the NBA in the 2 confrontations that the Lakers had against weighty rivals, potential contenders to the NBA championship, the Lakers had a great behavior as a team improving exponentially their Team Work, first against the leaders of the East conference the Milwaukee Bucks a team that has shown that they are serious contenders for the title with their star leader Giannis Antetokounmpo but to whom the Lakers made a great statement of their game to win 113 -103 in this victory of the Los Angeles team the combination between Lebron James and Anthony Davis was decisive between the 2 scored 67 points, followed by Kyle Kuzma who scored 11 Pts. The defensive work on Giannis Antetokounmpo was very good who scored 32 Pts but the overall defensive balance was excellent.
Los Angeles Lakers vs. Los Angeles Clippers
The Lakers would then have a day to rest to face their neighboring rivals the Los Angeles Clippers on Sunday in a duel against last season's MVP Kawhi Leonard with his squad member Paul George and company, it would be a great test for the Lakers, the game was very good and the atmosphere was one of playoffs, although the Los Angeles Clippers put up a great deal of resistance with Paul George and Kawhi Leonard leading the offense, George scoring 31 Pts and Leonard 27 Pts. Lakers would assume with a great demonstration an efficient concentration and once again Anthony Davis and Lebron James would be key factors in this great victory of Lakers over Clippers 112 -103 but this time an X factor would be added to the Lakers offense and this was Avery Bradley who would contribute 24 Pts. and would be an important factor being very effective from the perimeter.
The Lakers as time goes by this season are getting stronger in their game structure and they have been able to overcome these 2 fire tests against 2 of the best current teams in the NBA like Milwaukee Bucks and the Los Angeles Clippers that don't give their rivals a chance generally, but the Lakers did a great job in getting these 2 key wins.
Let me know what you think about the analysis and if you like you can add some comments to stimulate the level of interaction, hopefully they are enjoying the NBA as much as I usually do.