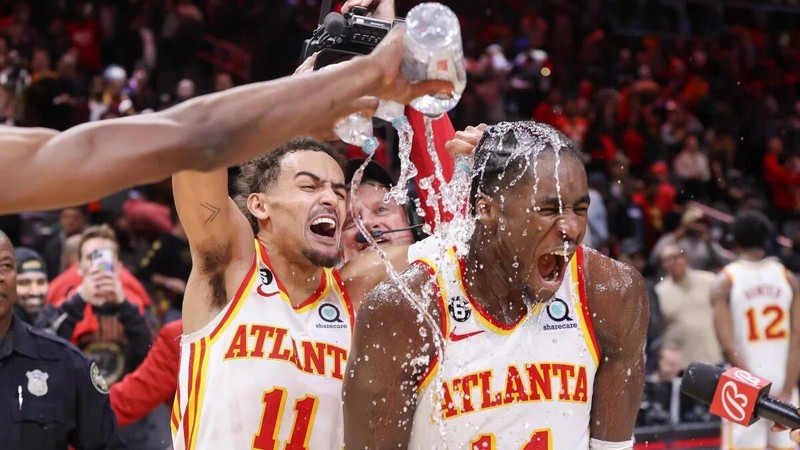 As usual I was checking the schedule to know what interesting games were going to be played and also to make some bets and when I saw the schedule I thought that the Bulls could give a good game to the Atlanta Hawks and beat them.
The game was extremely hard fought throughout the 4 periods, at some point Atlanta took the lead but Chicago managed to get back on the scoreboard and get closer.
But the craziest and most unusual thing happened in the last quarter and then extended to overtime.
To expose the details it all started with a foul committed to Derrick Jones Jr. taking an important rebound, on the scoreboard Bulls were losing by 1 point, but Jones Jr from 2 free throws could only make one of the shots, losing the opportunity to annihilate the game from the line then would come the overtime where everything would be crazier.
The game would remain close in overtime Trae Young would make a basket from mid distance with only 2 seconds left on the overtime clock here everything would get crazier Atlanta would go ahead by 2 points, but then with 1 second left on the clock DeMar DeRozan would draw a foul from the perimeter on Bogdan Bogdanovic, DeRozan would convert all 3 free throws from the line and give the Bulls the lead by 1 point, with 5 thousandths of a second left on the game clock.
As still despite the madness that had been implemented in the game with unexpected plays and calls, Atlanta called time to get the ball closer to the basket on their home court, Jalen Johnson would get the ball right into the hands of AJ Griffin who would spin in the air with 5 thousandths of a second left and make the basket to give the Hawks the win by 1 point.
Many fans comment that the NBA is manipulating the games to get this kind of suspenseful finishes, watching the game this way it seems that way, but I think the Bulls had the game in their hands several times and let it slip away by not making the free throws in the case of Derrick Jones Jr, and by the bad defense also responsibility of Jones Jr.
This has been the craziest and most unusual game I have seen this year and in many years of basketball, if you have seen a crazier game than this one, leave your comment, don't forget to like it, if you enjoyed the specific content of this basketball podcast Fragments.
Enjoy the work in this podcast and don't forget to subscribe for future updates.
Twitter https://twitter.com/agfnzn1
Instagram @dread_negro