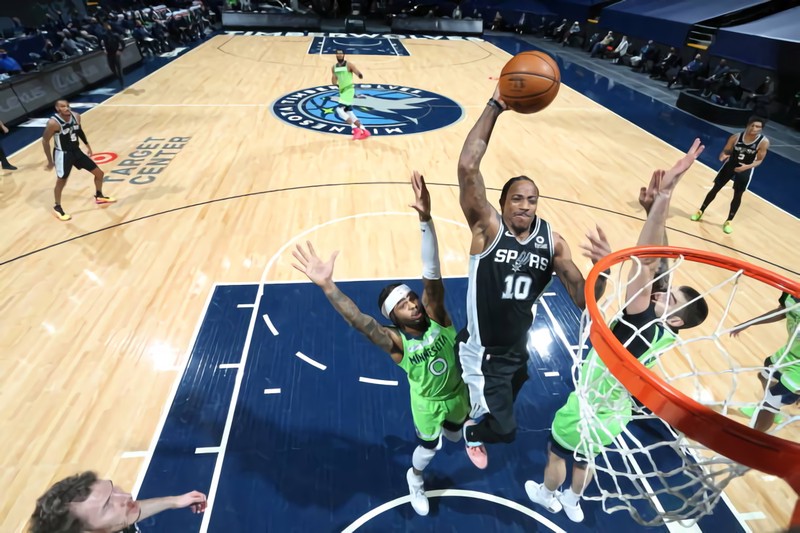 Great day Saturday to enjoy the excitement that the NBA offers us, today we will observe the San Antonio Spurs team very balanced with a combination of experienced players and youth against Minnesota Timberwolves who also have a team full of young talent, it will be an interesting meeting.
First Half
The duel would start off very balanced and the teams would exchange baskets, Malik Beasley would convert an effective shot from the perimeter and then Russell would score a basket on penetration and give Timberwolves the advantage, Keldon Johnson would respond for the Spurs with a basket on penetration and decrease the advantage, Murray would score from half distance and the game would become more closed, Anthony-Towns would score an effective shot from the perimeter, ending the first quarter winning Timberwolves by 3 possession.
DeRozan attacked the basket in penetration and placed the Spurs with only 1 possession, he continued the game in total balance, Rubio assisted Vanderbilt with a great alley-oop, DeRozan scored by the board and placed the Spurs in advantage, Ricky Rubio scored in penetration, then Russell also scored in penetration, Beasley converted an effective shot from the perimeter, ending the first half winning Spurs by 1 possession.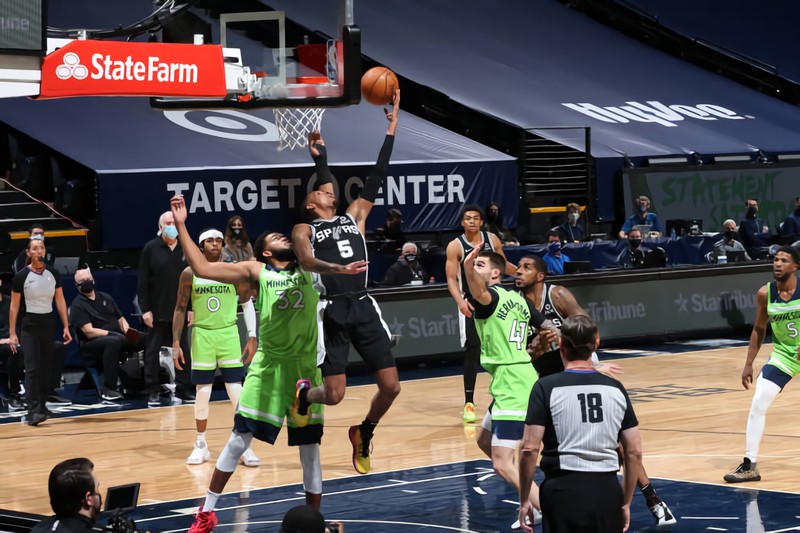 Second Half
Anthony-Towns scored a medium distance hook and reduced the lead to 5 points, Towns took a rebound and converted the basket, DeRozan in transition turned the ball over to the Minnesota defense, Hernangomez took an offensive rebound and scored, Rudy Gay scored a half-distance shot, Edwards scored a penetration tray, Reid scored an effective shot from the perimeter and brought Timberwolves within 1 possession, ending the fourth with Timberwolves winning by 2 points.
Spurs would regain the lead with 2 effective triple from Mills, Edwards converted a basket into penetration and regained the lead for Timberwolves, Murray converted an effective shot from the perimeter and the duel became a round trip with intermittent changes of lead, Towns assisted Culver who scored near the rim, DeRozan scored a EuroStep into penetration and tied the game, the game would be tied and we would go into overtime.
Overtime
None of the teams gave their arm and kept exchanging baskets where they intermittently changed the lead, Mills converted an effective shot from the perimeter and gave Spurs the advantage, DeRozan got the foul and scored the 2 free throws, Anthony-Towns pitched a ball on the rebound and reduced the lead, Spurs squeezed the clock and Mills scored a mid-range shot, the defense and a better close down gave Spurs 125 - 122 victory over Timberwolves in what would be an excellent game.
Best Performances
DeMar DeRozan 38 Pts. 5 Reb. 5 Ast.
Dejounte Murray 22 Pts. 14 Reb. 4 Ast.
Patty Mills 21 Pts. 1 Ast.
Leave me your impressions and opinions about the game and we'll set up a true luxurious interaction.
You can also follow me on:
Twitter @agfnzn1
Instagram @dread_negro