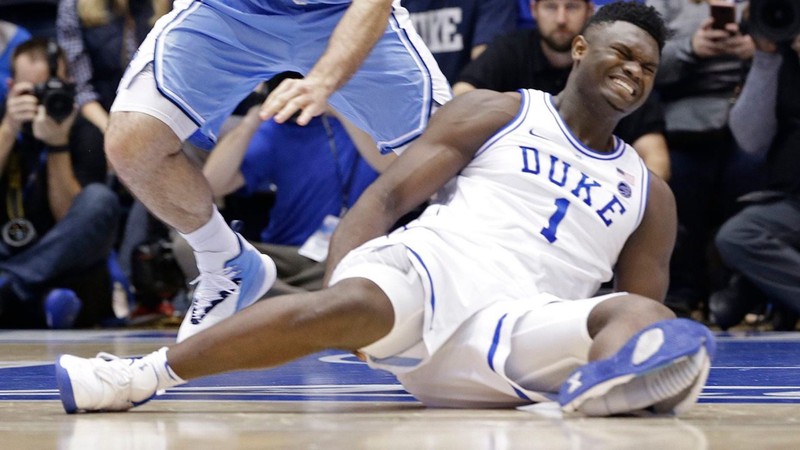 One of the noisiest thing that happened in the basketball kingdom last Wednesday was the injury of Zion Williamson during the Duke vs. North Carolina game. It even raised a lot of debate coming from the media and NBA players with things like college players should also be paid, or that the draft age should also be reduced, but to me the biggest debate is coming from a lot of NBA players suggesting that Zion Williamson should sit out the rest of NCAA season to protect his up and coming professional career.
With a lot of people saying that college players should also be paid because of millions of views that NCAA tournament is able to garner every night, now comes into focus on the career of Zion Williamson who is set to be number one pick this coming NBA draft and people have the big scare due to injury he got due to his blown out shoe. Players like DeMarcus Cousins, Donovan Mitchell, Lebron James, Isaiah Thomas, Trae Young and many others saying he should chill out for the rest of the season healthy or not.
Paul George whose name is on the signature for the Nike shoe model that Zion Williamson wore immediately reached out and is saying that his main concern is Zion's recovery and health status. He has a different opinion about sitting out Zion Williamson

Paul George said:
"Because he got hurt? That's part of the game"
"Injuries are part of the game. That's getting a little too much into business stuff. He went to college to play basketball, to win a championship ultimately. To get injured one time, if he wants to shut it down, injuries are part of the game."

Some other players have the same opinion like that of George and to me I side on that opinion too. Winning a college championship is just not about money and that is how these college players also have earned their training and exposures. For me, there are no enough reasons at this time to end that rich tradition. Young players are fighting it out for honor and tradition for their Alma Mater and money is out of the question at this stage of their career.
Here is a show that discussed their voices if Zion Williamson should sit out or not:
How about you? Do you think should Zion Williamson sit out for the rest of the season?