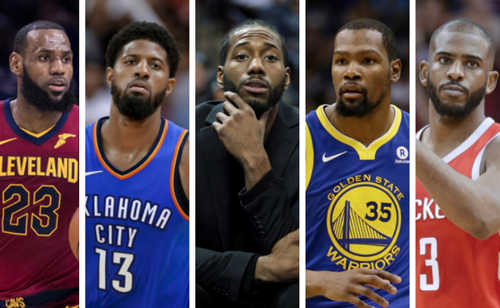 Hello all,
Every season there is so many articles and buzz in media and on social networks about NBA Free Agency and where NBA Stars will play the next season. For NBA Franchise, a very hard and dedicated work is involved in making those decisions and trying to keep or get the best NBA players. A lot of rules, restrictions, cap space management and other is part of that process.
For media and social networks is not the same, of course. When writting about that, sometimes motives are just more clicks and not facts and true or inside information. A tons of articles are being written everyday about new LeBron's decision, Kawhi departure from Spurs, how will Warriors keep the best players etc.
Like I wrote before, keeping or getting NBA Stars to your team is very hard process where lot of facts and information are being took into account when making those decisions. At the end, NBA Stars are the ones who are making those decisions at the end. They are provided with so much information about every possibility and in most of decisions, I believe that they think about everything before final decision.
But, sometimes, do you think that the motives are more clear and simple? Like, I want to play with that player, I liked that NBA team always, I just really don't won't to go anywhere else, I always wanted to work with this coach....
Instead of writting just another article about where will some NBA Star go and write about it, explaining, giving some facts, some info, inside or well known, let's try something else.
Try to break this in one sentence - This summer in NBA Free Agency where will be landing spot for your favorite (or not favorite) NBA players and why?
I will start with couple of examples, feel free to join in.
LeBron James – Stays in Cleveland because everyone knows that playing with him will make them title contender and as he is 33 years old and with everything he done so far, other top players should come to play with him, not him to go the other way.
Paul George – Goes to San Antonio because after depart of Kawhi Leonard, he will be the best match for them and he would play in good system with great coach where he would be number 1 player, not with 2 other stars.
Kevin Durant – Stays in Golden State because there is no one reason to go anywhere else.
DeMarcus Cousins – Goes to Lakers as he would finally be in spotlight (Hollywood and other things) and Lakers will need some NBA star in team after their first options failed.
Chris Paul – Stays in Houston because he knows how close they were beating Warriors this season and he wants that opportunity again.