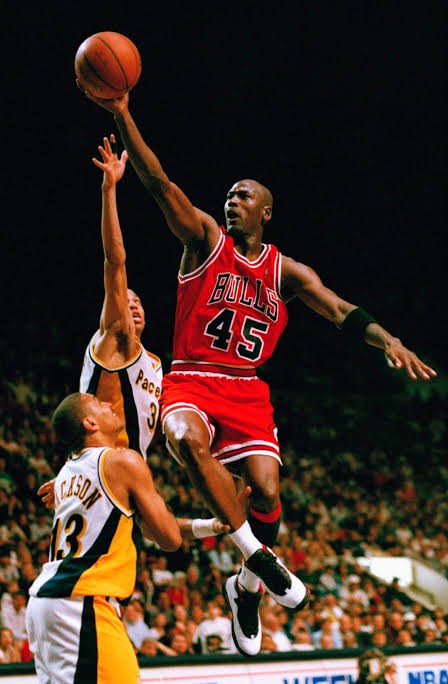 I know you would always hear from youngbloodz that 2000s players up to present are way bigger and way much more athletic compared to the guys Mike faced in the 80s and 90s, therefore NBA has become so much better. This implies that an old washed up MJ who had a 3-year layoff would have been embarrassed by players from the 2000s right? Is there any truth to this? If there is then no freakin way he could have scored 30 or 40 when he came out of retirement in 2002 at age 38, specially when he turned 40 in his second season with the Wizards.
Take note that within these years, it was still the same physical era that had handcheck legal. Handcheck does help a defensive player in guarding offensive players. This means that atheltic and bigger stars of the newer era like Vince Carter, Kobe Bryant, Paul Pierce, Kevin Garnett, Tracy Mcgrady, Ben Wallace, Ron Artest etc would have easily made His Airness look like a fool considering they enjoyed the luxury of having handcheck legal against an old man right? Okay let's see. First I'd like you to see how other greats did at this stage of their careers.
Kareem Abdul Jabbar At 39
18ppg 7rpg 3apg 1spg 1bpg
kareem abdul jabbar at 40

15ppg 6rpg 2apg 1spg 1bpg
Wilt Chamberlain At 35
15ppg 20rpg 4apg
Wilt Chamberlain at 36
13ppg 19rpg 5apg
Kobe Bryant at 36
22ppg 6rpg 6apg 1spg 0.2bpg
Kobe Bryant at 37
18ppg 4rpg 3apg 1spg 0.2bpg
I thought Wilt was unstoppable? I thought Kareem was that dominant? I thought Kobe was the best scorer? Just look at those numbers and look how their numbers drastically went down with age. Yup of course the longer you play, the lower your numbers go and Kobe was also nursing an injury. Oh about injury, people ridiculously forget or try to deny that when MJ came back, his ribs were injured by Ron Artest in a pick up game, had back spasms and tendinitis in his knee and wrist. Yeah that happens if you're that old, retired for three years and you're trying to come back. Aight let's see how an old and banged up MJ did in his return vs bigger, stronger and much more athletic guys with better defensive scheme of the new era. To help your imagination, watch old MJ explode for 51 points. See below videos
Far from what youngbloodz think, MJ had an awesome start averaging 25.1ppg, 6.2rpg, 5.3apg, 1.5spg and 0.5bpg before he injured his knee. Wait I thought 2000s was better? How was MJ able to do all that? Why was he still a top 5 player? What's even more amazing is how he schooled top defenses. Let's have New Jersey as an example. Yup that Jason Kidd led team that went back to back ECF champs. Nets defense was great at that time. Those guys held so many scoring machines to one of their worst shooting nights. Paul Pierce had to experience this in the 2002 ECF when he was held to 36% shooting. Yeah The Truth who dropped 40 plus on Lebron James and beat Kobe Bryant in the Finals when he won MVP.
Okay so you think maybe New Jersey was lucky, well they made the Finals two consecutive times because they had great defense and was manned by Kidd.They proved it again vs Spurs when they held Tony Parker and Manu Ginobili to below 40% shooting in the Finals. Michael surely would have had a hard time right? Nope cause he exploded for 45 points on those guys on 50% shooting and almost had a tripledouble as he also grabbed 10 rebounds and dished 7 assists. MJ might have been just lucky right? I guess not cause he dropped 43 points and grabbed 10 rebounds against these same guys when he was 39 in one of those games they met again. These are the Nets who reigned the East. Another great defender was Kevin Garnett who both beat Kobe Bryant and Lebron James. I will let the videos below speak how MJ did against him.
Do you wanna know how Mike did against Ben Wallace Detroit Pistons? Yeah the guys who held Tim Duncan and Lebron James to below 45% and Kobe to a poor 38% in the Finals? The guys who Lebron James could never beat. Incredibly, His Airness dropped 32 points on this top defense. It's just sad that MJ had to suffer many injuries he would carry next season.Then Rip Hamilton also missed many games. Wizards if healthy would have easily made the playoffs. We've talked about MJ's offense, how was his defense? Pretty sure it would have been so bad considering how old and banged up Mike was and that he had to deal with athletic freaks right? I'd like you to watch the link below.
Old Michael held one of the most athletic and greatest dunker of all time to zero point in the second half. Look how frustrated Vince Carter was. Now how did MJ's presence affect Wizards' performance on defense? When he and Rip Hamilton played together, they held their opponents to 86 points. Man that's just wow. With and without Rip, Mike and the Wizards held their opponents to 92 points. Now watch the video below and how 40-year old Mike did vs prime Tmac. 28 points in the first half!
So again no way Jordan could have scored 40 vs those better defensive players right? Wrong again, I already posted a link above where MJ lit up Charlotte for 51 points. MJ in 2002 had 5 40 plus games while prime Kobe Bryant, Paul Pierce, Tim Duncan and Dirk Nowitzki only had one each. To say Michael Jordan had weak competition and that he would not do great today is completely laughable. There's a reason why His Airness is universally accepted as the greatest of all time. He was just that ridiculously awesome. Respect greatness.