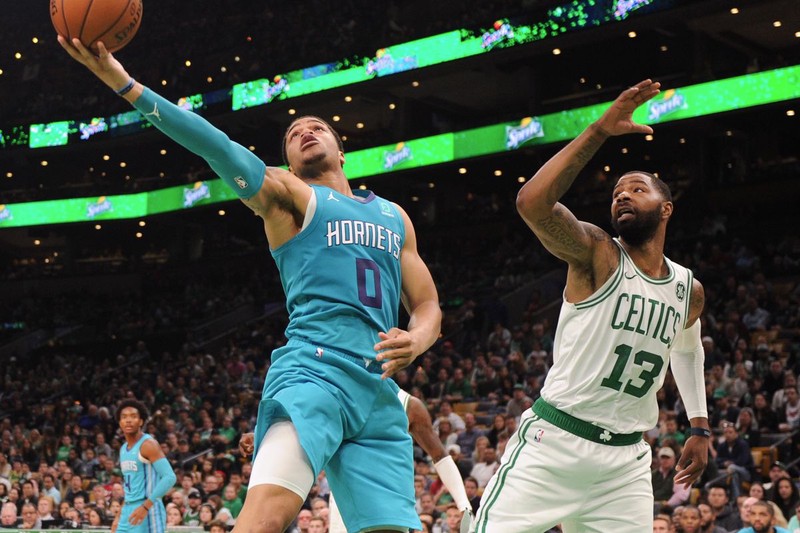 Charlotte Hornets v San Antonio Spurs
March 27th 2019; Spectrum Center, Charlotte
Only 2 games out of reaching the playoffs, Charlotte Hornets' hope of finishing in the top 8 is still very much alive. After winning their last 3 fixtures, Hornets will hope to turn it into 4 tonight when they host 8th seed in the West, San Antonio Spurs at Spectrum Center.
Charlotte Hornets come into the next match as a 10th team in the East with a 34-39 record. As it stands now, they are 2 games behind 8th seed Miami Heat, which means the playoff race is far from over. However, we cannot look past Orlando Magic, who are sandwiched between Miami and Charlotte and are also determined to catch up to Miami and end up in the playoffs. With three teams all with the same goal, any match matters and Hornets seem to have figured that out, as they started winning games and are now on 3 games winning streak.
Looking back at their last 3 matches, Hornets won against Minnesota Timberwolves (113:106), Boston Celtics (124:117) and most recently Toronto Raptors (114:115). In the fixture against Toronto Raptors, Charlotte put up a great show with a half-court buzzer-beater from Jeremy Lamb, who got his team a hard-fought win. While it was the "impossible" final second shot that ended up deciding the match, Charlotte played well, which is especially true for their youngsters who are seemingly better with each passing game.
San Antonio Spurs on the other side sit at 7th spot in the West and are more or less guaranteed a playoff spot unless there is a miracle and Sacramento Kings start winning games while Spurs start losing all of their fixtures. Of course, this is a highly hypothetical situation, which we can be sure won't happen. Despite being playoff-bound, their position is still something Spurs will want to work towards. Optimally they would end up 5th which would set them up against Trail Blazers, which is just 1 game away. Looking at Spurs last 5 matches, they lost to Miami Heat (105:110) and Houston Rockets (111:105), but managed to win against Portland Trail Blazers (108:103), Golden State Warriors (111:105) and most recently Boston Celtics (96:115). It's hard to deny Spurs have been playing well in recent matches, which is especially true for LaMarcus Aldridge who scored 48 points against Celtics on Sunday night. He will be the man to watch tonight and a man for Charlotte to stop if they want to walk away with a W.
Charlotte will come into this match without Zeller and Parker, while both Batum and Kidd-Gilchrist are listed as questionable. On the other side, Spurs did not report any new injuries, except Murray who has been out since October.
We are in for an entertaining match between two teams who have seemingly switched into "playoff mode" and started performing much better. Charlotte Hornets will most likely have to change their approach to the game and utilize their defence better after Aldridge impressive 48 point game against Celtics. With that in mind, we expect Biyombo to get more minutes just to provide some defense inside and slow down red hot Aldridge. Additionally, Hornets have an advantage in their coach James Borrego, who knows Spurs, where he worked for 3 years well enough to cook up the right plan which will give the home side an edge. All in all, this match is surely going to be a close one, however, I believe the home side is more than capable to keep this one within 3 points.
Prediction: Charlotte Hornets +3.00 points