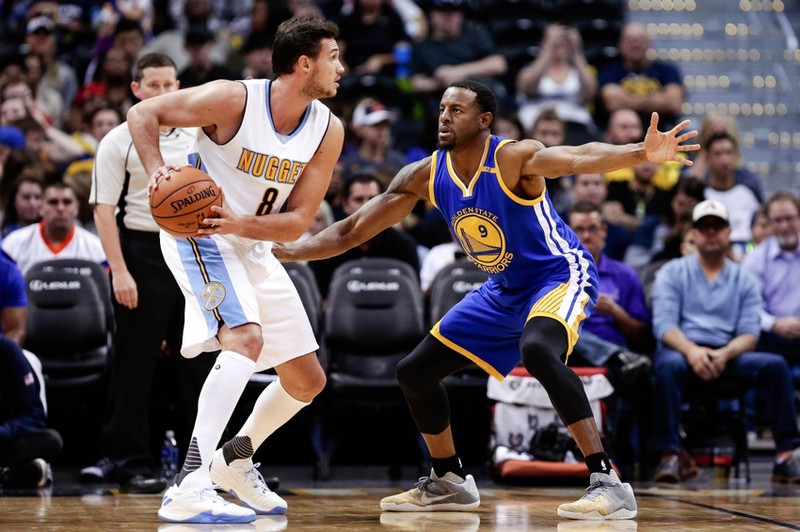 We are in for a treat tonight, with two top seeds in the West preparing to face off against each other in a match that could threaten the Golden State throne at the top of the West. The match will take place Oracle Arena, the home of Warriors.
Golden State Warriors come into this match after an impressive win against Charlotte Hornets (137:90), who felt the wrath of Golden State frustrations after they lost to Minnesota Timberwolves on March 30th after overtime (131:130). As it stands now, Golden State are still holding on to the 1st spot in the West with a 52-24 record. As for their last 5 fixtures, Golden State Warriors are 3-2; they lost to Dallas Mavericks (91:126) and previously mentioned Minnesota Timberwolves (131:130) and won against Detroit Pistons (121:114), Memphis Grizzlies (103:118) and most recently against Charlotte Hornets (137:90).
The visiting side, Denver Nuggets have been playing extremely well this season, which got them to the 2nd spot in the West and with that a ticket to the playoffs. While finishing that high in the West is an impressive accomplishment, Nuggets were a bit disappointing in a way that they failed to utilize the opportunities to pass Golden State on several occasions. Despite the fact that they hold an impressive 51-25 record, Nuggets were far from impressive in the recent fixtures, when they lost 3 out of 5 matches. Looking back at how Denver played, they managed to win against Detroit Pistons (95:92) and Oklahoma City Thunder, however, same cannot be said for the fixture against Indiana Pacers (124:88), Houston Rockets (112:85) and most recently Washington Wizards (90:95). All in all a mediocre performance, which cost them the 1st seed, but not all is lost. If Denver can perform up to par tonight, they would catch up to Golden State and have an excellent opportunity to end the season at the top.
Denver Nuggets will remain without Porter Jr. and have Murray listed as questionable. Golden State Warriors have Iguodala listed as questionable and Jones sidelined for the rest of the month.
The last time these two sides met was on March 9th, when we saw Golden State winning with relative ease (122:105). While we could argue Golden State failed to impress in recent matches, the loss against Minnesota Timberwolves seemingly made something click among Warriors, who completely trashed Charlotte Hornets on April 1st. On the other side, we have Denver Nuggets, who are only 1 game behind the Golden State. If they wish to pass the Warriors, Denver Nuggets need to prove their worth and win to get a chance of reclaiming the top spot of the Western Conference. While there is a motivation on the home side to perform, Nuggets will come into this fixture with the same goal in mind; win. This will most likely be their last chance to pass Golden State and climb to the top, so expect them to come into the match with all guns blazing. Last time out Denver Nuggets pushed the tempo and we expect the same thing to happen tonight. With a lot to lose on both sides and even more to gain, this match is bound to go over the line.
Prediction: Over 221.00 points