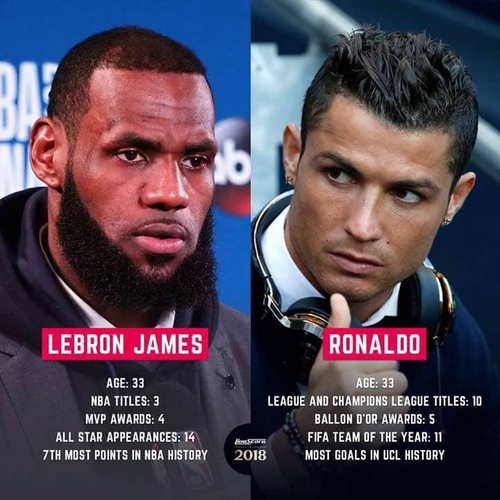 At age 33, Christiano Ronaldo and Lebron James have achieved a lot, many trophies and accolades and both playing in one of the peak sporting clubs in the World. The truth of the matter is that football and basketball never had the same popularity around the world, one still trudges in the shadow of the other.
But that is not the bone of contention in this article, this is the definition of grit, hard work, and dedication in a man's life.
Both sports icons just made major decisions in their career about where to ply their trade come next sporting season both in the NBA for Lebron who just agreed on a four-year deal for $154-million with Los Angeles Lakers in contracts, and for CR7 who just made one of the strangest switches to the Seria Giants Juventus FC of Italy.
Both game's(Football and NBA) two biggest stars will now lead Lakers team - and Juventus FC respectively that has been overmatched in recent years as Juventus failed to win the UEFA Champions league and Lakers making the finals in recent years. Hopefully, both the Lakers and Juventus will instantly rise with James, a three-time champion who after being swept by the Warriors in this year's NBA Finals and CR7, a five-times ballon-d-or winner who just came from Real Madrid, and maybe restore each team's ''champions moral'' again.

Be the best in your game, stay at the top of your sport; Respect these two men as their best is yet to be seen in their prime age.
For Scorum!