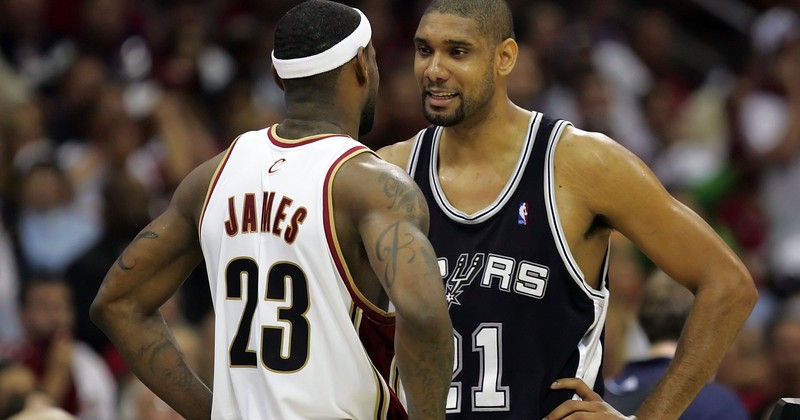 Hello Scorum Fans! Today I present to you Episode 13 of NBA Highlights, and for today's Episode, I will feature LeBron's first Finals appearance back in the year 2007 where James and his Cleveland Cavaliers faced Tim Duncan and the San Antonio Spurs.
The Spurs is one of the most successful franchises and probably the winningest team in NBA for many decades. They also have the arguably best coach of all-time, Greg Popovich. They built a dynasty with the big 3 of Tim Duncan, Manu Ginobili and Tony Parker and they dominated the West for almost 2 decades. On the other hand, James was still young when he faced the Spurs. He carried this weak Cleveland Cavaliers all the way to the finals single-handedly. It just shows us how dominant LeBron was even if he was young having a weak team and bunch of role players around him. But, in the end, he couldn't keep this team alive all by himself and he just couldn't overcome the Spurs because of too much talent they had.
In the first two games of this series, the Spurs dominated the first three quarters and only LeBron James is relevant for Cleveland. He cuts the huge deficit in the last quarters of these two games but always came up short. In the third game, LeBron's team mates finally stepped up and gave him much needed help. They kept the game close up to the final minute but still the Spurs emerges as the stronger team. In the fourth and final game, LeBron did all that he can do but still the Spurs is poised and know that they will the championship in Game 4. James didn't stop fighting but the Spurs ended the series and swept James and the Cavs.
I think it's just fine for James to lose this Finals because he's only 22 years old at that time and the team is just too weak. Just imagine how LeBron carried this weak team all the way to the Finals at 22 years of age. It's just amazing to see his greatness and I'm sure no one can repeat or surpass what he did in his whole career.
Now, let's sit, relax and enjoy watching the highlights!