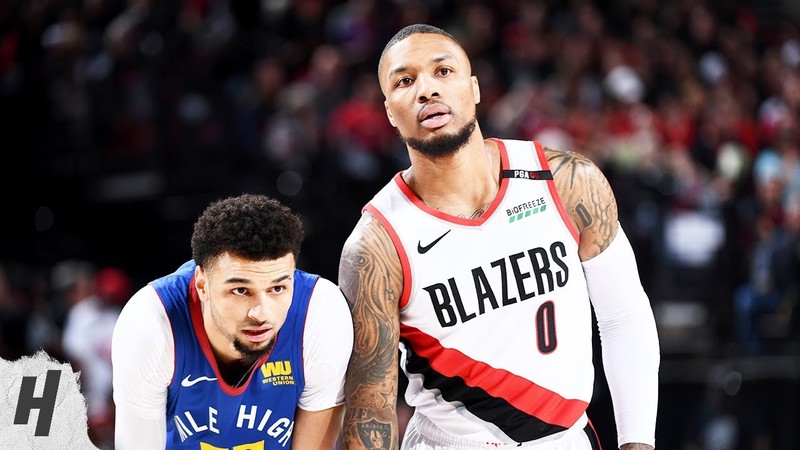 Hello Scorum Fans! Today I present to you Episode 44 of NBA Highlights, and for today's Episode, we will have a short recap of Game 6 of the playoffs match between the Portland Trail Blazers VS the Denver Nuggets where the Blazers defeated the Nuggets, 119-108 on Thursday night.

Damian Lillard once again came up big in a very important game where their season is on the line scoring 32 big points including 17 in the third quarter alone to beat the Denver Nuggets in Game 6. The Blazers will have a chance to steal Game 7 on the road against and make it to the Conference Finals to face the winner of the Houston Rockets and the Golden State Warriors. CJ McCollum helped Lillard to defeat the Nuggets finishing with 30 points while Rodney Hood added 25 big points off the bench. I wasn't even surprise that Hood scored 25. I know he can be a great player and the Blazers did a great job picking him up.
Nikola Jokic was dominant again putting up 29 points with 12 rebounds and rising star Jamal Murray dropped 24 points and 10 rebounds but the outstanding performance from them still couldn't overcome Lillard and McCollum's dominance. Portland hasn't been in the Conference Finals for a long time, their last time was in 1977 when they won the championships with Scottie Pippen while Denver last reach the Conference finals in 2009 with Carmelo Anthony and Allen Iverson.
This will be an interesting and exciting Game 7. Nobody can tell who's gonna win this series. Let's see who came up victorious. Now, let's watch some NBA Highlights from Game 6. Enjoy!