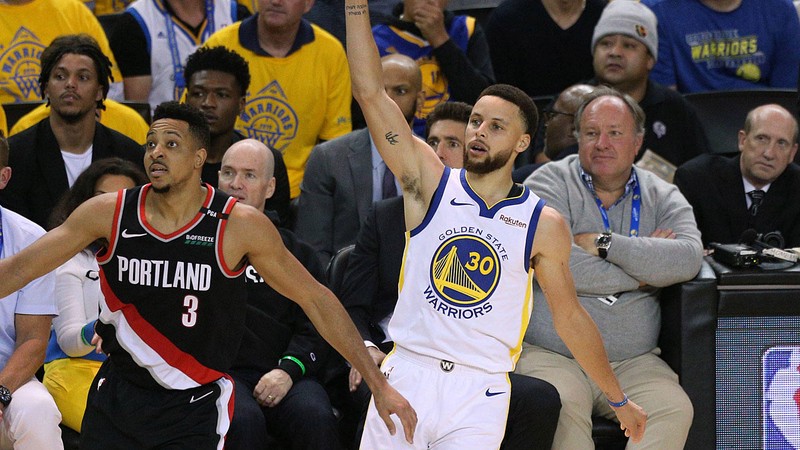 Hello Scorum Fans! Today I present to you Episode 50 of NBA Highlights, and for today's Episode, we will have a short recap of Game 1 of the Western Conference Finals match between the Portland Trail Blazers VS the Golden State Warriors where the Warriors defeated the Blazers, 116-94 on Tuesday night.

Game 1 of the Western Conference Finals but all eyes are on the 2019 NBA Draft Lottery and all waited which team will be able to get the first overall pick to get Zion Williamson and the Pelicans were the lucky ones. Anyway, just got you some news from the lottery but now let's move on to the match between the Warriors and the Blazers.
Golden State took game 1 in a blowout win led by the Splash Brothers, Stephen Curry and Klay Thompson who were red hot from the three-point line especially the best shooter in history, Steph Curry who knocked down 9 three-pointers to create a huge edge over the Trail Blazers. He finished with 36 points, 6 rebounds and 7 assists while Klay Thompson added 26 points including three triples. Portland had no answer for the Splash Brothers as their superstar backcourt only scored a combined 36 points as Lillard struggles shooting from the field with only 4 makes in 12 attempts and also CJ McCollum who shot 7 for 19 from the field. Even without Durant, the Warriors destroyed the Blazers and it is not a good sign.
But, I think Lillard and McCollum will step up next game. If they play like this again, they will have zero chance and the Warriors can sweep them, even without KD. I sometimes believe that the Warriors are better without KD but I don't see it that way every time. I think at some point, they are better than KD because Steph and Klay get the touches they needed and they are really good moving the ball. But with KD, I think they're dominant, but some times, Curry struggles and couldn't find his rhythm because of limited touches.
Anyway, let's take a look at some NBA Highlights from Game 1. Enjoy!