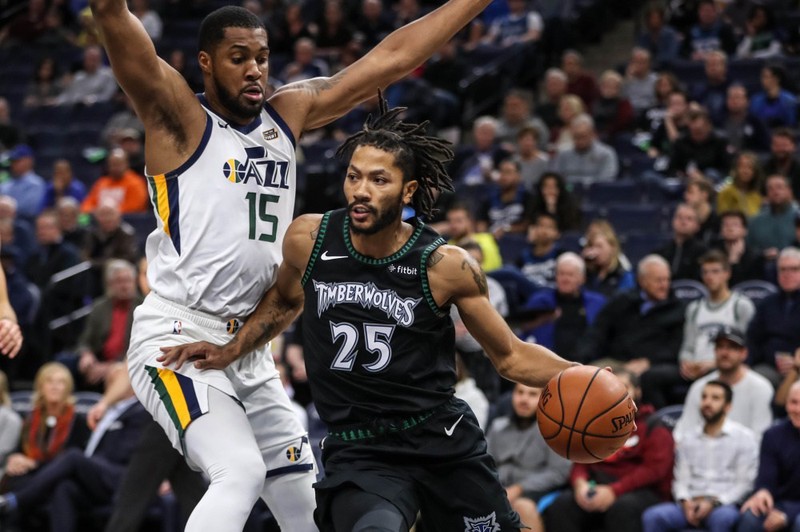 Tonight is a very special night for a player who goes down in his career and then rises up again in an unimaginable feat. The youngest MVP Derrick Rose performed the best game of his career at a time that no one ever expect. Rose recorded his career high 50 points in a Minnesota Timberwolves jersey. And he performed it at a high level with a great ending blocking the game-tying three by Dante Exum to seal the win against the Utah Jazz.
It was a very emotional night not only for Rose but also for his team mates, coaches, fans, family and all the people that always believe in him and supported him through his ups and downs. Rose was looked down by many people after his career ending injury. Many thought that it was already over for the former MVP. Many looked at him like he's a washed up guy or injury prone guy who can never make relevance again in the league.
Rose proved them wrong and proved himself right. With Derrick's love to the game, passion, patience and hard work, all of that put him in the right direction and proved that he's still a worthy player who is capable to be an all-star caliber player. I'm one of the most excited about his comeback. I want him to perform like that. That's good for him and I love that. The man puts his heart to the game of basketball and at the right time, he delivers. Derrick Rose is back!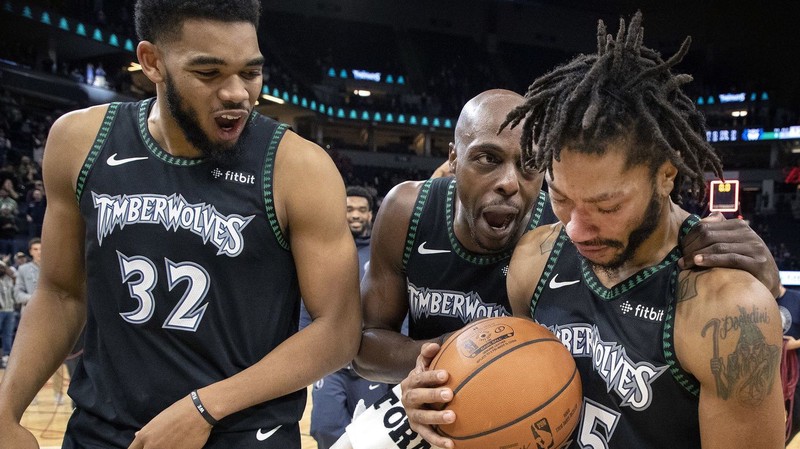 These past few years, Rose was struggling getting some minutes and proving himself. He played with the Cavaliers but did not get enough minutes there. Then the Wolves tried and took a risk on signing him. With Coach Tom Thibodeau leading the Wolves, he's the one who knows what Rose is capable of doing. He believes in him. Coach Tom trusted Rose and gave him some playing time in Minnesota. I'm sure he's also one of the happiest person for Rose tonight.
Rose did not waste the chance he has been given. He worked hard everyday and every night. He push himself to the limit and gave his best every single minute on the court. I saw that. I saw how eager is Rose wanting to come back to his old form. I knew there will come a time when he will perform like no other even in just one single night.

Rose first showed a glance of his MVP form last postseason as he helps the Minnesota Timberwolves in the first round of the playoffs. He performed well in their Series against the Houston Rockets and Rose had a nice series there. Entering the 2018-2019 season, Rose still couldn't get huge minutes as Tyus Jones and Jeff Teague is playing well for the Wolves. Rose is very hungry and tonight was his time to shine. Rose rises up and performed as if he was better than ever. All of his emotions were seen in the game and he cried out his heart at the end of the game. Fans in the arena celebrated with him and gave him a warm round of applause. They recognize him. His performance made a mark to every people in the arena. Even all the people in the world who watched the game, even me. It was very heart felt.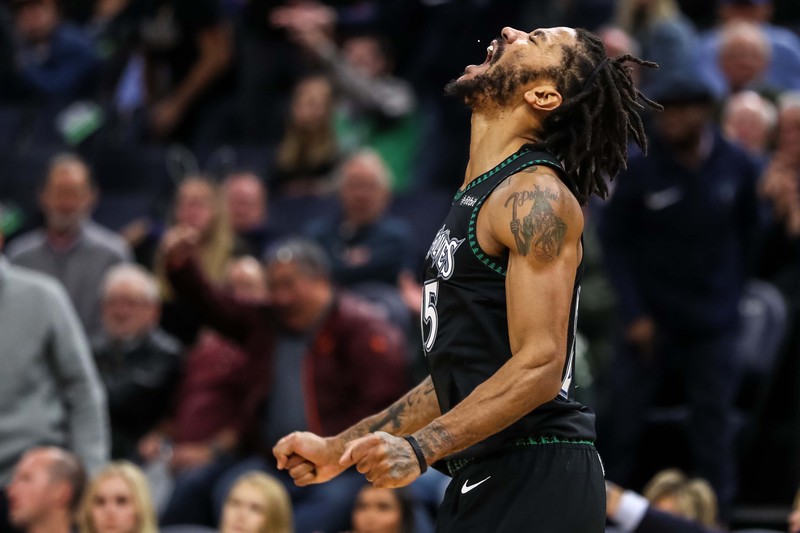 His career was a roller coaster. After becoming the youngest MVP, to a career ending injury, and now rising up again and proving himself while still loving the game of basketball. He sat two full season which is supposed to be two seasons where he is in his prime. It's very amazing to see his career right now. Last season, Rose deals with an ankle injury and he took time away from his team thinking about his future. He tried to figure things out, there are many questions going through his head. He even thought of retiring and finishing his career. But thank god he did not retire and he still believed in himself.
Coach Tom Thibodeau said, "In every story, there's a beginning, a middle and an end, And I think the end is going to be great for him." Every basketball fans should rejoice and feel happy for him. His team mates come together and mobbed him after walking off the floor crying. They show some love to D-Rose congratulating him. Some NBA stars had their message for D-Rose. D-Wade said, "Tonite was an example of never giving up on yourself and when others believe in you. Amazing things can happen. I'm smiling like i scored 50! Congrats to a good dude!".
Game Recap
Minnesota starts the season struggling because of the Jimmy Butler situation but still, they were able to get some wins. Jimmy Butler sat tonight and it was stated as a rest. Jeff Teague also sat for tonight's game that's why Derrick Rose had the chance to be the starting point guard for Minnesota.
Rose started the first quarter with 8 straight points shooting a three and driving aggressively to the rim attacking Rudy Gobert then he drives again to the basket against Gobert converting a tough shot plus a foul. Rose continues to attack the rim getting some fouls from Gobert and hitting another trey. Rose also dishes some pretty assist in the first period.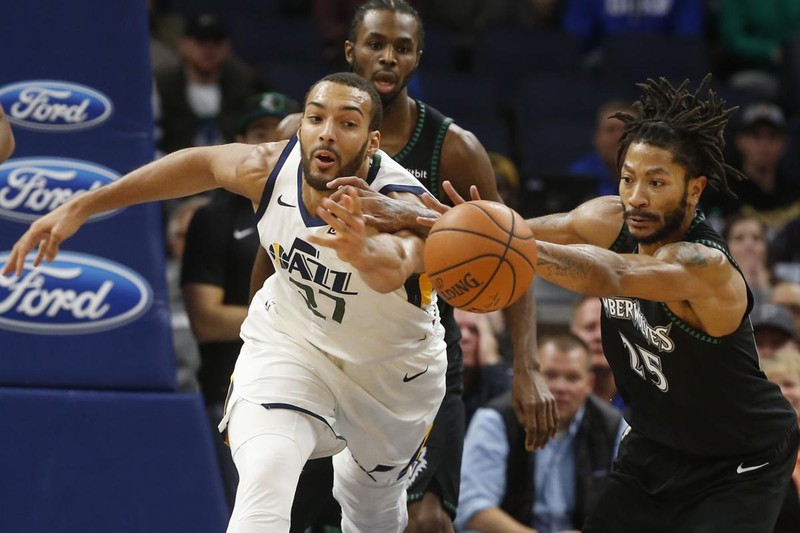 Wiggins started the second period with a three of his own and an and one play. Rose still aggressive in the second draining some tough shots. He also showed some fancy dribbling skills and cross overs killing his opponent and getting buckets. Jazz keeps the game close with their great ball movement and three-point shooting. Karl-Anthony Towns also played well for the Wolves draining 2 consecutive threes in the second quarter.
In the third period, Rose showed his mid-range shooting pulling up from the perimeter. He also showcase his speed and quickness with those fancy drives to the lane finishing with an easy layup. Rose is on fire in the third and can't miss. I'm amazed watching like he was in his MVP year with those quick killer cross overs and acrobatic layups.
The fourth quarter was very entertaining to watch as the two teams exchanged buckets every possession. With three and a half minutes remaining in the final period and the Jazz leading 119-116, Rose was dribbling in the corner and as he gets rhythm, he steps back and hits the game tying corner three. And under a minute to go, Rose tricks Gobert and fake a shot underneath the basket and scores an easy layup to take the lead. Rose played his heart out in the crucial moments of the game. He's determined and ready to take responsibility at the end of the game.
At the 30 seconds mark, tie game at 123, Rose drives again to the basket faking a shot and then turning around for a tough and highly contested hook shot and it goes in! Minnesota took the lead. And with 13 seconds left in the game, 128-125 in favor of the Wolves, Utah had the chance to tie the game but Derrick Rose saves the day and blocked Dante Exum's three-pointer and that sealed the game.
Stats
Derrick Rose - 50 pts, 4 reb, 6 ast, 2 stl, 1 blk
Karl-Anthony Towns - 28 pts, 16 reb, 4 ast, 2 stl, 2 blk
Andrew Wiggins - 19 pts, 6 reb, 1 ast, 2 stl, 1 blk
Donovan Mitchell - 26 pts, 1 reb, 5 ast, 1 stl, 1 blk
Rudy Gobert - 22 pts, 13 reb, 3 ast, 1 stl, 3blk
Derrick Favors - 14 pts, 8 reb
Here is a video of Derrick Rose's highlights. Watch these :