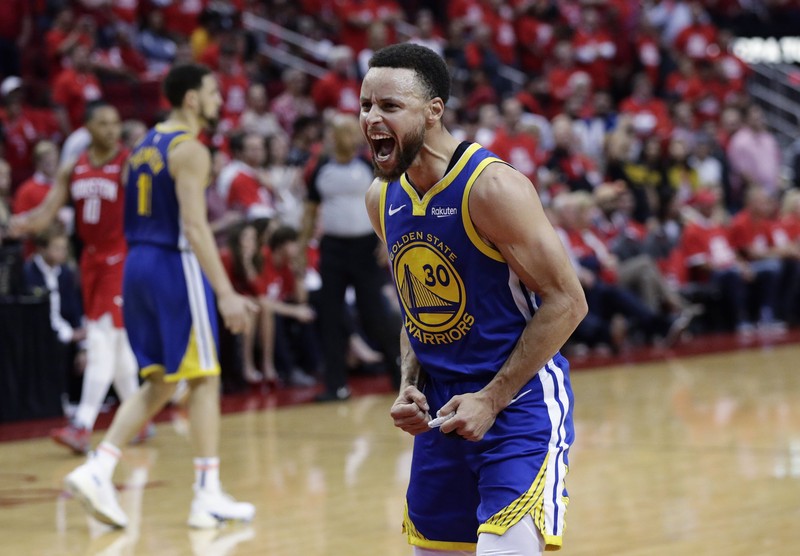 What's up basketball fans! I am here again @dwin0603 to give you another exciting basketball discussion for another episode of NBA Talk, and today we will have a short recap of the match between the Golden State Warriors VS Houston Rockets in Game 6 of their best of 7 playoff series for the Semi-finals. Let's start!

The Golden State Warriors are now advancing to the Western Conference Finals once again after beating the Houston Rockets, 118-113 in Game 6 of their second-round matchup. This will be their 5th straight Conference Finals appearance and they eliminated the Rockets for the 4th time during the last five seasons. It was Steph Curry who led the Warriors after being scoreless in the first half, scored 33 points in the second half to overcome James Harden and the Rockets.
Game Recap
The first half was an all-out battle as both teams don't want to give even a little bit of edge from each other. Klay Thompson started hot and showed that he can step up after losing their best player, Kevin Durant. He was their main guy in offense and he did a terrific job knocking down his shots inside and out. On the other side, Chris Paul was dead serious and wanted to force a game 7 as he looked hungry and wanted revenge from what happened last season. The first half ended tied at 57.
Entering the fourth and final period, the Rockets had a five-point lead then the Warriors find a little bit of momentum tying the game at 95 with seven and a half minutes left. The real battle starts there and the true superstars show up from that moment. Steph Curry took responsibility and get a bucket for the Warriors while James Harden immediately answered. In a stretch of more than 2 minutes, both teams remain scoreless until Kevon Looney scores a layup to take a two-point lead with less than four minutes to go.
Warriors took momentum again as Steph Curry buried a three to take a five-point lead but it didn't last long as James Harden hits a three of his own to get it back down to only two points. Curry again led the Warriors to a 5-2 run with one and a half minutes left in the game, then James Harden's layup got them back within two points with half a minute to go but Klay Thompson hits a cold-blooded dagger three to seal the game.
My Thoughts
This will truly hurt the Rockets. They did not do their best from what I see. Harden should've done more. He's not the MVP in my eyes now. Houston had many chances to win the game but they failed. They were too sloppy at some point in the fourth quarter where they had the chance to take the lead and the momentum but they screw up. I was like, "damn James Harden, he should've taken over and give Houston the lead" at some point of the final minutes where the game was tied up. I was so disappointed at a time when Harden was just watching Chris Paul dribble it up and watching Eric Gordon create offense. He should've asked for the ball and took responsibility. Anyway, all is done and this will just end up as a lesson for the whole team.
Stats
Steph Curry - 33 pts, 5 reb, 4 ast
Klay Thompson - 27 pts, 2 reb, 2 ast
Andre Iguodala - 17 pts, 2 reb, 3 ast
James Harden - 35 pts, 8 reb, 5 ast
Chris Paul - 27 pts, 11 reb, 6 ast
PJ Tucker - 15 pts, 4 reb
That is all for today folks! I would be glad to hear your opinions about this article, so drop your comments now and let's have some basketball talk! :)