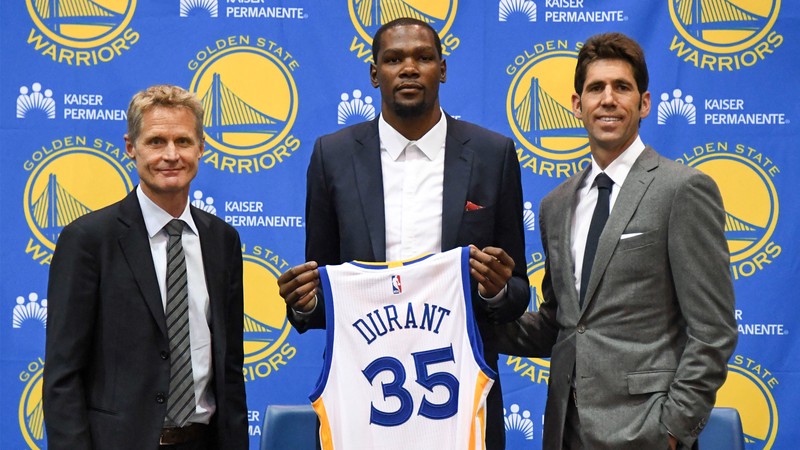 What's up basketball fans! I am here again @dwin0603 to give you another exciting basketball discussion for another episode of NBA Talk, and today we will talk about the Golden State Warriors plan on retiring Kevin Durant's no. 35 jersey. Let's start!

Two-time NBA Champion, two-time Finals MVP, three seasons with the Golden State Warriors. Now, he is moving on to a new chapter of his career as he signs with the Brooklyn Nets this offseason. He will join Kyrie Irving now with the Nets and will try to make his own legacy there. Durant won his rings in Golden State and he led the team to two championships (maybe three if he never been injured) beating LeBron James and the Cleveland Cavaliers in those two finals. Durant and the Warriors built a dynasty and become the most dominant team in the NBA. And arguably in the history of the game.
But despite all the achievements, Durant was still one of the most hated players around the world after he joined the Warriors. Hate that he didn't deserve because every player in the league have the right to choose where they want to play. But in the eyes of many, Durant's move to the Warriors is the weakest decision a player has ever made. Now, with the Brooklyn Nets, he will try to regain his legacy and the love of the people.
And as a recognition for what Durant did for the Warriors to help them win Championships, their CEO Joe Lacob said that no player will ever wear the #35 jersey for the Warriors again.
No matter how the people hate him, for the Warriors franchise, his stay with them is successful and he gave his heart to the team. They appreciate all the hard work and sacrifices he put in for the franchise. Durant gave it all to win the biggest achievement a team can ever achieve.
Here are some highlights from Kevin Durant with the Golden State Warriors
That is all for today folks! I would love to hear your thoughts about this article, so drop your comments now and let's have some basketball talk. 😁

Promo Links for @promo.scr: