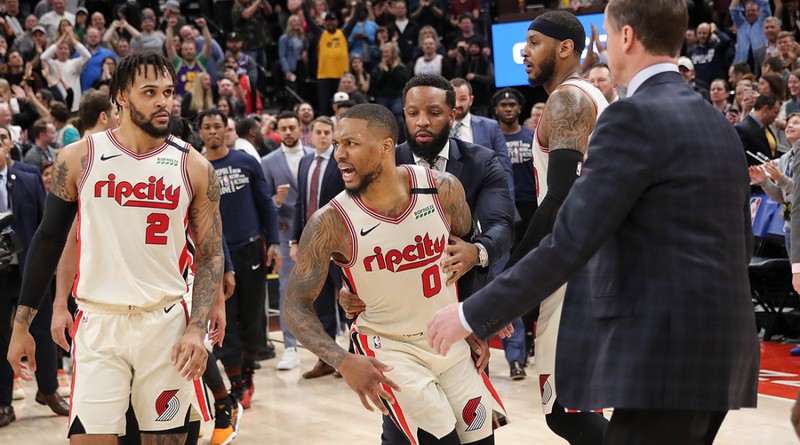 What's up basketball fans! I am here again @dwin0603 to give you another exciting basketball discussion for another episode of NBA Talk, and today we will talk about the hottest and latest news around the NBA. Let's start!

It was an upsetting night for the Portland Trail Blazers who lost their game against the Utah Jazz on Friday where the three referees didn't blow the whistle in an obvious goaltending violation committed by Rudy Gobert of the Jazz. There's no way that all three referees would miss the call but they did. That bucket should've tied the game and the Blazers could win the game. Damian Lillard was so upset because the Blazers are currently sitting at the 9th seed and battling hard for a playoff spot. Every game is important so losing this way hurts them badly. But they have to move on.
But in my opinion, the NBA should do something about these kinds of situations. Whether suspend the refs of just fine them so that they will be more cautious in doing the right calls especially in crucial games like this.
Check out the whole video and see it for yourself.
Link for the Video: https://www.facebook.com/hooppress/videos/812629152583799/?eid=ARDu3LMzxXY9S5yDo6eALXqwAPzlokPKBML36eo8sbPMTqa5_8y1pCUDvlFzt2kBFwtjnB6vbWv03bkR
That is all for today folks! I would love to hear your thoughts about this article, so drop your comments now and let's have some basketball talk. 😁

Promo Links:
https://www.sportstalksocial.com/@dwin0603
https://friendster.io/dwin0603
https://www.facebook.com/hooppress/
https://www.facebook.com/nbacourtvision/?modal=admin_todo_tour
https://jamaa.com/profile/dwin0603