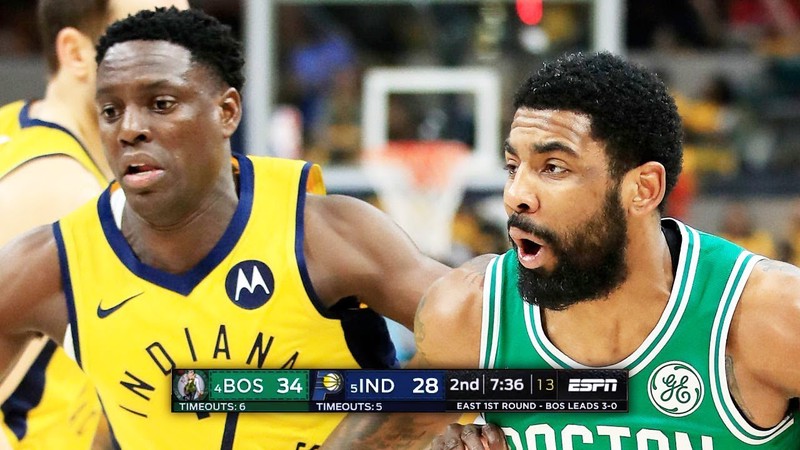 What's up basketball fans! I am here again @dwin0603 to give you another exciting basketball discussion for another episode of NBA Talk, and today we will have a short recap of the match between the Boston Celtics VS Indiana Pacers in Game 4 of their best of 7 playoff series. Let's do this!

Kyrie Irving didn't shot well from the field here in Game 4 but his teammates stepped up and get it done, completing the sweep and advance in the Eastern Conference Semi-finals, 110-106 on Sunday night.
Game Recap
The Boston Celtics are the first team to go to the second round after a rare sweep against the Indiana Pacers who show a good fight and a fine regular season. The Celtics last swept a team in 2011 and this is their second time since 1987. Boston started well again with an 8-0 run but Indiana rally back immediately and take the lead. The Celtics looked like they really wanted to finish the series and looks like running away with a huge lead in the first half but the Pacers fought back and didn't give up. The Pacers managed to take a 49-47 half time lead and then extending the lead at the start of the third period.
Gordon Hayward and Marcus Morris had some hot hands in the middle of the third period draining threes and mid-range jumpers to rally back and take the lead back again. From there, the Boston Celtics did not let the Pacers keep close again in the third.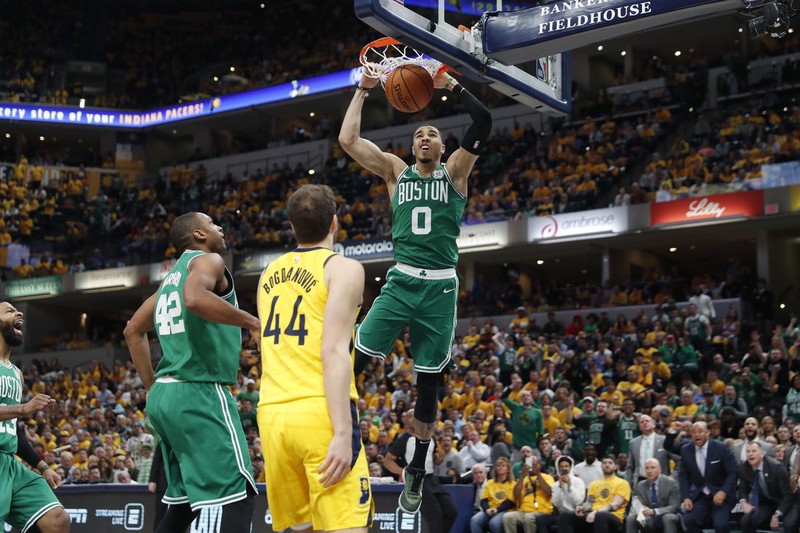 In the fourth and final quarter, it was Corey Joseph's flagrant foul with less than 7 minutes to play gave the Celtics the lead, 83-82 after Jayson Tatum sink 2 free throws. And then, Morris and Hayward started to do their things again scoring from deep and Hayward getting an and-one to extend their lead to eight with under 5 minutes left. And from there, the Celtics keep getting buckets from beyond the arc which makes the game unreachable for the Indiana Pacers.
My Thoughts
The absence of Victor Oladipo in this series was the difference maker in my opinion. If only Vic was available in this series, the Celtics would've not swept the Pacers. I think it can reach 7 games and maybe the Pacers had the chance to beat this Celtics team with Vic on the floor. Next assignment for the Celtics will likely be the Milwaukee Bucks. This will be the true test for this Celtics team. I'll go for the Bucks in this second-round series. Let's see if the Celtics can beat this hungry Milwaukee Bucks team.
Stats
Gordon Hayward - 20 pts, 3 reb, 2 ast
Marcus Morris - 18 pts, 8 reb
Jayson Tatum - 18 pts, 8 reb
Bojan Bogdanovic - 22 pts, 8 reb, 3 ast
Tyreke Evans - 21 pts, 2 reb
Darren Collison - 19 pts, 6 reb, 5 ast
That is all for today folks! I would be glad to hear your opinions about this article, so drop your comments now and let's have some basketball talk! :)