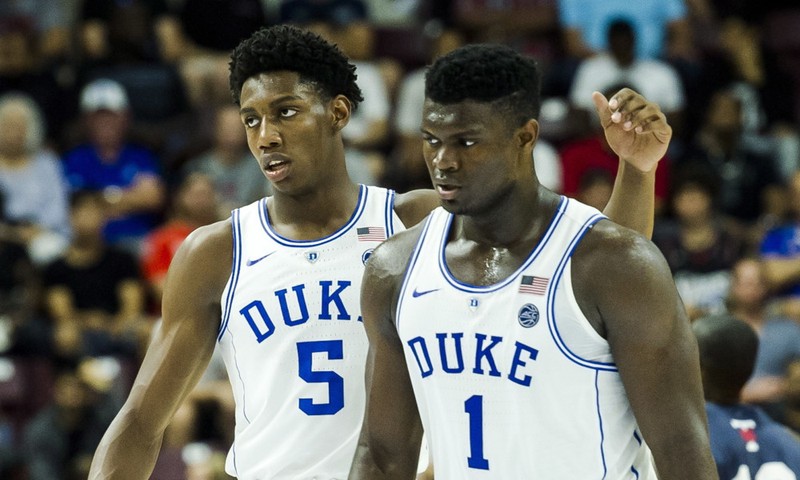 Most teams cannot compete this year against the powerhouse teams in the Western Conference. The Golden State Warriors are unbeatable in a seven-game series especially when DeMarcus Cousins comes in. So, championship hopes are so low right now for many teams and they are just going to give this season to the Warriors and hope that they get break up next season. There's a rumor that Kevin Durant will leave so that is the best chance to compete again for a championship and the league will be fair enough again.
So, while they are waiting for this season to end, one best thing that teams should do now is to tank to get a shot at drafting the best prospects for the 2019 NBA Draft. The 2019 Prospects looks very promising especially Zion Williamson, RJ Barrett and Cameron Reddish. The top 3 prospects that are currently playing for Duke in College are said to be a once in a lifetime talent. Zion Williamson is a beast and said to be the next big thing while RJ Barrett is one of the most promising basketball players you will ever see.
Now, I have a list of teams that I think should now start tanking and just aim for the 1st overall draft pick next season.

Atlanta Hawks
Atlanta have a young but talented roster now after trading Dennis Schroeder and handing the keys to Trae Young. Young is playing outstanding basketball and is a legit Rookie of the Year contender. He's like a young Stephen Curry who has unlimited range and nasty dribbling skills. Atlanta's roster is fine right now and adding another superstar caliber player can help them reach the playoffs next season in the weak East. So, now they should aim for the first overall pick and try to get Zion Williamson.
Chicago Bulls
The Chicago Bulls are not going anywhere right now. They have a very solid young core in Kris Dunn, Zach Lavine, Jabari Parker, Lauri Markkanen and Wendell Carter Jr. but that wasn't enough to compete in the playoffs even in the East. They should wait another year or two to truly become a legit contender. As of now, they should be aiming for the first overall pick to make their roster stronger and this season is the right time for them to do that.
Cleveland Cavaliers
Zion Williamson could have the same path of fate that LeBron faced in his career. The Cavs are totally trashed now after LeBron left and they need a guy who can lift them back again like what LeBron did for the team. He was the chosen one, the prodigy, and he prove them right. Zion can also do that and bring this team back in relevance again. I believe Zion has the skills and mentality that LeBron has to physically and mentally lead the Cavs to success. I can also say that the Cavs are very lucky in tanking because they always got the number 1 pick every time they tank so I hope there's still luck left in them to try and get Zion Williamson.