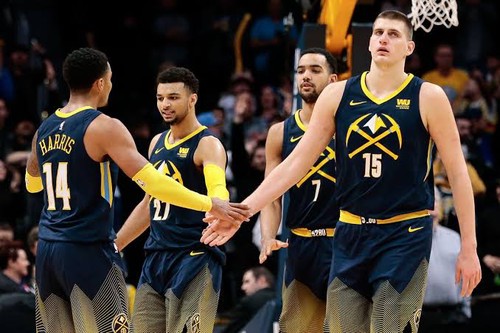 Denver Nuggets laughed at the top of the NBA East West Conference,
The Denver nuggets beat the Toronto Raptors 95-86 in the NBA's regular season 2018-2019 at the Pepsi Center in Denver, Colorado.
Denver won two points this season after winning three points against Toronto in Toronto two weeks ago.
Denver, who had three consecutive wins, defeated the Golden State Warriors by a half game and kept the lead of the Western Conference.
The Toronto Raptors lost two games in a row, while the eastern second-place finisher, Milwaukee, was narrowed to two games.
Denver Ace Nikola jokic scored 26 points, nine rebounds and four assists to lead the Toronto hunt.
Jamal, who scored four runs in the third quarter, also scored 15 points in the fourth quarter.
Denver went 47-39 in the first half, but jokic led the team to a 3-lap quick and then won in the fourth quarter with his head in action.
In Toronto, Kahwi Leonard scored 29 points and 14 rebounds to complete the double-double, but it was disappointing that the team's overall three-point shot was only 20 percent.