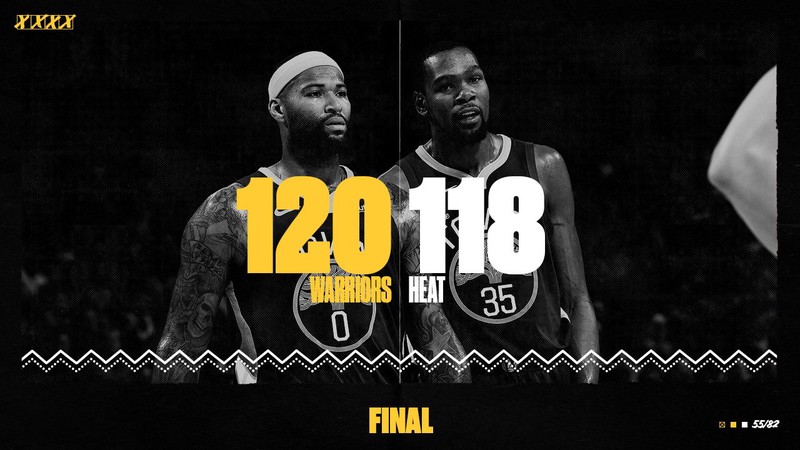 The Golden State Warriors won 120-118 in a game against the Miami Heat in 2018-2019 NBA game at the Oracle Arena in Oakland, California.

Golden State won the 40th victory of the season (15 losses). It is the first of the Western Conference teams this season and the third in total. He has also won 15 games in 16 games. Miami, on the other hand, had 25 wins and 29 losses in the season.
Miami had a 59-54 lead in the first half. Miami finished 34-24 in the first quarter, but tied the score in the second quarter.
For the third quarter, Golden State changed its mood. By the middle of the third quarter, Golden State was in a knee-jerk reaction and drove in Durant's six-game lead in the 75-76.
Durant scored the free throws just before the end of the third quarter and finished the third quarter with 90-82. Durant led the team with 14 points in the third quarter.
Miami did not back down. Josh Richardson scored three runs in the fourth inning in the fourth quarter, and Winslow's three-point home run led to a tie in the 107-107.
The last laughing team was Golden State. Once again, Durant was a solver. Durant led the Golden State lead by scoring eight consecutive points with free throws and a fade away shot. After allowing the team to return to the game, they left the game with a 40-point shot and a three-point shot.
With 24 seconds left, Golden State got the right to attack. DeMarcus caught a foul on the offensive rebound, though Durant's 3-point shot missed the rim. The two free throws that followed were all successful. 120-118.
The final victory of the Golden State was completed when Miami's final attempt, which ended with a 5.4 second strike, broke away.
Durant scored 39 points (6 rebounds). In particular, he scored 25 points in the second half. Thompson also scored 29 points in the first quarter, including Curry. Three people cooperated 93 points.
Draymond Green scored only five points, but left 14 assists and seven rebounds. Just seven points and three rebounds, Cousins scored a free-throw goal after a decisive momentary rebound.
In Miami, Josh Richardson scored 37 points, including eight 3-pointers, but the team was defeated.