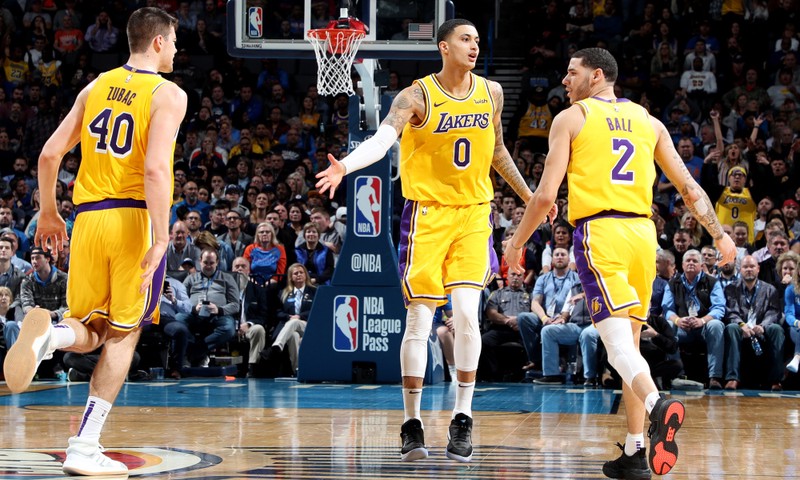 The Los Angeles Lakers beat the Oklahoma City Thunder 138-128 in the regular season game of the NBA 2018-19 at the Chesapeake Energy Arena in Oklahoma.
It was not until the extension that the winning team came out.
The Los Angeles Lakers won a valuable victory after an extended game against the Oklahoma City Thunder.
Kyle Kuzma led the team with 32 points, eight rebounds and four assists and three steals. Ivica Zubac, who came off the bench, scored 26 points and 12 rebounds. Lonzo Ball had 18 points, six rebounds and 10 assists, including an important three-point shot overtime.
Oklahoma City scored 27 points, seven rebounds and eight assists and three steals for Paul George. Russell Westbrook had 26 points, 9 rebounds and 13 assists. But the pitching success rate (7/30) was not good.
It was the perfect Oklahoma City atmosphere in just one quarter. Lakers defended the Lakers with solid defense, and three points and six points in only one quarter. The Lakers had only seven errors in the first quarter.
But Lakers were tough, Lakers started chasing immediately, Lakers overcame Oklahoma City in the second-quarter bench scoring. He played Oklahoma City and Seesaw games with young players such as Kuzuma, Balls, and Ivica Zubac.
The Lakers advanced to 122-119 with two minutes left in the fourth quarter, but Russell Westbrook of Oklahoma City scored three free throws. Westbrook had three free throws, and the game was extended.
The protagonist of the extra time was the Lonzo Ball, Lonzo Ball was Lakers' solver at a crucial moment, including a long-range three-point shot, and giving assist to Ivica Zubac. Oklahoma City was unable to catch up with Westbrook.