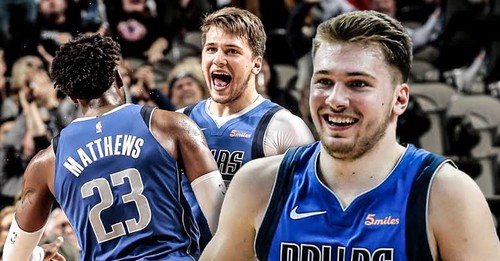 It is a game between Dallas Maverick and Houston Rockets in the NBA in the 2018-2019 NBA season at the American Airlines Center in Texas.
As Houston has the most prolific athletes, Dallas has made the game difficult. James Harden scored 35 points, four rebounds and eight assists and Chris Paul led the team with 23 points and two rebounds and eight assists, and the Dallas defeated Houston Rockets 102 to 94, leaving behind three 4-pointers.
But here is the magic of 'Super Rookie' Luka doncic. Doncic who fired the chase with a clean three-point shot in the 102nd to 94nd, put in a 3-point shot with his staff back in front of the center, and in the subsequent attack, he made a 102-102 tie with a bang in the attack.
Luka Magic did not stop. One minute before finishing 102nd to 102nd, Doncic shot another 3-point shot from the back of the staff and succeeded in making a reversal with 105 to 102, while the shot was just as he was rimming. Dallas was a 107-104 victory over Houston thanks to the magic of Doncic who scored 11 points just before the end of the season.
Luka magic, which has been shaking the NBA this year, was a performance that tells us why we have to win the Rookie of the Year.
Note: Luca Doncic vs Tracy Young
Luca Doncic's season record: 32.6 minutes, 18.2 points, 43.6% shooting percentage, 38.4% three-point success rate, 6.5 rebounds, 4.1 assists, 1.1 steals
Tracy Young's season record: 29.3 minutes, 15.4 points, 37.3 percent shooting, 24.3 percent, 3.8 rebounds, 7.2 assists, 0.7 steals