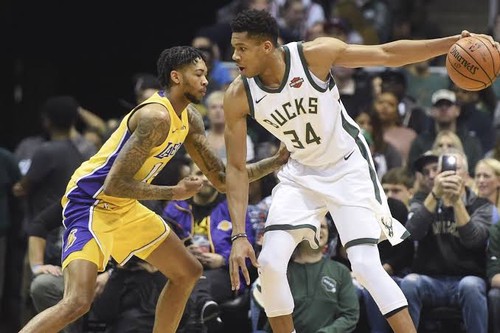 The power of 1st place in the league was great.
The Milwaukee Bucks beat the Los Angeles Lakers 131-120 in the regular season game of the NBA 2018-19 at the Staples Center in Los Angeles, California.
Milwaukee has won eight straight games. The pursuit of the Lakers was unbearable, but it ended. Milwaukee's 48-to-14 loss was confirmed early in the playoffs.
Meanwhile, the Western Conference 10th-place Lakers had a 3.5-game gap with the Los Angeles Clippers in eighth place.
Milwaukee Eric Bledsoe scored 31 points, 9 rebounds and 5 assists for the season. Giannis Antetokounmpo, who had a knee injury, played well and scored 16 points, 15 rebounds and 6 assists and 3 blocks. Malcolm Brogdon Scored 21 points, and Khris Middleton added 17 points and 6 assists. Ersan Ilyasova scored 12 points and Nikola Mirotic put in 11.
LeBron James, Brandon Ingram and Rajon Rondo all played well for the Lakers but did not lead the team to Victory. LeBron scored 31 points, seven rebounds and 10 assists, while Ingram had 31 points and eight rebounds.
Rondo scored 20 points and eight rebounds and nine assists, but the team failed to laugh.
The game was full of excitement. Both teams scored with a high pace of running.
But Milwaukee overturned the second half. Eric Bledsoe scored points with a bouncy resilience. Antetokounmpo showed a presence in karate. Milwaukee finished the game in a backward battle as the Lakers' unbelievable error in the fourth quarter ended.