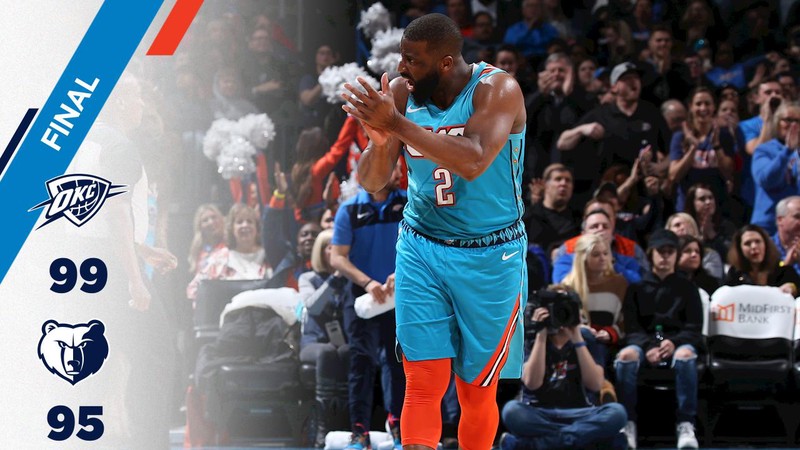 Oklahoma City Thunder beat Memphis Grizzlies 99-95 in the 2018-2019 NBA regular season game at the Chesapeake Energy Arena, Oklahoma.

Oklahoma City was in a four-game losing streak and succeeded in reversing the atmosphere. Season record 39 wins and 24 losses. Memphis, on the other hand, failed to win and was 25-40 on the season.
Oklahoma City was in a four-game losing streak before that day. The impact of Paul George was great. George, who is leading the team with Russell Westbrook, missed the last two games due to a shoulder injury.
In the first half, Memphis advanced to 52-46. If Memphis flees in the second half of the second quarter, Oklahoma City will be pursued. Oklahoma City had a brief overturned duel with Terrance Ferguson, but Memphis got the lead back.
Memphis continued to dominate in the third quarter. Memphis had 13 points with 3-point Justin Holiday dunk at 57-51, Avery Bradley also dunk three-point shot.
Oklahoma City, which was once behind by 13 points, narrowed to eight points and finished the third quarter.
Oklahoma City climbed to six points early in the fourth quarter. Memphis had a slight advantage over the second half of the fourth quarter.
Dennis Schroder scored 17 points and a career-high 11 rebounds, and Steven Adams had 13 points for the Thunder, Abdel Nader (15 points) and Gerami Grant (13 points).
Avery Bradley scored 27 points, Delon Wright had 17 and Jonas Valanciunas added 16 points and 13 rebounds for the Grizzlies.
Oklahoma City did not back down. Dennis Schroeder scored three runs in the bottom left corner of Westbrook, scoring a 93-93 victory over a one-minute run in the fourth quarter.
Paul George, the NBA's No 2 scorer and league leader in steals, missed his third straight game with a sore right shoulder. Oklahoma City stepped up late without its defensive leader, holding the Grizzlies to 6-for-21 shooting in the fourth quarter.
The last laughing team was Oklahoma City. Oklahoma City, who had an opponent to strikes, was able to overturn with a midfield shot from Westbrook.
Memphis went back to defending the Delton Light three-point strike, and Westbrook took advantage of the rebound.
Oklahoma City scored the winning goal with Schroder and Ferguson succeeding in a free-kick against the opponent.
Memphis, who had 10 points before five minutes before the end of the fourth quarter could not get the victory.