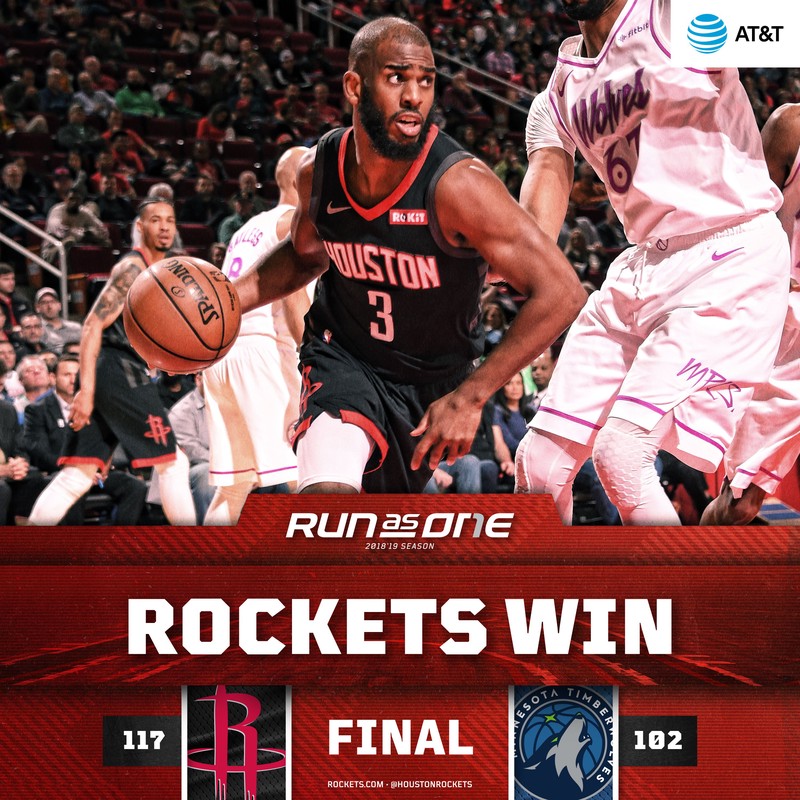 The Houston Rockets beat Minnesota Timberwolves 117-102 in the NBA regular season game the Toyota Center in Houston, Texas.

Houston Rockets has 11 wins and 1 loss in the last 12 games.
Houston, who had two consecutive wins, kept 44 wins and 26 losses and was third in the Western Conference. Minnesota, who lost three consecutive games, has 32 wins and 38 losses.
Point guard Chris Paul scored 25 points and 10 assists to lead the team to victory. In particular, Chris Paul showed a high hit rate (85.7%), which was a success with six 3-point shots. James Harden also scored 20 points and 10 assists, while Clint Capela scored 20 points and 13 rebounds.
In Minnesota, Karl-Anthony Towns scored 22 points and 10 rebounds, Taj Gibson scored 15 points and 10 rebounds in a double-double, but could not led the team to Victory.
Houston, who had a 26-30 lead in the first quarter, finished the game with a 50-49 win over Minnesota Timberwolves.
In the third quarter, Houston's three-point shot from the shower was blown out. Chris Paul and James Harden, Eric Gordon (12 points, four 3-pointers), and danuel house jr. (14 points), made three-point shots.
Harden has spent most of his time on the court for the past three seasons since having an average of 38.1 minutes in the 2015-2016 season. It may be strange that it is not crowded.
Harden has 36.1 points (.437, .355.876), 6.5 rebounds, 7.6 assists and 2.2 steals in 37 games per game, 65 games this season. He has scored the most average points since the NBA's advance, and he has scored a lot of points by raising the number of offensive attempts this season. Especially in the second half of the season, he scored more than 30 points in 32 consecutive games.
Houston, who had a lead of 93-78 and 15 points in the third quarter, did not have any difficulties in the fourth quarter and won.