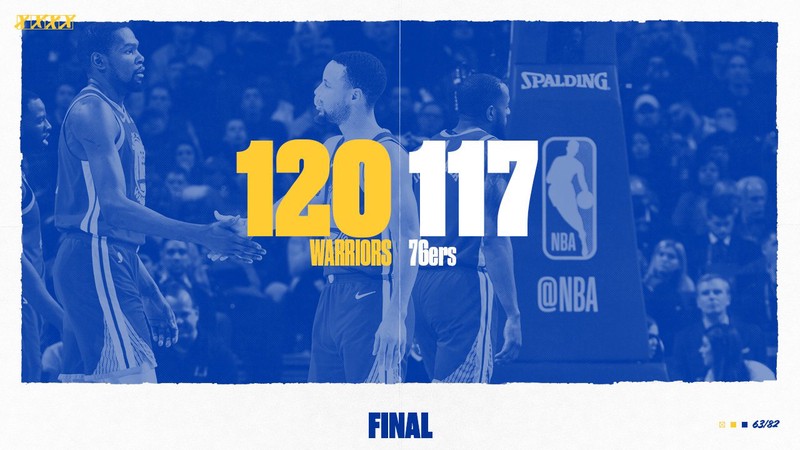 The Golden State Warriors defeated the Philadelphia 76ers to lead the Western Conference.
The Golden State won the Philadelphia 76ers 120-117 in the NBA regular season 2018-19 at the Wells Fargo Center, Philadelphia.
The Golden State, who had escaped from the second consecutive loss, was 44-19, keeping the lead. And the second place in Denver Nuggets (42-21).
Philadelphia had 40 wins and 23 losses in the Eastern Division.
Kevin Durant led the team with 34 points, 5 rebounds and 5 assists. Steven Curry also scored 28 points (5 points, 33.3 percent). The two players scored 62 points and closed the gap for Klay Thompson, who missed a knee injury.
Ben Simmons scored 25 points, 15 rebounds and 11 assists in a triple-double in Philadelphia, but the defeat of the team made him shine. Jimmy Butler also scored 21 points and nine rebounds.
In the first half of the third quarter, the Golden State scored 14 points in the first quarter, Damian Lillard scored (12 points, three shots), DeMarcus Cousins also scored (25 points).
Curry broke through the bench in the middle of the third quarter and retired on the bench, but thanks to Durant's 'One Man Show'.
Golden State advanced to 93-90 in the third quarter, and Curry was able to win in the fourth quarter. Curry made a jump shot, free throws, and layups scored six runs and scored a 117-111 lead.
Curry came to the end of the game as a 'solver' of Golden State.
Philadelphia had chased to the end with Tobias Harris and Ben Simmons, but Durant calmly succeeded in free-throwing the opponent's foul and put an end to the game.
Philadelphia followed the rest of the way but Golden State had a good time and finished the game in 120-117.