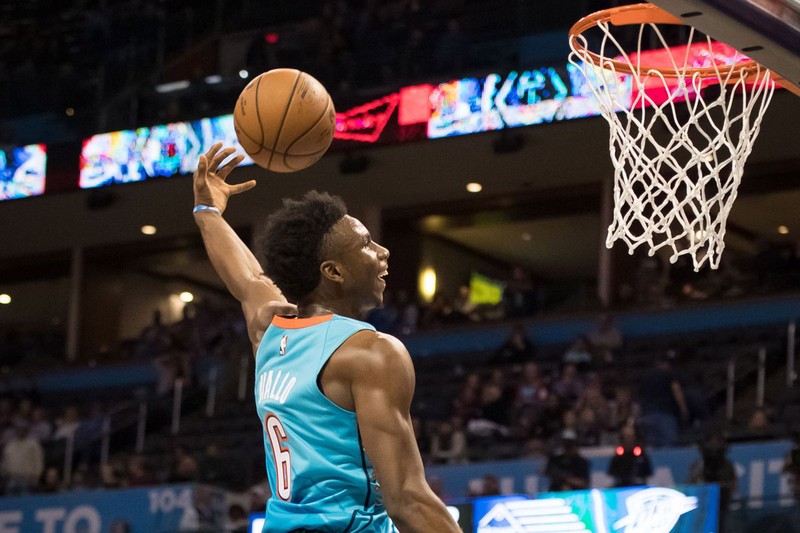 According to reports, Hamidou Diallo in Oklahoma City will be re-examined in about 7-10 days. Diallo was unable to escape the injuries in the away game against the Golden State Warriors on Wednesday. Diallo, who hurt his leg, was thought to be a serious injury, even when wounded.
Fortunately, I am afraid I have avoided a major injury. It is judged to be milder than expected at the time of injury. After reviewing the situation, it is concluded that the final diagnosis should be confirmed through re-examination. The injury was expected to result in a serious injury that may have ended this season, but it is expected to be avoided as a result of luck.
Diallo advanced to the NBA through the draft. He was named the Brooklyn Nets in the second round of the 15th. Since then, Brooklyn has taken diallo's nomination rights.
Oklahoma City contracted with Diallo immediately. I have contracted for the minimum annual salary for three years, and there is a team option ahead of the final year of the contract. Usually a two-year contract with a second-rounder, Oklahoma City has a three-year contract with Diallo. He will receive about $ 840,000 this season and will receive $ 1.4 million in the upcoming 2019-2020 season and about $ 1.67 million (team option) thereafter.
Diallo played for the NCAA Kentucky Wildcats in the 2017-2018 season. He also scored 10 points (.428, 333.616), 3.6 rebounds and 1.2 assists in an average of 24.8 minutes in 37 games. During his high school years, he was offered proposals from leading universities. After a season in Kentucky, he declared the NBA as expected.
Diallo did his part as a backup shooting guard until he was injured. 2-rounder, but he got excited as he entered the rotation unusually. He finished at 14.6 minutes per game before the injury and finished with 6.3 points (.470.267.720) and 2.8 rebounds. Andre Robertson was still injured, and Diallo helped him out.
However, Oklahoma City lost a major rotation to the outside rotation as Alex Abrines was injured and Diallo got out of the line. Terrance Ferguson keeps it, but it is true that he is sorry. All of the available resources are now in a state of disrepair and the players are weak.

Meanwhile, Oklahoma City has been ranked 11th to 6th in the Western Conference to date. After the season began, he lost his fourth straight losing streak, but he has been steadily raising his rankings with 11 wins and 2 losses in 13 games. Oklahoma City, which is currently the leader in the conference, has recently won the Golden State with a 123-95 victory.