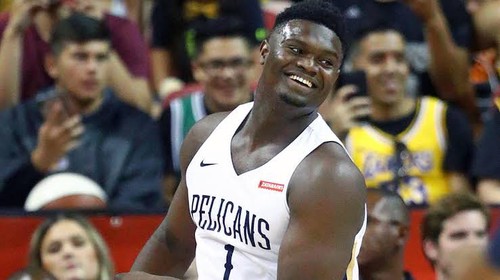 Zion Williamson's real height without shoe was revealed.
According to reports, the official height of New Orleans Pelicans' giant Williamson was about 198 cm (6 feet 6 inches) without shoe.
Williamson registered a height of about 201 cm (6 feet 7 inches) during Duke University. Compared to the registration one year ago, the measurement resulted in a height of 3 cm. If he put on shoes, it's about 201cm.
---
Williamson's real heights were revealed because the NBA Secretariat asked the club for accurate data on the height of the players.
At the end of September, the NBA Secretariat issued a letter requesting 30 teams to check and register the correct height and age of their players during the training camp. The height was measured without shoe, and the age required to check the date of birth registered on the driver's license or passport.
When this was first known, Kevin Durant (Brooklyn Nets) and J.J. Fans were also hoping that Barrea (Dallas Mavericks) accurate height without shoe would be released for the first time.
---
Currently, Durant is about 206 cm (6 feet 9 inches) and Barrea has registered an official height of about 183 cm (6 feet). Fans have thought that Durant is actually a little bigger, while Barrea is smaller. Durant told KNBR in 2016, "In fact, I'm taller than I'm registered. I'm about 6 feet 10.75 inches tall. I'm 7 feet tall when I wear shoes." Durant and Barrea will also officially register their 'real' height without shoe with the Secretariat.
---
Meanwhile, the only player with shorter foot heights from this measure is not Zion Williamson. Marvin Bagley has been shown to be about 203 cm (6 feet 8 inches) without shoe. Last year Bagley had officially registered his height without shoe results to about 211 cm (6 feet 11 inches).