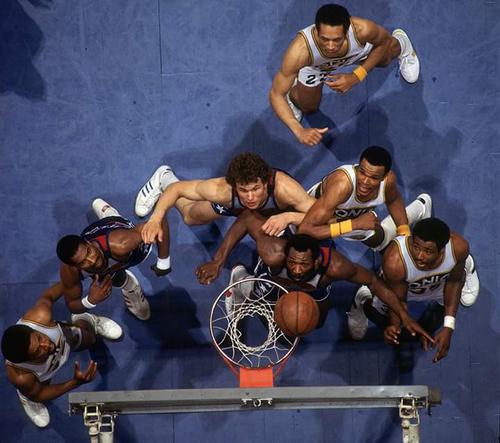 When you think of the Finals in the 70s, what comes to your mind?
Maybe the 3 OT game between the Suns and Celtics.
Maybe Willis Reed's injury and Frazier's inhuman Game 7. Maybe Kareem's skyhook over Cowens in Game 6.
Maybe Jerry West winning his 1st ring or Maybe Kareem and Oscar mercilessly sweeping the Bullets. Maybe Rick Barry averaging damn near 41 points a game in the 1967 Finals.
But I bet you probably forgot an incredibly close Finals: The 1978 NBA Finals. What happened in that 7 game series? Here's a breakdown of 1 of the forgotten Finals and rivalries of the 70s.
MINI BACKGROUND:
The eventual winners, Washington Bullets came into the series as the slightly better offensive team, with Elvin Hayes anchoring the offense and rookie Wes Unseld controlling the defense. Bob Dandridge was recently traded to the Bullets from Milwaukee, after Kareem left. Their backcourt was solid but nothing special. It doesn't matter too much, since it was 70s basketball.
The Supersonics had 2nd Dennis Johnson, long range shooter Fred Brown and Gus Williams pouring in a solid 18 points in the regular season. While their back court was dominant, their front court of Marvin Webster, Jack Sikma and a declining John Johnson would give this Finals an answer to an interesting question: Are backcourts or front courts more important?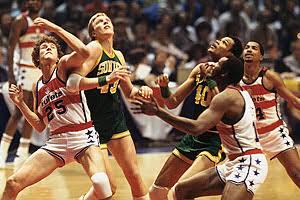 GAME 1.
With a slightly better regular season record, Seattle has HCA. The Sonics make a furious comeback in the 4th to win 106-102. Surprisingly, the bullets' front court, which had been their advantage, was outplayed thoroughly by the Sonics' front court. Marvin Webster, John Johnson and Paul Silas combined for 36 rebounds. Fred Brown lit it up off the bench with 30 points!
GAME 2.
Back at home, the Bullets swiftly evened up the series. Unseld played incredible defense and pulled down 15 rebounds. Hayes had 25-9, Tom Henderson(WTF are you?) dropped a casual 20. However, the biggest story of the night was Bob Dandridge who abused the Sonics defense with 34 points on 64% shooting. Meanwhile, the Sonics struggled miserably to make shots, as they lose to the Bullets 106-98.
GAME 3.
In an incredibly intense and back and forth Game 3, the Sonics eventually edged out the Bullets 93-92! 6 Sonics scored double digits. Out of ABSOLUTELY NOWHERE, Dennis Johnson recorded 7 BLOCKS that night. The defense was evident, as the Bullets struggled mightily to score, shooting an awful 34% as a team. Whiles Hayes dominated with 29-20, nobody as played well. Henderson, Grevey and Dandridge, who had played well in Game 2, shot a combined 17/56.
GAME 4.
On the road, the Bullets toughened up and eventually succeeded in OT, 120-116. It was an absolute dogfight. Dennis Johnson had 33 points, Gus Williams had 23 points, Jack Sikma had 20, Marvin Webster had 15 boards, and Fred Brown contributed 18 points. However, the Bullets simply outplayed them by a smidge. Unseld stepped up with 15 points. Henderson had 11 assists. Dandridge dropped 23. All in all, 7 Bullets scored in double digits. Additionally, they cut down on their turnovers, but the Sonics turned the ball over 18 times.
GAME 5.
Back on the road, the Sonics proved their ability as they again narrowly win the pivotal Game 5, 98-94. Fred Brown once again demonstrated his shooting prowess with 26 points on 60% shooting off the bench. DJ had 24, Webster had a double double, and 3 other players scored double digits. How did the Bullets lose? While 5 Bullets also scored in double digits, they simply could not convert on free throws. Dandridge went 1/5 from the line, and Unseld went 3/7. The overall defense from the Sonics was spectacular.
GAME 6.
Back home, it was do or die time for the Bullets. Outscoring the Sonics 70-47 in the 2nd half, they obliterated Seattle 117-82. 6 Bullets scored in double digits, including some players you've never heard of. The Sonics played superb defense on Hayes, Dandridge and Henderson, Kupchak filled in with 19 points on 70% shooting, while Greg Ballard had 12-12. The Sonics starting lineup shot 20/61, and they made under 60% of their free throws. This was an INCREDIBLY horrific offensive night for the Sonics, as they tried repeatedly to isolate instead of moving the ball.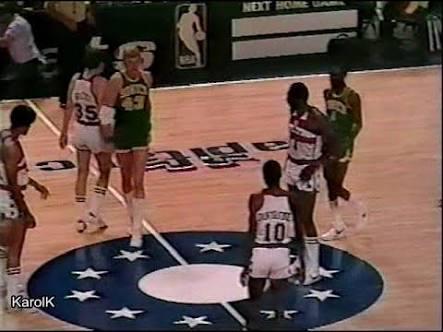 GAME 7.
Back at home, the Sonics have 1 last chance. For the Bullets, they need this win. Despite a comeback in the 4th, it proved futile as the Sonics fell 105-99 at home. We are placing a huge amount of blame on Dennis Johnson, who shot an atrocious 0/14. Gus Williams also shot 4/12. Marvin Webster did all he could with 29 points and 17 rebounds!!! Sikma came up with 21 and 11. How did the Bullets win, you may ask. Apart from 6 players combining for 93 points, the Bullets moved the ball a lot better and were able to score easier. This gave them more energy on defense to pressure the Sonics into 39% shooting. The final straw? 3 of the other Bullets scored 12 points, while 3 of the other Sonics scored 8.
Note: I own no rights to the videos!