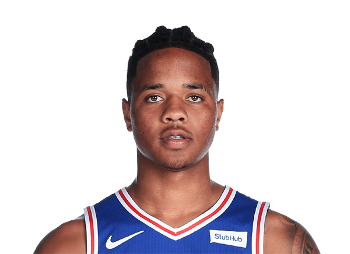 The Markelle Fultz situation is both interesting and unprecedented in the modern NBA. With Fultz originally predicted to return from his shoulder rehab sometime in January after being diagnosed with Neurogenic Thoracic Outlet Syndrome, you can bet that trade conversations for the 2017 No. 1 pick will heat up as we approach the trade deadline.
Do the Sixers give Fultz one more chance to prove he's capable of contributing big minutes, or do they cut their losses now and get some role players to make a push for Finals contention this season? And will anyone even make a solid offer for him before seeing how his shot looks post shoulder treatment? Who knows. But that speculation and the endless possibilities of how this situation might resolve itself is what makes this such a fun topic to talk about.
It's in the Sixers' best interest to move Fultz ASAP. With their addition of Jimmy Butler, they already have a roster capable of contending without Fultz. And with their young core of Embiid and Simmons (and the likelihood that JB23 signs a multi-year deal with them this off-season) they don't need Fultz to realize his potential in order to keep contending for the next 3+ years. What the 76ers do need is complimentary pieces on both ends of the floor, to make up for their offseason Bellinelli and Ilyasova losses and in-season trade losses of Covington and Saric. Swing a trade for Fultz now while other teams may still be betting on his upside to set your team up for a run at the Finals this season.
Meanwhile, it's also in Markelle's best interest to go to another team and have a fresh start with a new organization. The kid is only 20 years old... Even if he doesn't live up to his potential, he can still carve out a successful role for himself in the NBA. Starting anew on a different team where expectations are tempered - (instead of dealing with the pressure of being a No. 1 pick and franchise guy) - gives him that chance.
Finally, it's in a lot of other franchise's interest to take advantage of the 76ers' 50/50 willingness to move on from Fultz. The Sixers are asking for a 1st round pick, but maybe they would bite at 1 or 2 Brett-Brown-system pieces that they can work with right now. It's worth a shot, and I'd bet the 76ers do take the best offer on the table before the 2019 trade deadline. Fultz might be able to provide a spark to whatever team gets him this season, and at the same time he gives them somebody to build a core with moving forward.
With all of those reasons for a trade established, let's breakdown the seven trades the 76ers could make that make the most sense right now.
1. The Boston Celtics offer the godfather package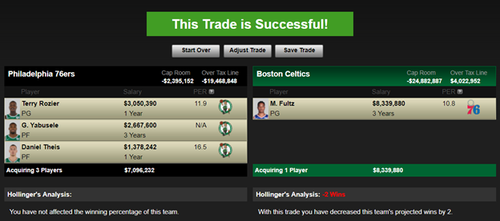 If the Celtics throw in their own 1st round pick, the 76ers have to take this deal that includes Rozier, Theis, and Yabusele (to make the money work) for Fultz. To be clear, this is a godfather package in the 76ers mind but is not all that much to give up for the Celtics considering they likely have 4 1st round picks. Give up one of those and take a chance on Fultz. Rozier is gone this offseason anyways. The 76ers get the 1st round pick that they want, along with key role players that can help them stretch the floor and move the ball on offense with Rozier and Theis.
2. The Spurs bank on nurturing Fultz back to health
If the Spurs also throw in their 2020 1st round pick, the 76ers have to take this deal as well. They would be getting back Belinelli who was a huge addition to their team last season, and represents another outside sharpshooter that they are in desperate need of. Derek White can also provide some defensive intensity off the bench, and it would be an easy transition for him moving to a 76ers team that runs a similar offensive and defensive system as San Antonio. The Spurs make this trade for the future. It's safe to say that the Spurs will have a better season in 2020 than in 2019, when they get their starting point guard back in Murray, and have Lonnie Walker for the entire season. They should hold on to both their 2019 1st round picks and use the rest of this season to slowly work on Fultz's health, improve his shot with the famous shot-doctor in Chip Engelland, and get him used to the Spurs style of play. Think of a Spurs roster next year featuring Murray and a healthy Fultz in the backcourt, with Derozan, Gay, and Aldridge in the frontcourt; while also having Mills, Forbes, Bertans, Poeltl, Gasol, Metu, Walker, and two 2019 first rounders coming off the bench. As the Scribes of 505's resident Spurs fan, the possibility of this roster has me hoping for this trade.
3. The Suns add to their young core of Booker and Ayton

The inclusion of two or three second round picks from the Suns may get the 76ers thinking about this. Bender can help the 76ers space the floor in a lesser Saric-esque role, and Troy Daniels can provide some scoring off the bench. Two role players that could help the 76ers right now, and the hoarding of (very high) second round picks may be enough to get the 76ers to pull the trigger on this. The Suns do not need more low-ceiling players they can get in the draft, so they shouldn't be stingy with those multiple second round draft picks. Get Fultz working with Booker and Ayton to establish the basis for your franchise moving forward. If nothing else, at least show Booker you are trying to build a team around him.
4. Brooklyn takes a chance and adds Fultz to their young up-and-coming core

Brooklyn should not need to throw in much more here, but let's say they throw in a second round pick. The 76ers should be ecstatic to receive an underutilized and forgotten about DeMarre Carroll. He can contribute on both ends of the floor right away and help the 76ers late in the postseason. Brooklyn could be hoping to have Fultz give them a spark this season, but worst case scenario they get a nice young piece to continue building their young core of Jarrett Allen and D'Angelo Russell.
5. The Kings looks to set up a dynamic Fox-Fultz backcourt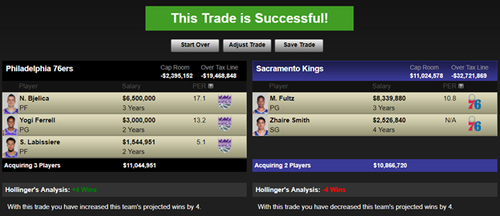 The Kings probably do not want to part ways with any future draft picks, but I don't think this trade needs one. Again, the 76ers would get Bjelica to space the floor and act as a poor man's Saric; while also getting promising up and coming talent in Ferrell and Labissiere (one of the most underrated players in the league) who will work hard on both ends of the floor. The Kings can take a chance on Fultz and hope that a change of scenery is all he needs to live up to half his potential. If he can do that, suddenly a Fox-Fultz backcourt becomes one of the best two-way backcourts in the league.
6. Desperate Bulls try to shake things up

Like the Kings trade above, the Bulls probably do not want to part ways with any of their future draft picks; however, maybe the 76ers don't need one here either. Kris Dunn is the perfect offensive and defensive spark coming off the bench for the 76ers. At a minimum he will provide stout defense and rebounding; while Markkanen can give the 76ers a stretch-4 to space the floor and pull the defensive away from the paint which opens it up for Butler, Embiid, and Simmons. The Bulls do not seem to know what they are doing as an organization, but it's too early to say the Jabari Parker signing was a bust. Give him some pieces to work with, like a Markelle Fultz alongside a healthy Zach Lavine and see what happens. It can't get any worse than it already is.
7. Detroit rolls the dice

Detroit would probably need to add a first round pick here to even get the 76ers thinking about it, and that may be too steep a price to pay. However, if they are willing to roll the dice on Fultz and fully believe that he can live up to his potential, then this becomes an easy trade for the Pistons to make. The 76ers would get the first round pick that they desire, along with bench scoring and outside shooting in Kennard and Robinson III.
When will a deal get done?
According to the latest report, Elton Brand will be patient with a Fultz deal as he doesn't NEED to trade him; and Brand may end up holding on to him in the hopes that Markelle can have a long and successful career in Philadelphia. Of course, that's the public position he should take to coax out the best offer possible, but the reality is that he should be trying to move Fultz before the 2019 trade deadline. It's all speculation at this point, and I can't wait to see how it turns out.