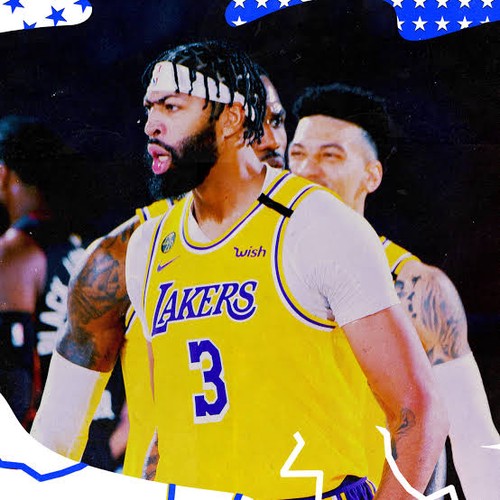 According to my information, Anthony Davis confirms that he is ready to compete on Sunday when the Los Angeles Lakers try to beat the Miami Heat again in the title race for the 2020 NBA, despite fears of injury sustained in the Lakers' fifth game loss. on Friday (9/10) local time. Anthony Davis, who played in the NBA Finals, made an awkward jump while competing against Miami's Andre Iguodala for the rebound in the first quarter and limped off the pitch in pain.
The Los Angeles Lakers said the bruise on his right heel had worsened, but after pacing carefully on the sidelines, he returned to the game to score 28 points.
Iggy-salam Igoudala- sort of stepped on it, "said Anthony Davis as quoted by AFP. To make matters worse. But I'll be fine on Sunday. Davis said he injured his heel in the Western Conference's last win over the Denver Nuggets. He said the pain of the day was pain. Friday was "lost", even though the movement seemed late in the game. I kept moving, trying not to sit down. Get some adrenaline and I can keep going and keep playing, "Davis said.
The Lakers still lead the best-of-seven series 3-2 and Davis said there was no reason for them to head their heads after narrowly losing - 111-108 - in a tense back-and-forth fight. It's basketball, "he said." This is Final. They want to win just like us. So we have to accept it on Sunday. We just need to win once more, they have to win twice, "he said." We also have to remember it.
👉 versy indo/mlysia
Menurut informasi saya, Anthony Davis mengonfirmasi bahwa dia siap bertanding pada hari Minggu ketika Los Angeles Lakers mencoba mengalahkan Miami Heat lagi dalam perebutan gelar NBA 2020, meskipun ada kekhawatiran cedera yang dideritanya pada kekalahan kelima pertandingan Lakers. pada Jumat (9/10) waktu setempat. Anthony Davis, yang bermain di Final NBA, melakukan lompatan canggung saat bertanding melawan petenis Miami Andre Iguodala untuk mendapatkan rebound di kuarter pertama dan tertatih-tatih di luar lapangan karena kesakitan.
Los Angeles Lakers mengatakan memar di tumit kanannya telah memburuk, tetapi setelah mondar-mandir dengan hati-hati di pinggir lapangan, dia kembali ke permainan untuk mencetak 28 poin.
Iggy-salam Igoudala- semacam menginjaknya, "kata Anthony Davis seperti dikutip AFP. Yang memperburuk keadaan. Tapi saya akan baik-baik saja pada Minggu. Davis mengatakan dia mengalami cedera tumit dalam kemenangan terakhir Wilayah Barat atas Denver Nuggets . Dia bilang rasa sakit hari itu adalah rasa sakit. Jumat "tersesat", meski gerakannya tampak terlambat di permainan. Saya terus bergerak, berusaha untuk tidak duduk. Dapatkan adrenalin dan saya bisa terus maju dan terus bermain, " Kata Davis.
Lakers masih memimpin seri best-of-seven 3-2 dan Davis mengatakan tidak ada alasan bagi mereka untuk menyundul kepala setelah kalah tipis - 111-108 - dalam pertarungan bolak-balik yang menegangkan. Itu bola basket, "katanya." Ini Final. Mereka ingin menang seperti kita. Jadi kami harus menerimanya pada hari Minggu. Kami hanya perlu menang sekali lagi, mereka harus menang dua kali, "katanya." Kita juga harus mengingatnya.