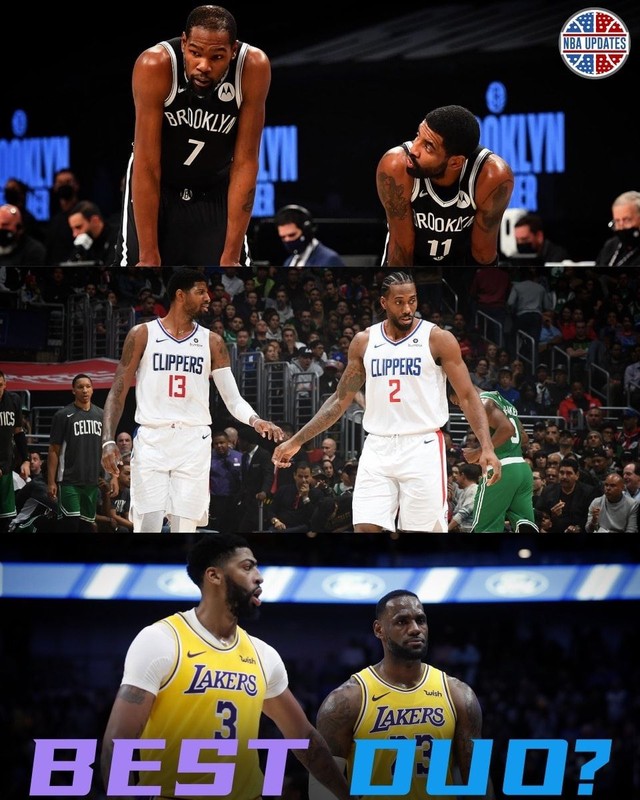 The parameter of being great or label as the best is leading your team to championships or at least one...so to me...Lebron & Ad are the "only" 2 on this list that considered to be the best duo right now until they get dethroned.

KD and Kyrie still haven't played a whole season together, so it is still questionable as of the moment but they shown flashes in those two games that they could compete at a high level even tho Durant is not yet at hundred percent of his true game.

I don't know if it is just a curse for the Clippers organization as they were always one win away to meet the conference finals suddenly they seen themselves eliminated. Kawhi and Paul George is the first that comes to mind who could stop Lebron and AD in a 7 game series. Tho PG13 really choke last playoffs we'll see if they are getting a revenge season.
Current NBA Standings:
East:
1. Nets 2-0
2. Hawks 2-0
3. Pacers 2-0
4. Magic 2-0
5. Sixers 2-0
6. Cavaliers 2-0
7. Celtics 1-1
8. Heat 1-1
9. Bucks 1-1
10. Raptors 0-2
11. Pistons 0-2
12. Hornets 0-2
13. Bulls 0-2
14. Knicks 0-2
15. Wizards 0-2
West:
1. Clippers 2-0
2. Timberwolves 2-0
3. Spurs 2-0
4. Kings 2-0
5. Thunder 1-0
6. Pelicans 1-1
7. Lakers 1-1
8. Suns 1-1
9. Jazz 1-1
10. Blazers 1-1
11. Rockets 0-1
12. Nuggets 0-2
13. Grizzlies 0-2
14. Mavericks 0-2
15. Warriors 0-2