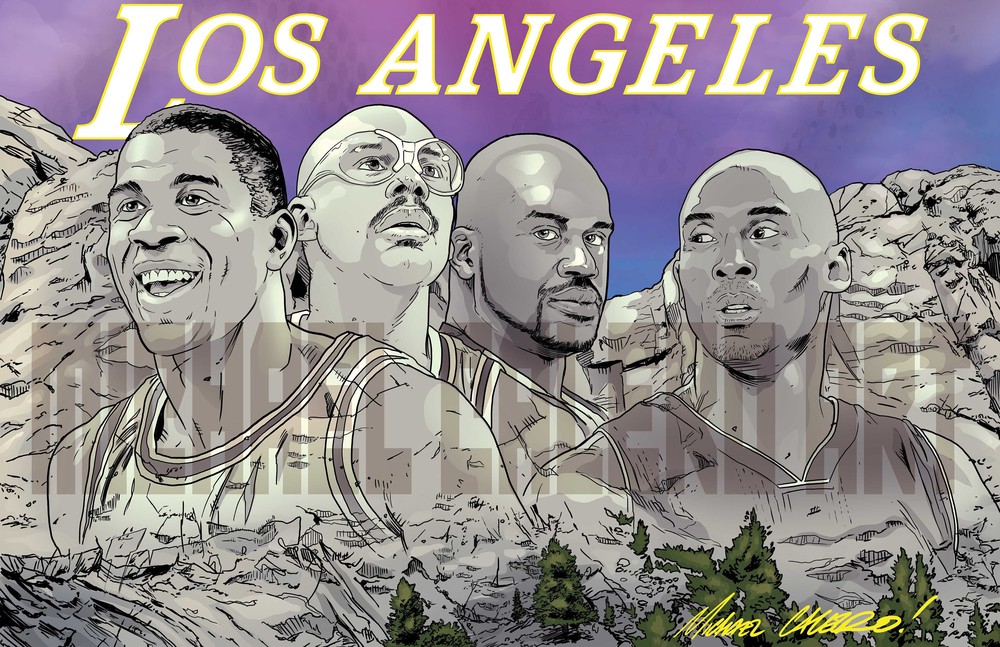 Great teams always accomplished incredible feat which is why the Los Angeles Lakers or also known as the LALA land looks pretty head and shoulders above over everybody else in the NBA if we are talking about the history of accomplishments they've had. The arguably greatest franchise has been in title contention for several decades from Jerry West up to Kobe's back to back championship with Pau Gasol in three straight final appearances from 2008 to 2010. The purple and gold's ways of winning championships left and right is like watching a trending series in Netflix in which you couldn't help but follow it until the end and wanted it more to continue that way.
The NBA free agency back in the old days is not that very versatile like in today's generation but imagine how the Lakers pulled of amazing acquisition of assets that led to multiple rings. Out of this Lakers mount rushmore guys the only player they got drafted was Magic Johnson but would you believe that it was a trade that made them have an opportunity to draft Magic? In the summer of 1976 Gail Goodrich was signed away by the New Orleans from the Lakers during that time the rules required one team to compensate another for signing away veteran players. And the compensation for that is some handful of picks that included the 1979 first round draft pick which led to showtime Lakers.
Now the argument I'm going to make is that among all the teams that enter the competition is the Lakers Mount Rushmore Players the greatest ever? Do you think that the quadro or quartet of Magic Johnson, Kareem Abdul Jabbar, Shaquille O'neal and Kobe Bryant could be stop by other team's top four guys in their respective history of great players for me I think no one. But for the validation needed for the case to be closed I will elaborate the details by giving some rough information on the above mentioned Lakers greats.
---

Shaquille O'neal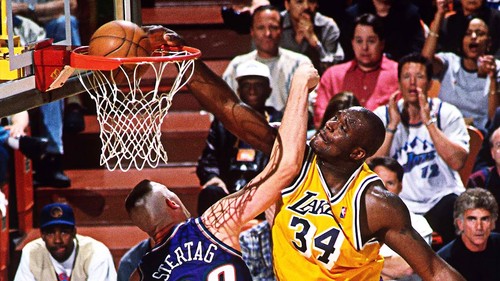 The Los Angeles Lakers signed Shaquille O'neal in the summer of 1996 which is one heck of a move that Jerry West has plotted that ended up in a three feat later on. The most dominant player in the world during his prime and arguably right there with Wilt is none other than Shaq. He is an immovable force in the post, no one can stop Shaq one on one in the paint area considering his monstrous strength standing at 7' 1'' at almost 330 to 340 pounds.
The Diesel average 27 and 12 during his eight years stay in the purple and gold and build a dynasty with Kobe Bryant that translate to multiple finals appearance and winning three championship title (three-peat). Those were Shaq's peak and obviously the most valuable player on all of those finals although you can argue Kobe really take the most important shots and just as valuable as Shaq. Many analysts says that Lebron is almost unstoppable in transition in especially when he tries to do a coast to coast then you better see Shaq do that he is no just almost unstoppable he really is.
Even Shaq stated himself that the NBA doesn't really witnessed or captured his 100% true ability because he was always doubled or tripled most of the times, imagine Shaq's scoring average if he is only defended by a single player. If Shaq would play in today's game I could easy see him to average 40 points a night who would play defense on him Draymond? Even though O'neal played just eight seasons in LaLa land he is still contributed multiple titles to the team and its just worthy enough to include him in the mount rushmore.
---

Kareem Abdul Jabbar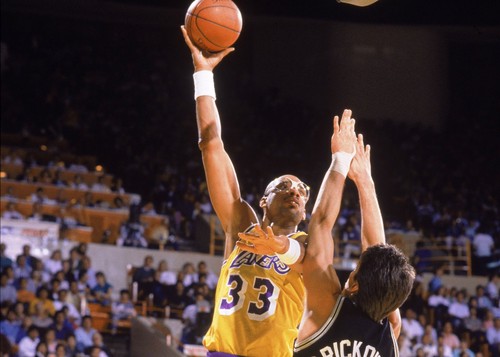 Kareem Abdul Jabbar or Lew Alcindor played for the Bucks from 1969 up to 1974 but will forget that somehow, arguably the greatest player of all time along with Michael Jordan that played for the Los Angeles Lakers for 14 seasons who has the most unstoppable weapon which is the Skyhook. Cap stands at 7 ft 2 inches towering above everyone when trying to do the hook shot or as they called skyhook trully was unstoppable whether its in the low post or mid post he can still pull it off.
Most people says that there is no Show Time Lakers if Magic hadn't arrived which is half truth tho but for me Magic couldn't won titles without Cap and Cap without Magic which is a pretty fair argument right? Cap averaged 22 and 9 for his stay in the purple and gold which is great numbers but not that pretty impressive the reason for this is that he is still playing at retiring age of most players but still able to put up decent numbers.
Kareem able to notched six MVP awards and top the scoring lists up until now which is pretty hard to break. If only he played for the Los Angeles in all of his career he could wind up as the greatest Lakers ever debate along with Kobe. A great way to end his career winning two out three titles in his last three season in the NBA only to be swept by the Detroit Pistons but that was Cap at age 41 so it is somewhat reasonable.
---
Magic Johnson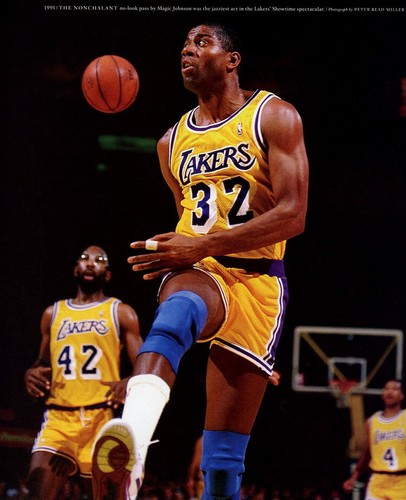 Magic Johnson today is the Lakers President of Basketball Operation but kids today doesn't know quite well how really damn good Magic was. The Lakers acquired the first draft assets from the New Orleans Jazz three years prior to 1979 NBA draft that resulted the team drafting Magic the best point guard in the history of basketball. The first year and rookie season of Magic, the Lakers instantly reached the NBA finals and won the title that same year which Kareem as great he was failed to accomplished. Lakers faced the Philadelphia 76ers which is led by Dr. J Julius Erving and took a 3-2 advantage in the series but unfortunately Kareem hurt himself and couldn't play the next game but that unfortunate event turned into one of the finest games in NBA lore, Magic replaced Kareem at the center position while also playing the point guard and forward positions at the same time and was able to put up historical numbers of 42 points, 15 rebounds, 7 assists and 3 steals. The Lakers won the series and awarded Magic Johnson as the finals MVP only in his rookie year imagine how Magic showed his heart and will to win games when it matters most.
Kobe said in an interview with Jimmy Kimmel that Magic was his basketball super hero and his game wouldn't be complete without Magic. Kobe also responded to Jimmy Kimmel's question of who is the greatest Lakers ever and Kobe smiled and replied that Magic is the greatest ever to wear the purple and gold. Just as Magic once said he and Kobe have mutual respect for each other which they both won 5 championships in different eras.
Magic is considered to be the greatest passer ever to lace up in the basketball court standing at 6 feet and 9 inches it's not hard for him see the floor well along with his brilliant brain as he really was a student of the game. Magic's career even as dazzling as it is, was still one of the most what if career would be for me because his career is cut off by HIV in his prime. Imagine Magic able to notched three regular season MVP during the GOAT era of MJ, what could have he done more if he was healthy. But one thing is for sure there is no Show Time Lakers without Magic and he really does paved the way for point forwards of today's generation of basketball atheletes.
---
Kobe Bryant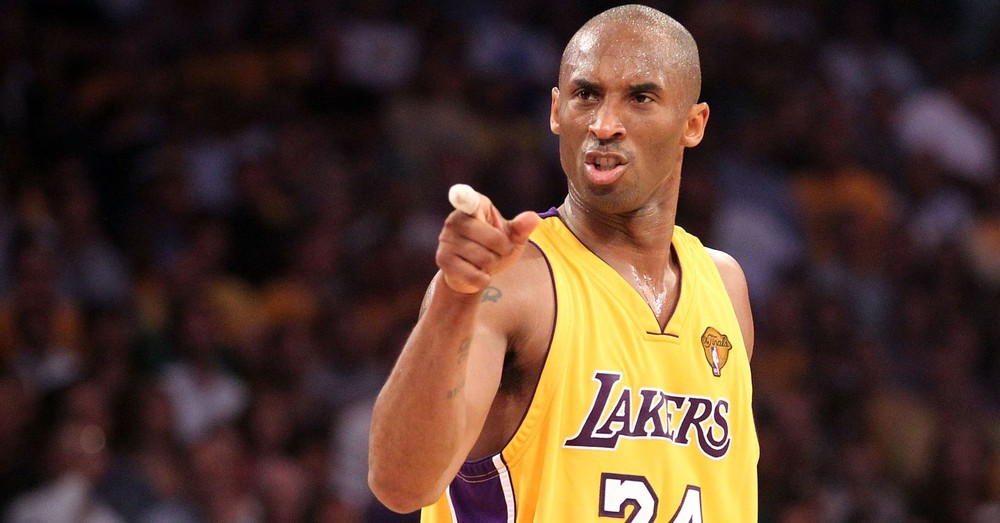 Lakers able to pull off one of the greatest acquisition in the history of the NBA after trading their starting center Vlade Divac for New Orleans Hornets draftee Kobe Bryant and it really was one of the best move that Jerry West has done. Arguably one of the best to lace up in the basketball court and the closest thing to Michael Jordan is none other than the Black Mamba, in killer's mentality and will to win games without shying away of taking shots when it really matters most. Kobe along with Shaq build the Lakers dynasty during their stint and able to pull of the rare three-peat, even though Kobe was not yet in his prime during those years.
Although it looks like Kobe just patterned his game to MJ, he actually get some moves from the likes of Hakeem Olajuwon and some defense from Gary Payton and Scottie Pippen if you watched some of Kobe's interview. During his prime he considered the most complete offensive player and the best player in the world and yet Kobe is one of the most hated NBA greats, maybe partly the reason is that he is always compared to greatest ever. He was always scrutinized by the public that he only won because Shaq carried him and as a result, led to the most controversial and heart breaking breakup in the history of sports. After some time after the trade that Lakers did of getting Pau Gasol which end up getting three straight finals trip and won two out of them.
The Mamba able to put up 25 points 5 rebounds and 5 assists career numbers in the purple and gold. Considered by many greats to be the greatest ever to put up the Lakers uniform with the likes of Magic Johnson and Shaquille O'neal. No one would ever forget the best performance of a last game of a basketball player that Kobe did which dropped a 60 point game against the Utah Jazz and no one could also ever forget the 81 point game that he put up over the Toronto Raptors which is once in a blue moon type of event not only in a player's life time but in our life time as a whole.
Kobe turned many downs into ups during his career in the NBA, from the multiple air balls to one of the most clutch players in the NBA. From one of the most outcast in the NBA draft to one of the greatest ever, scrutinized for winning because of Shaq to actually won two more without Shaq and from one of the most hated players to one of the most loved in his last season farewell tour. The best ever to wear the purple and gold for me is Kobe as he always says "Always Love the Hate".
It is pretty hard to imagine that other franchise could ever matchup to this four heavy weights in terms of play, charisma and will to win. Kobe, Magic, Shaq and Cap was trully amongst the best player in the history of NBA and you could make the case of them in the top five conversation when ranking the best player of all time. If you have any mount rushmore players of other team you can just drop in the comment section below.