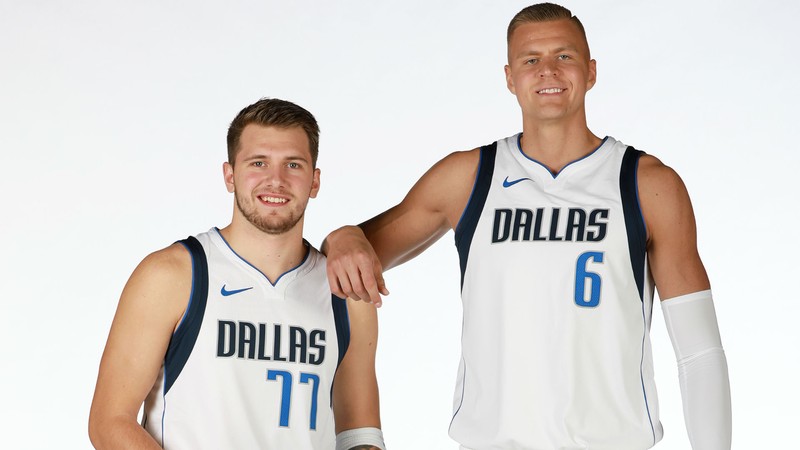 It's a really weird time that we have an NBA hiatus but assuming we're gonna get some playoff basketball in the future I've got X Factor for the Dallas Mavericks if they want to make a deep playoff run. We're gonna break them down for you right now let's start out with the dynamic duo look this really is what makes everything happen for the Dallas Mavericks it's Kristaps Porzingis and Luka Doncic.
The two together this year have so far been averaging Luka 28.7 points per game nine boards nine assists and shooting nearly 32% from three now we all know that three-point percentage could be a lot better and there have been times where it looks great and other times where it doesn't look so hot.
Now for Zing it's on the other hand 19.2 points per game he's finally surpassed Luka in the rebounds per game category at nine and a half this year he's averaging 2.1 blocked shots and shooting nearly 35% from three if the Mavs want to make a playoff run a deep playoff run these two are gonna have to get it together and play well together all year long.
The X factor here is Porzingis health, well both of them should play as much games as possible because the west coast is really loaded with title contending teams. And there are also up and coming young teams like the Sacramento Kings, Phoenix Suns, New Orleans Pelicans and Memphis Grizzlies who might be their rival for the next couple of years.
PROMO LINKS:
https://www.facebook.com/nbacourtvision
https://www.facebook.com/JulsPorts
https://www.facebook.com/animecravers
https://www.facebook.com/librengcrypto
https://steemit.com/@julstamban
https://twitter.com › engrjulstam
https://www.facebook.com/hooppress/
https://www.linkedin.com/in/julius-tamban-2a7865167/