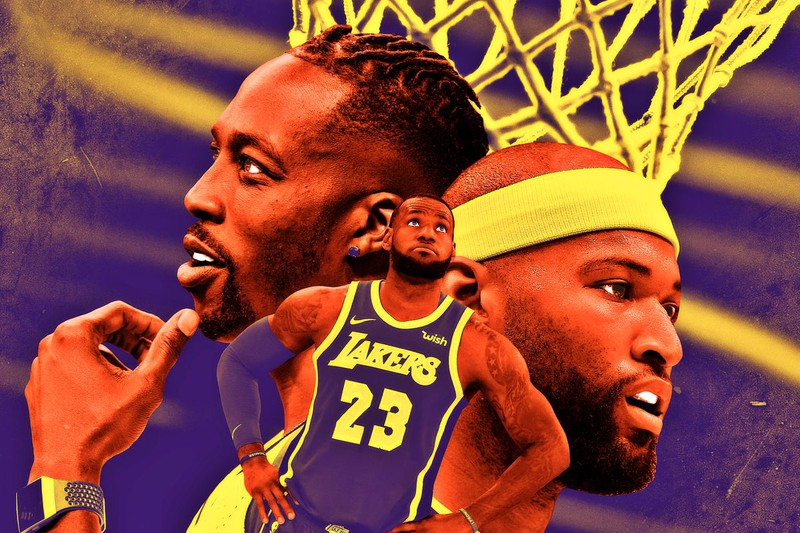 What is goin on guys here is another article of NBA express and today we are going to debate whether Dwight Howard or Boogie Cousins is the better fit at the center position for the illustrious franchise of purple and gold. DeMarcus Cousins as we all know is going to be missing the entire season with a torn ACL and now we officially have Dwight Howard he is back. The Lakers signed Howard to a non guaranteed contract and this has a lot of people having very mixed emotions obviously you know back in 2012-2013 Howard played freely with a complete disaster and only lasted for a season before he ultimately left that summer during free agency to go places Houston Rockets.
And he is honestly one of the most if not the most hated player to ever played for the Lakers honestly Laker fans hate him they built him like crazy but now he is back it's crazy no one could have expected it the media is having a field day a lot of people are questioning you know whether or not he's gonna be able to fit with this team whether or not he's going to be able to put us ego aside is he gonna be healthy how is this going to work.
But at the end of the day I actually think that DeMarcus Cousins and Dwight Howard the concerns that we have over Dwight Howard are very similar to the concerns that we have that we had for DeMarcus Cousins.Now that we have Dwight Howard I thought that we could kind of compare boogie and Power today and kind of discuss their potential with this team and then predict some of Dwight Howard stats for this season.
Dwight in Hornets was still Great?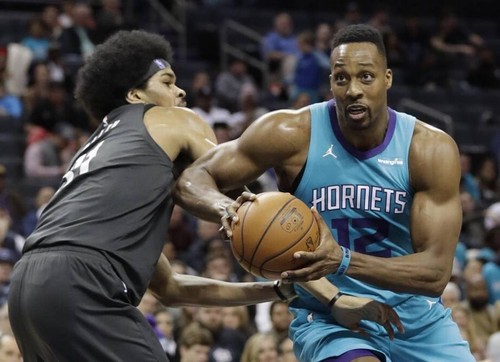 Now let's start off by kind of comparing these two stat wise and kind of talking about some of their future potential for this season so obviously you know both of these guys have struggled through injuries throughout their career and DeMarcus Cousins unfortunately has yet to prove that he's been able to come back from this Achilles injury which is one of it's not the most serious injuries a professional athlete can have we've honestly seen it really deter and really ruin and end a lot of professional athletes careers.
And so far like I mentioned bookies get to prove that he's been able to come back and be fully healthy he obviously you know played for Golden State this season but then suffered from that squat injury now he has that torn ACL so there still are a lot of question marks regarding his health and if he ever is going to be able to come back and be a hundred percent again and Dwight Howard kind of same thing you know joint hours really struggle throughout his career with a lot of back injuries which are very serious.
Last season for the Washington Wizards he actually only played in nine games so he pretty much missed the entire season but the season before that for the Charlotte Hornets he actually played in all 81 games so he was 100% healthy and he averaged 16.6 points per game and also grabbed 12 and a half rebounds so he played very well for Charlotte back when he was healthy which just goes to show if Dwight Howard is healthy he can definitely be an extremely dominant player.
Boogie Cousins series of health concerns
Now DeMarcus Cousins was an NBA all-star a couple of years ago back when he played for the New Orleans pelicans before we tore that Achilles but you know why Howard it's actually an eight-time NBA all-star not only that word Howard is also you know led the league in blocked shots in rebounds multiple times he's made the NBA all-defensive team multiple times he's been NBA Defensive Player of the Year multiple times he's made the NBA all team multiple times so Dwight Howard has a long long list of achievements now so while DeMarcus Cousins you know yes he very talented player I guess if you are technically comparing their career stats and their career achievements Dwight Howard easily wins.
You know there was definitely a time when Dwight Howard was considered one of the best if not the best center in the entire league and one of the best players just in the league in general so it helped the Eaton definitely definitely still be a very dominant player in the league and have a huge impact with this Laker squad you really could honestly be that x-factor for them
I know a lot of people are talking about you know how's DeMarcus Cousins with kind of world that stretched by the center and you'd be able to stretch the floor more and that's not really Dwight Howard's game as we all know Howard is more of a post-up player but Dwight Howard in terms of rim projection and defense it's going to be much better than DeMarcus Cousins would have been so that's obviously something that the Lakers could definitely use help with especially on the defensive end.

That is all for today and guys please drop down your thoughts in the comment section down below.

Promo Links:
https://friendster.io/julstamban
https://medium.com/@juliuseliptamban
https://steemit.com/@julstamban
https://twitter.com › engrjulstam
https://www.facebook.com/hooppress/