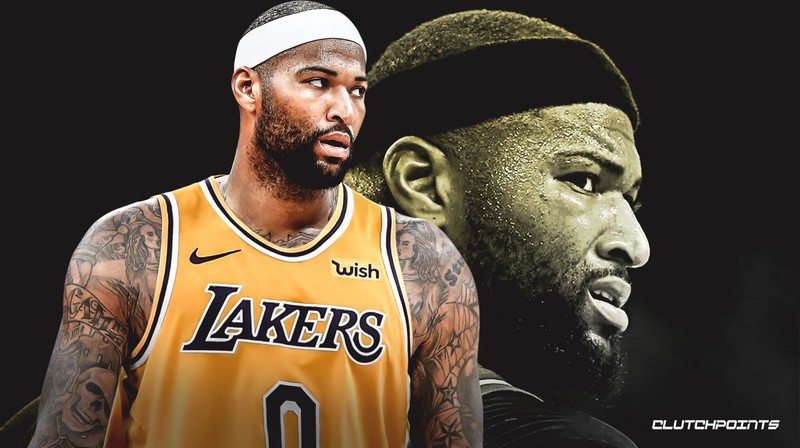 What is going on sportstalkers here we are again with another article of NBA EXPRESS and lets talk more of the Los Angeles Lakers because we are slowly witnessing the decline of Lebron James and there's not much time left for him to get a title or two so the Lakers are going to utilize the remaining years of Lebron to get a shot at the NBA championship and to do that they have to get the necessary pieces that can surround the King and Boogie Cousins is one of that.
DeMarcus Cousins obviously he signed a one-year deal with the Los Angeles Lakers this summer to come join up with his old buddy Anthony Davis but then he suffered that unfortunate torn ACL in a pickup game in the offseason super unfortunate we thought he was going to miss the entire season but the latest tidbit is saying that Frank Vogel is not shutting the door on a possible return for DeMarcus Cousins by the end of the year.
Just a news that Cousins returning sooner than later would be absolutely incredible for the Lakers because when he was healthy which wasn't that often with the Golden State Warriors he looked pretty solid 16.3 points per game 8.2 rebounds 3.6 assists the three-point shot never really got back to where it was in New Orleans.

Cousins is an all-around type of center so most believe that he could get back some of his games there I think that's something he's probably working on while he's injured is just a jump shot because there's just not a lot he can do with the torn ACL I love boogie I would love to see him be able to come back and really make a difference for this Laker team I just don't know how realistic it is at this point now.
Maybe he could get back before the end of this year but most probably he can only play for about 10 to 15 minutes at most or probably shorter than that as we all know ACL injuries take quite a lot of time to heal and you can't get back at 100% because theres also the mental aspects of it. But let's see if Boogie can really back in the active roster at the end of the year because he is a really nice piece for a title run.
PROMO LINKS:
https://www.facebook.com/nbacourtvision

https://www.facebook.com/JulsPorts
https://www.facebook.com/animecravers
https://www.facebook.com/librengcrypto
https://steemit.com/@julstamban
https://twitter.com › engrjulstam
https://www.facebook.com/hooppress/