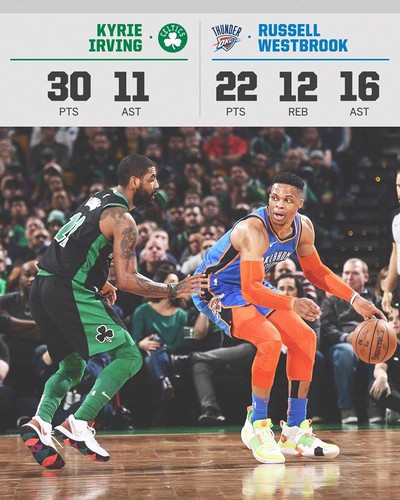 Kyrie and the Celtics snaps OKC's 7 game win streak after ousting them 134 to 129. This win for the Boston marks as their 9th win out of their last 10 games who suffered their only loss in the Jaggernaut Golden State Warriors.
According to the Celtic's former Allstar Center Al Holford "We battled against Golden State, but (this is) a good win." Who tallied 17 points and 9 dimes. Kyrie Irving lead the team with 30 points and 11 assists which is just barely enough to overcame pretty solid performance from two monster players of the Oklahoma in Paul George and Russel Westbrook.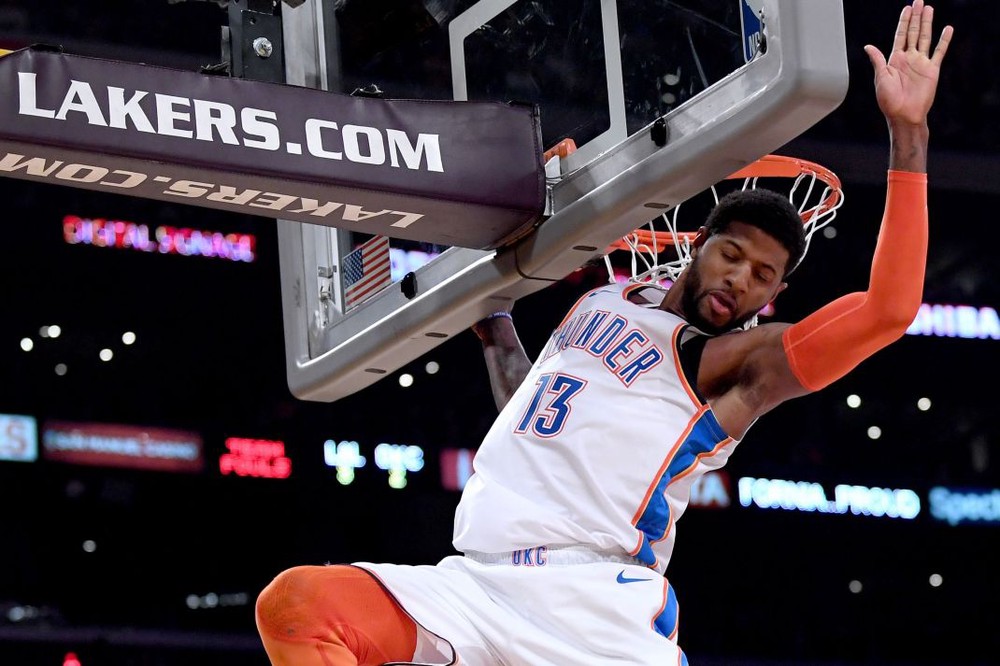 PG13 continues to perform MVP caliber type of game who dropped 37 points which is worthy enough to be in the discussion. Russell Westbrook recorded his 19th triple double of the season, who put up all around performance with 22 points 16 dimes and 12 boards.
It was really a thriller game from this two title-contender team, with 45.9 secs left in the final quarter Westbrook made 2 points from the foul line that close the gap within a single possession game 127-125. Kyrie then put Boston again ahead by four points after a finger-roll drive, but OKC's Jerami Grant responded with a long range bomb that brings Thunder within 129-128.
The Thunder missed to capitalized their chance after Celtic's young gun Tatum missed one of his two free throws. Kyrie then snatched Westbrook like a thief with only 8.1 seconds left on the clock who fell to Horford who give the ball back to Tatum that sealed the deal.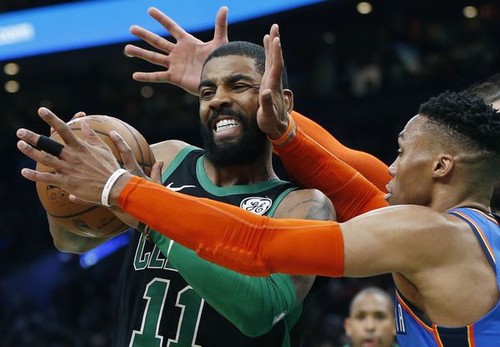 Westbrook stated that it was his fault and needed to take care of the ball in clutch moments like that especially in a tight game like this one. Irving said that it's his 'instincts' when money time arrives which led him to gamble and stripped the ball from Westbrook.
Kyrie has proved the world that the clutch is always in his genes and one of the few superstar that can take you to the promise land when it really matters most. Who would forget arguably the greatest upset in the finals when Irving made the legendary three point shot over Stephen Curry in game 7 of the finals of 2016 in a history changing event in the NBA lore.
Game Trivia:
Oklahoma City Thunder's Star Paul George has made at least two buckets from beyond the arc in 31 consecutive games.