The Nuggets and Bucks. Two intriguing teams in opposing conferences who are poised to surpass their encouraging levels of play from last season. Led by two incredible international talents. One from Greece, the other from Serbia. Outside of their stars, both teams sport young, long, athletic talent whose potential will be determined by their will to learn and improve upon their mistakes.
Tonight it was the Bucks who adapted to their errors to come back from a seventeen point first half deficit to win 104-98. Denver would've been ecstatic to grab the victory against the Bucks in their own building, but Eric Bledsoe (23 pts, 7/10 FG, 3/4 3 PT) and Giannis Antetokuompo brought 'em home(29 pts, 12 rebs, 6 assists, 2 steals, 13/25 FG). Check out the quarter-by-quarter recap below.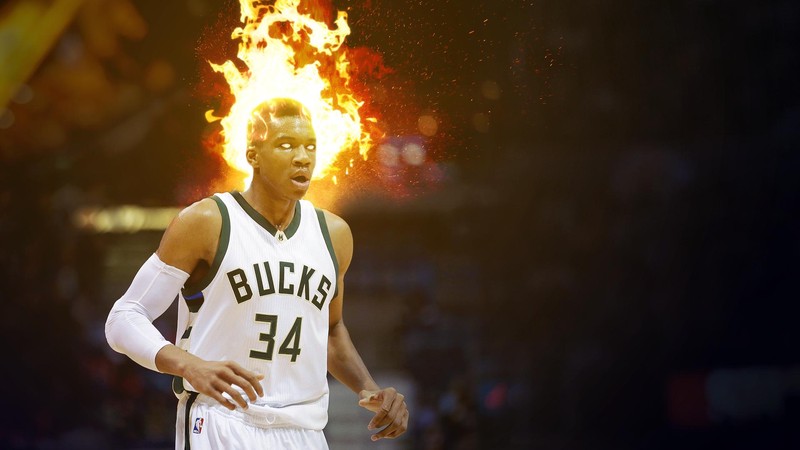 _______________________________________________________________________________________
Game Recap
First Quarter
The shooting of this game was horrendous on both sides. Jamal Murray was taking awful shots for the Nuggets that either bricked or airballed, while the Bucks committed careless turnovers and chucked up some stinkers too. A monstrosity of a Giannis dunk got the Milwaukee crowd on their feet and cracked an overall scoring drought to make it 7-5 Milwaukee, but this game had a ways to go before it became aesthetically pleasing.
Since the Bucks couldn't hit anything from the outside, they said, "Ok...we are just going to kill them in transition." They proceeded to roll out four straight dunks and/or layups to give them the narrow edge 15-13 with five minutes left in the first. And then the Nuggets went on an 11-3 run like nothing even happened! Milwaukee's defense was asleep which led the visitors to capitalize off of points in the paint and a flurry of mid-rangers by their guards. 25-18 Nuggets on top. Denver walked into the second quarter with a four-point advantage when all was said and done, 29-25.
Second Quarter
The Nugs took their first quarter momentum and turned it into a fifteen point lead to kick off the second, 42-27. It was done through a barrage of threes by Murray and company. Milwaukee's D was just anemic to start the half. Not a good performance from one of the top teams in the league on that end of the ball.
The Bucks poked and prodded but Denver's shot stayed true. They maintained a seventeen point lead until Giannis came alive in the waning minutes of the half, rallying the boys to a 7-0 run which cut the lead to ten 53-43. Nikola Jokic countered star power with star power, draining a deep three at the top of the arc to push it back to thirteen. But then Brook Lopez countered big man three with big man three of his own, draining a deep triple to bring it back down to ten. 56-46 Denver up after two quarters of play. Milwaukee definitely couldn't have been happy after that awful half, but they had to be thankful they weren't down by more.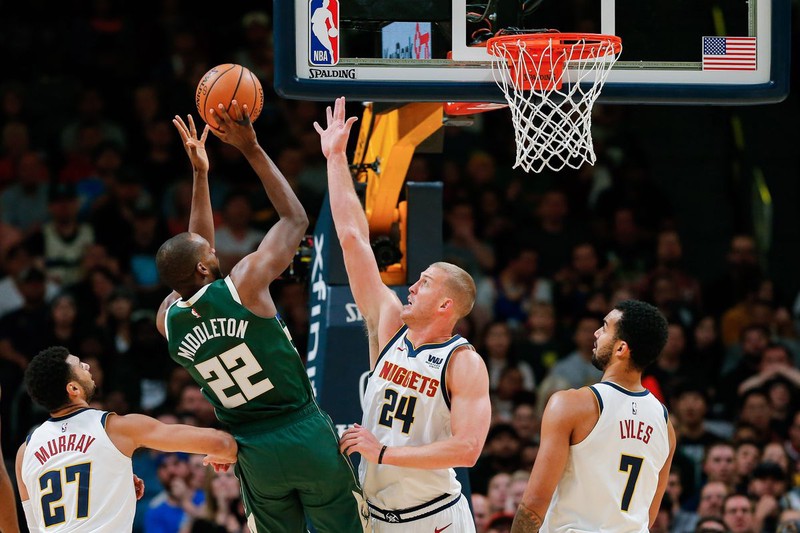 Third Quarter
Milwaukee was determined to set the tone of this half with their defense, and they did so with a fat block to kick things off. The story was All-Bucks during the first two minutes. Giannis was in a facilitating mindset, garnering up looks for Middleton and Brogdan on the way to a mini-run to leave the Bucks down five, 59-54.
The enthusiasm was short-lived as Denver put up five quick ones to push the lead back to eight 64-56. The Bucks insisted on getting back in this game with three's but it just wasn't happening for them. They were bricking wiiiiide open looks to give the Nuggets life in transition.
The Milwaukee crowd would not give up on them though. They all stepped up and the Bucks responded, playing some inspired defense en route to a vigorous rally that cut it to two 64-62 Nuggets. But Denver did exactly what they've been doing all game long after a rally and stretched that lead back to eight.
And can you guess what happened next? Well let me tell ya. The Bucks rallied AGAIN to cut it down to one this time! They were bound to grab the lead back at this rate. Every time they surged they cut the lead down a little more to inch ever closer to control of the contest. A Giannis dunk vaulted them ahead of the Nugs 71-70 with 1:51 to play. The home crowd's energy really snowballed from there, becoming ballistic at every dunk, layup or three. Milwaukee was ahead 78-77 at the close of the third, but it felt like they had another serious run in them.
Fourth Quarter
The teams played to a halt in the first five minutes of the fourth. Whenever one would score the other would immediately counter. Neither one had broken out just yet because both sides were putting a good effort out on the defensive end. Highlights included a Mason Plumlee block on Giannis Antetokuompo, followed by a Mutumbo finger wag! The Bucks were up 3 with 4:30 to play 92-89.
The energy in the building was HOT. Never a low volume moment even during timeouts. The Bucks went through Giannis for the home stretch, trying to seal the deal against one of the league's young, upstart teams. Thankfully, the Greek Freak got a little help from his friends when Brook Lopez stepped up and nailed a HUGE three. I was happy seeing him get crunch time minutes and hit big shots for his new squad. Last year he barely played any crunch time minutes with the Lakers.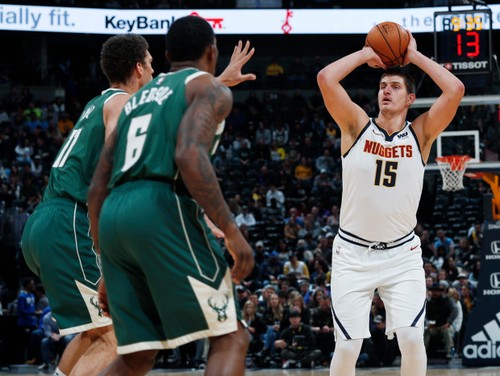 The final minutes of this game were turning into an exchange of three after three between the teams. Gary Harris drained a 25-footer for the Nuggets to cut it down to five, and Nikola Jokic followed him to trim the lead to two! 100-98 Bucks till ahead. With the clock rolling past the one minute, Khris Middleton came up huge for the Bucks with a three-ball of his own, 103-98 with only 27 seconds to play. Denver had a chance to make this thing a ballgame with a couple open looks, but Gary Harris and Juan Hernangomez couldn't convert. That was basically the ballgame, as the Milwaukee Bucks rallied from seventeen down in the first half to claim victory against the Nuggets on Monday night, 104-98.
_______________________________________________________________________________________
Takeaways
I was looking for a game to write about on this night with no Lakers, and I'd say I picked correctly. With both teams sporting wins over the Golden State Warriors, I thought I'd see some quality ball on a Monday night. It was a little boring the first three quarters but that fourth quarter brought the action. The Bucks played like a team that expected to win and really started trying in the fourth. That starts happening when you win a championship or get into the league's upper echelon after a few big wins.
After starting the year 8-1 and at the top of the Western Conference, the Nuggets have slowed down considerably to equalize their record at 10-7. How about that. The idea of the Nuggets wrangling the 2-seed doesn't seem as certain as it did a couple weeks ago. They're still a young team. Analytical buffs may love them but they need their intangibles to carry them through the strife. Those intangibles are molded in the postseason, and this iteration of the Nuggets hasn't even sniffed the playoff rounds where real growth is made.
The Bucks have more growing to do in that regard as well. They had a grueling, hard-fought series with the Celtics last year, but ultimately didn't advance. They have a way more promising offense under Mike Budenholzer to go with a top-notch defense, so I think those factors could carry them into the Conference Finals. The later rounds of the Eastern Conference playoffs excite me more than the West right now. The dynamic between the Celtics, Raptors, and Bucks has me salivating for the postseason already.
Thanks for reading and check out the highlights below!