Since there was no Laker action on tonight, Celtics vs. Pelicans in New Orleans looked like the most promising game available on a lackluster NBA slate. The C's offense had been reeling. Celtics land was turning into a terrain of existential crises. Is Hayward going to get better? Should we deal Rozier? Will Jaylen find a role? Will Kyrie and Tatum figure out a dynamic? Can Brad Stevens....only coach an underestimated team???
Sometimes we just need to tell our brains to shutup and let things develop. I'm constantly going through the same thing with my Lakers. One quarter everybody will click and then the next it all falls apart. Consistency. It's what it's all about. In basketball and in life. Easier said than done though.
The Boston Celtics were the far more consistent team tonight. New Orleans actually looked laughably bad at times in terms of their defense and turnover departments (22 turnovers, 32 points off of turnovers). When all was said and done, Boston went home with the encouraging 124-107 victory over the Pels. Check the game recap and takeaways below!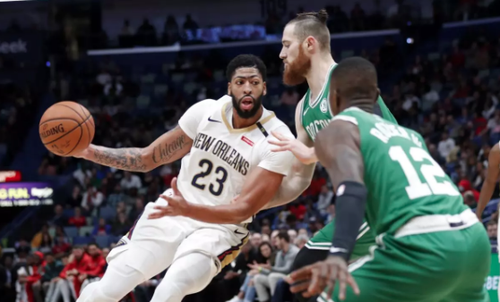 Game Recap
First Quarter
The Pelicans struck first in this game with a pair of Anthony Davis free throws, but the Celtics quickly countered with ten unanswered to go up on the Pellies 10-2. New Orleans just couldn't execute in their half-court sets, partly due to Boston's locked in defense to start the game. The Pelicans tried to find their rhythm by dumping it to Davis down low, but they just kept killing themselves with stupid turnovers. Boston capitalized on that and turned it into a 22-9 advantage with under six minutes to play.
Julius Randle and Jrue Holiday came alive for the Pels. They were getting to the line which allowed them to control the action and whittle the Celtic lead to six 26-20. After the rally, Rozier and Baynes took the initiative for the Celts. They eventually pushed it all the way to thirteen after a Scary Terry buzzer-beater three. We were at 34-21 after one quarter of play. The nine first quarter turnovers by the Pels were the decisive factor early on in the contest.
Second Quarter
New Orleans' ball control continued to be shaky, but both their shooting and defense snowballed off a cliff to compound their problems even more Before we knew it, the Celtics pushed it to a 20-point game merely three minutes into the second quarter. That clearly set something off in the Pels as they drummed up five quick ones to cut it to fifteen with seven minutes remaining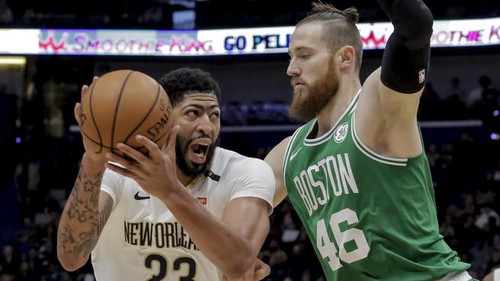 Bursts of competent defense by the Pelicans were countered by their own lapses in concentration. That prevented them from making a serious rally as the Celtics maintained a ten-plus point advantage. Nikola Mirotic kept them alive with 19 big first half points (5/7 from three) as they headed into the locker room with a nine-point deficit 57-48.
Third Quarter
The third began and the Boston Celtics came out on a roll. They were on a 10-2 run as they went up fourteen 67-53. Kyrie Irving nor Jayson Tatum had found their scoring rhythm yet, but I found Tatum was at least able to be impactful on the defensive end.
The Pels then made a mini-run to cut it down to nine, 69-60. The good feeling was short-lived as Kyrie made it a priority to get buckets for the squad. His aggressiveness yielded trips for the line which in turn granted space for him beyond the arc to nail a three-ball. Jayson Tatum then joined the fun to push the C's lead to eighteen before New Orleans needed a timeout to regroup, 78-60.
An 11-2 Pelicans run cut it down to a ten-point game after the lead almost bubbled to twenty. Thank god that happened! This game was turning into a snoozefest. If we were going to get a garbage time Celtics/Pelicans fourth quarter I might've dozed off. Celtics with the lead 89-79 and one quarter left to go.
Fourth Quarter
I think this game felt boring to me because the crowd couldn't get into it. Every time the Pelicans rallied the Celtics would come with a three that'd kill their opponent's spirits. Turnovers were still killing the Pels momentum, but some excellent play from Anthony Davis managed to cut that Boston lead down to seven, 96-89.
But right as this one felt like it could get close, Boston came back with more soul-killing three's to push the lead back to twelve 105-93. With six whole minutes left to play, this was looking one of the Celtic's best offensive outings of the year. It is well documented that the Celtics sport one of the worst offenses in the league while employing a stifling defense. In the end, it was the C's hot shooting & capitalization off of turnovers that carried them to a convincing W over the New Orleans Pelicans 124-107.
Takeaways
I was disappointed in this game from an overall entertainment perspective, but you can't be mad at the C's for going into enemy territory and taking care of business. Boston had been reeling on the offensive side of the ball, so this 124 point victory has to feel extra good for their fanbase. Everybody played well overall for the green. Tatum and Horford both had 20 points while Kyrie poured in 26.
One of the only things missing in the eyes of Celtics supporters would've been a good game from Gordon Hayward. Gordon had 5 points, 4 rebs, 4 assists, 1 steal & 1 block off 2/5 shooting in 23 minutes off the bench. This paltry game came on a day when Jaylen Brown was out of the lineup as well! The opportunity was there for Gordon at the small forward position, but he wasn't able to give the C's any reason for optimism tonight. At least a team win came out of it.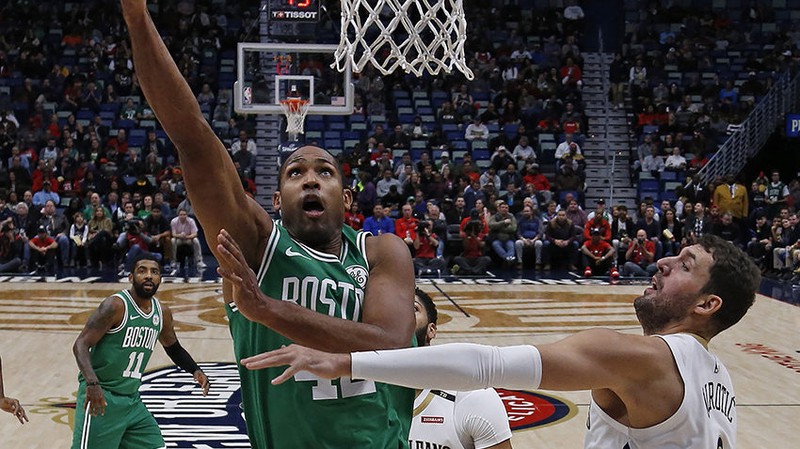 In terms of the New Orleans side of the ball, I was just floored at how awful their defense/ball control looked. Please note, this is coming from a guy who has watched almost every awful defensive possession of the Lakers this year. There were moments where I thought, "Oh wow, even the Lakeshow wouldn't miss that assignment/turn it over THAT badly."
There were some crazy moments in there. One guy threw a downcourt pass to Anthony Davis so off-target that the TV camera didn't even pick it up as Davis half-heartedly trudged down the court. Turnovers and the lack of defensive communication between the Pels spelled a disappointing result for the home team. Giving up 124 and losing by almost twenty....is never a good result. Unless you're tanking. And the Pelicans are trying to make Anthony Davis stay. They definitely aren't tanking.
Consistency must be a big problem for the Pels this year. After they got off to a burning-hot start to the year, they've come back down to Earth with a barely sub-.500 record(10-11). I saw one other game this year where Jrue Holiday, E'Twaun Moore, and Davis dominated the Toronto freakin' Raptors IN TORONTO in a convincing 126-110 victory. At the time, they beat one of the (at least) top two teams in the league in their own building! Now you let the offensively lethargic Celtics come into your own building and have an empowering game in the scoring department? Not a satisfying result for the city of New Orleans. At least the Saints look unbeatable right now.
Thank you for reading and please check out the highlights below