An already daunting path to the playoffs has been made even more so for the 10th place, three games behind the 8-seed Los Angeles Lakers. Tuesday night against the Hawks in Atlanta should've been a confidence and record building win to inch back into the postseason race with the Clippers, Kings, and Spurs. LeBron was back, Kuz has been hot, all we needed to do was play a little defense and get buckets when we needed....and we should've be all right.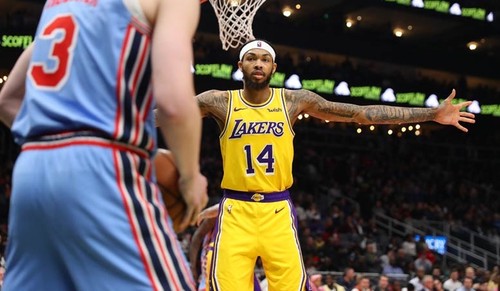 But apparently those two things were too much to ask. The Lakers looked disinterested, and dropped a practically must-win game given the brutal nature of their upcoming schedule. Twenty-five games left to sneak into the playoffs and you have to go against the Rockets, Bucks(twice), Celtics, Clippers(twice), Blazers, Jazz(twice), Nuggets, Raptors, Kings, and Golden State Overpowered Ass Warriors. I would've given them a 55-60% chance to make the playoffs before tonight, but after that loss I feel like we're at 40-45%.
The Lakers were down seven with about 7-8 minutes to go in the game. They were actually getting stops and preventing the Hawks from scoring - but they just couldn't muster any offense of their own! LeBron James has to just say fuck it and take over in moments like these, but he just came up so small when we needed him most. I don't know if he's still slightly hobbled from his injury, but he kind of just seemed like he didn't care tonight. Have a look at the Rhythm of the Game and Takeaways to see how this unfolded.
Rhythm Of The Game
The first quarter was like a microcosm of the Lakers loss against the Sixers. They kept it competitive for about ten minutes out of twelve all while playing no defense, then conceded a 10-0 run at the end that REALLY saw them give up defensively. LA was in control until that run that left Atlanta up 32-38 after the first.
A lack of hustle and execution doomed the Lakeshow in the first. They set out to change that rhythm in the second quarter with some spirited plays by the bench to keep possessions alive, like a KCP tip in off his teammate's miss. They quickly evened the score around the forty point mark, which had me unloading a sigh of relief. The pessimist inside me said we were going to get run out of the building in that second quarter.
The time left in the first half began to wind down, and there was stiiiiill no defense to be found on either side. Each team was jacking three's like they thought they were the Warriors while defending the paint like a JV team. LeBron was really having a rough game. He had a pair of threes in a ten-point first half effort, but he seemed like he was just going through the motions. Not to mention his first half defense looked as porous as you'd expect for a first half against an Eastern Conference bottom-feeder. Still, the Lakers went into the locker room up four after two quarters of play, 69-65.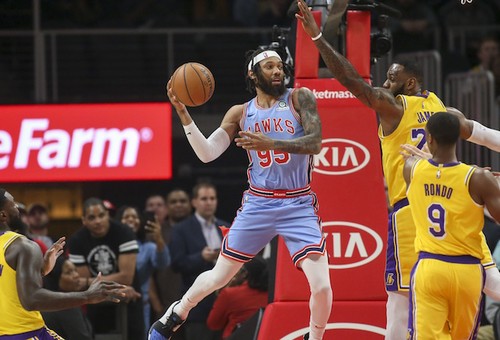 The start of the third was more of a continuation of the no-defense dead-even battle of the first 24, but this time LeBron was really racking up his assist numbers, totaling 14 dimes with six minutes left in the third! Having another three-point shooter like Reggie Bullocks helps a ton, but KCP and Kuz pitched in to the triple department too.
The third was another back-and-forth one, but overall the Hawks looked like the better team. The Lakers are two games out of the eight seed in the brutal Western Conference and they were just playing like they didn't care! At least that's how it seemed to an outside observer watching on his couch. Atlanta was up five heading into the final period, 95-100.
The fourth quarter began and my sports depression creeped in. The Hawks came out and pushed the lead to seven, and it just seemed like there was nothing the Lakers could do to close the gap. Why the hell were they playing this bad in a must-win game? Why did this seven-point Hawks lead feel like seventeen? I don't know the answer to any of these, but something needed to change ASAP, and it had to start with LeBron.
103-110 with six minutes left to go, and the Lakers were constantly shooting themselves in the foot with turnovers. In the fourth quarter still down seven, they went without a field goal for five minutes of game clock and counting! In the fourth!!! The Hawks couldn't score either so we were at an awful basketball stalemate....until about three minutes left in the quarter.
LeBron finally broke the cold streak with a free throw, then a pretty cut to Kuz in the middle for the basket! But Atlanta responded by promptly draining a three to push it back to a seven-point game! LeBron then charged down the middle for the dunk, but Trae Young countered with an and-1 layup! Only 1:30 left in the game, Lakers down 108-115. There were some last minute heroics from various members of the cast, but they weren't enough to edge out the Hawks in this must-win game. Atlanta wins 113-117.
Takeaways
I don't think it was clearer in any other bad Laker game than it was tonight: they flat out stopped giving a shit. They usually start slow in the first half, but you have GOT to come to play in the second during a winnable game like this. Especially when your upcoming stretch looks so deadly. Not only are the Lakers going to need to up the ante 100% to make the postseason, but they also have to get lucky. The Clippers, Kings and Spurs all need to lose out pretty steadily for the Lakers to have a shot.
And now to talk about Luke Walton. If there's any game you're going to fire him, I think doing it after this dispirited loss might be it. I would have mixed feelings about that though. I don't want Jason Kidd or Mark Jackson to replace Luke, and the rest of the coaching market seems pretty dim. Firing Luke, finding a replacement and learning a new system with 25 games left while you're trying to make the playoffs would be a recipe for disaster. I don't want them to fire him right now, but if they did I honestly wouldn't be surprised.
I think coaches get a lot of unfair blame thrusted upon them because of the effort level of the guys on the court. But to counter that, you need a coach that inspires the players to be great. You need someone to motivate them. Throughout this season, Luke Walton seems like he has failed to consistently motivate the Lakeshow, and his bland offensive scheme/faulty rotations haven't helped his cause either. The rotations tonight weren't as bad as some other games he's had this year, but I think the main factor in this defeat was lack of motivation. I'm wondering if LeBron and the Lakers have given up on Luke.
If they have, then I don't think the team's failure falls squarely on Luke. It's up to the management to get the pieces in place. They have to put the coach and players in the best position to succeed with their personnel choices. Some of the main knocks on this front office have been letting players from last year's squad walk (Randle and Brook Lopez who are having great years), and letting the Anthony Davis trade talks become so public.
They also picked up a funky collection of personalities in the off-season in Lance, JaVale, Rondo, and Beasley. I've gone up and down on the group of wild card veterans, but I almost always circle back to my previous assessment of these acquisitions: The Lakers should've gone after shooters. Playmakers can be a bonus, but they should've found a way to retain Brook Lopez's shooting and Julius Randle's paint presence/hustle.
So in summary, everyone's to blame here. LeBron, the supporting cast, Luke, and the front office. Everybody needs a wakeup call. The public embarrassment of missing the playoffs in the first year you have LeBron should be the equivalent of a bucket of cold water to the face. Every time I think they've hit rock bottom, a new one emerges. I wonder if this'll be the last rock bottom of the season or if we're in for some more pain.