The Lakers and Sixers had a date on Sunday afternoon which treated fans to a star-studded matchup between LeBron & the kids against the East's new juggernaut of a starting lineup: Simmons, Redick, Jimmy Butler, Tobias Harris, and Joel Embiid. This game started out hotter than a Skip Bayless take after LeBron James forgets to say, "Bless You" after someone sneezes. I thought we were going to be treated to this quality of play for the full 48 minutes, but Philly's entire team came up huge in the fourth to bring home a 120-143 thumping of the Lakers.
Kyle Kuzma had a monster of a first quarter with 23 points (37 total on the day), but LA didn't get enough supporting scoring or competitive defense to keep pace in this one. Not to mention, they were basically powerless against the force that was Joel Embiid (37 & 14). Check out the Rhythm of the Game and Takeaways below!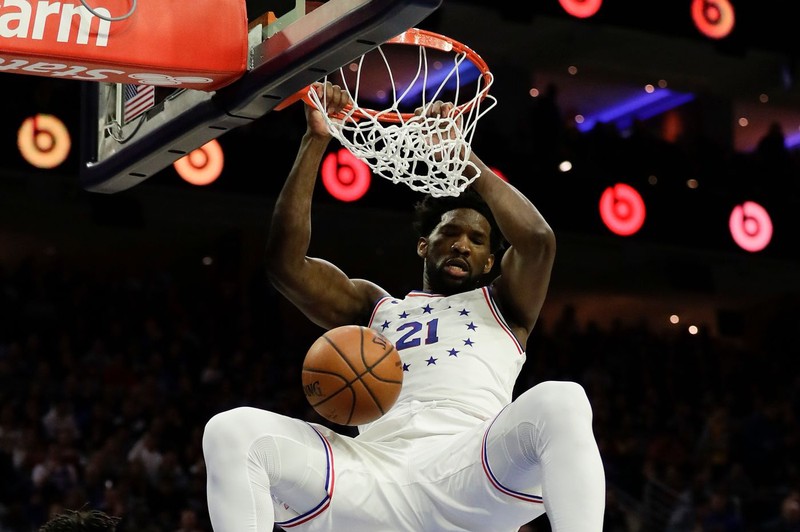 Rhythm Of The Game
It wasn't LeBron who led the Lakers in the early going though - it was former trade chip Kyle Kuzma! The second year scoring force had already secured 23 points in the first quarter alone! And he was doing it every which way, but the three-ball was particularly kind to him today(4/5 from three). Philly stayed right in this contest thanks to Tobias Harris who was 6/7 from the field. They brought the scoreboard to a near tie thanks to a last-second bucket by TJ McConnel. 40-39 at the end of the first quarter.
The pace of the second evened out a bit as Philly established a narrow advantage over Los Angeles. Kyle Kuzma wasn't getting the offense ran through him like in the first quarter, which I was perplexed by. Neither team had really broken free of the one or two point stranglehold in this game, but a JJ Redick fading corner three that turned into a four point play served to swing that momentum. All of the sudden it was a six-point lead, then an eleven-point Philly advantage with only a minute to go in the second. We ended up settling with a nine-point Sixer cushion, 67-76 after the first half buzzer rang. This Sunday afternoon game was competitive as hell, I was hoping the second half would treat us with a similar display of offensive fireworks.
The third quarter began, and the Sixers nearly pushed it to fifteen in the opening sequences. It only lasted a couple minutes though, as LeBron began asserting himself as a playmaker. The Lakers were still down in this one, but they were playing well today on the scoring side of the ball, but their defense was getting chopped up by Joel Embiid and Tobias Harris. Tobias was 9/12 from the field, looking like a hell of an acquisition at the deadline for the Sixers.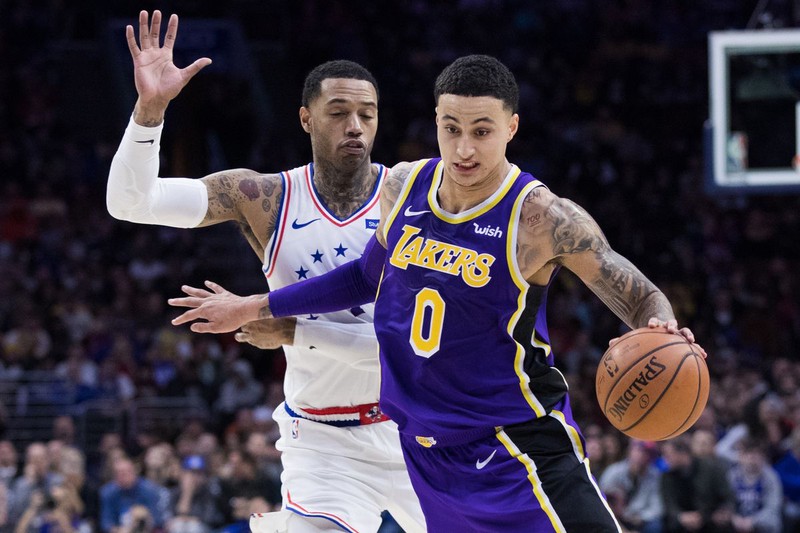 Tobias was definitely rolling, but the Kyle Kuzma we saw from the first quarter reawakened to lift the Lakers with a 10 point run on the backs of his scoring alone. That brought his point total to 37 with time to spare in the third. It was an impressive display by Kuz, but the Sixers still looked like the better squad from top to bottom. LA's bench mob was getting capitalized on hard by the energized Sixers to end the quarter. Fifteen point Sixers lead heading into the fourth quarter, 94-109.
But once that fourth quarter started, the Sixers really began distancing themselves from the Lakeshow. Kyle Kuzma would still get a bucket here or there, but the Lakers just couldn't get any stops which allowed Philly to run free uninhibited. The Sixers were in control here up by seventeen with about six minutes left to play. The Lakers were going to drastically increase their defensive output if they wanted a shot in this road game.
And they never did get back in it. Philly made the key baskets when momentum swings were in question and LA's shot never caught up with them. The final tally was 120-143 Philadelphia victory.
Takeaways
This game felt way promising from the get-go thanks to that first quarter scoring outburst by Kuzma. LeBron hadn't gotten himself going at all yet, opting instead to build up his teammate's confidence by feeding them early. But scoring wasn't really the main issue tonight, it was all on defense. Yea they didn't totally keep pace with the Sixers onslaught of offense, but when you give up 140+ and lose by twenty, you know exactly what the primary issue was. At least I hope you do.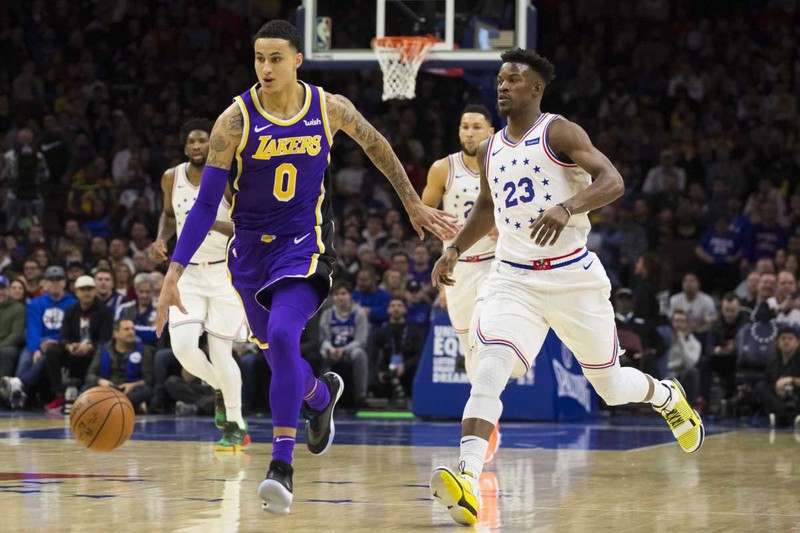 I'm surprised they lost by this much given how competitive it was for three quarters, but give credit to Philly's bench for carrying on the starter's momentum and outplaying LA's all night (21 for LA vs. 40 for PHI). This new look Philly team just looks good man. I think Lonzo's presence would've made this a little bit of a closer game, but the big issue tonight was taking care of Joel Embiid defensively.
The man just got whatever he wanted on us. JaVale just hasn't regained his footing on both sides of the ball after being out with pneumonia earlier this year. I hope him and LeBron's great chemistry eventually comes back, but as of right now I'm not so sure. I think Ivica Zubac's big body would've done a way better job at making Embiid at least work for his buckets, but our front office decided to deal him and Beasley for Mike Muscala.
Yea Muscala is a big guy who can stretch the floor, but I was iffy on dealing Zubac away so soon when he JUST started figuring out how to play. He was barely a month into being an effective NBA player. I think Zu is only going to get better from here, so the Clippers should feel thankful they grabbed him up. Muscala pitched in a mild eight points tonight. This unit needs more time to gel though. Give them an invigorating home win and they'll get their mojo back as a whole. Let's see what this new Laker team with two extra shooters in Bullock and Muscala can whip up down the stretch.