I think most people can agree that the young Laker core has potential, but one other thing we can also concur on is that they struggle to maintain that consistency that is so essential to be considered a top player. They have these flash in the pan moments of brilliance, but it's typically a pretty play or game followed by a dud shortly after.
Wednesday night's Staples Center showdown against the Pistons was a big chance for Ingram, Lonzo and Kuz to show the fans and franchise that they can be consistent two-way threats. BI (10 pts, 9 rebs, 6 assists, 4/10 FG, -1) and Zo (5 pts, 5 rebs, 11 assists, 2 steals, 1 block, +24) both responded put up statistically mild, aesthetically satisfactory two-way performances tonight. Thankfully, they didn't have to blow up the box score to win - they just had to get the ball to Kuz! Their boy from Flint, Michigan (41 pts, 2 reb, 16/24 FG, 29 mins) came alive in a Kobe-esque shooting display to lead LA to victory over Detroit 100-113.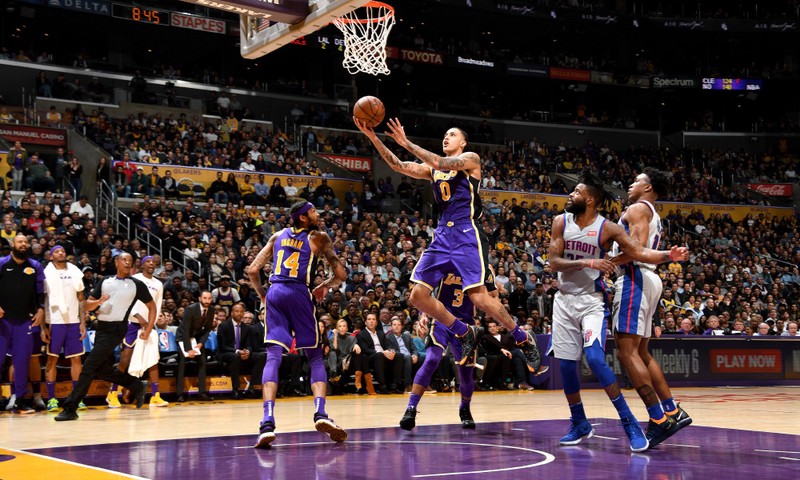 Rhythm Of The Game
You couldn't have planned out a better start to the first quarter for the Lakers. They picked right up where they left off in the Mavericks game (BI cutting through the lane beautifully for drives, Lonzo facilitating and running the break) only this time Kyle Kuzma's scoring joined the party. They could've built up a serious lead early on, but they came back down to Earth after a 9-2 Pistons run.
Part of that Pistons run was them just capitalizing off the Lakers missed threes. LA's three-point shot wasn't falling, but the fact that Kuz was getting all this early offense going was a promising sign (12 pts, 6/10). He hadn't had a good game yet since coming back from injury, so if everything broke right then tonight was the night. Pistons led 24-20 though after one-quarter of play thanks to strong paint play by Blake Griffin and Detroit's occasional three.
The second quarter inbound came, and LA responded with an imposing 16-2 to go up seven on the P's. It all started when Lonzo Ball made a gorgeous bounce pass for half the length of the court to a cutting teammate for the roof-raising jam. The Lakers were invigorated with energy after that, which led to them actually sinking some open threes (their first threes of the game).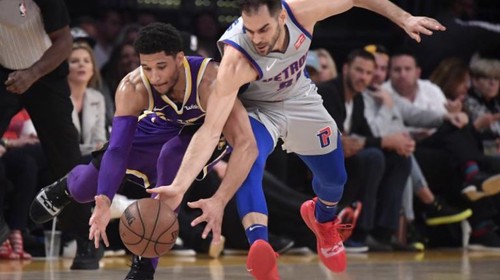 The latter half of the second quarter was like a mad dash of agility for all men one through five. Up and down the court for what seemed like every play, barely any breaks. Kind of felt like basketball in its purest, most entertaining form. Turnovers galore, dunks, transition threes exchanged by each team saw the Lakers go up by as much as thirteen, but a Pistons rally cut it to eight to end the half, 47-55. Forty first-half points in the paint for the Lakers compared to 22 for the Pistons.
The third quarter began and it was the Kyle Kuzma show right out the gate! Kuz had yet to tack on a rebound or assist, but in the true spirit of Kobe, he already had 29 points on 12/17 field goals with eight whole minutes left in the third! Dwayne Casey and the Pistons needed a plan to stop Kuz if they wanted a fighting chance in this game.
The Pistons were staring down the barrel of a fifteen point lead, but they managed to cut that to eight off of nice forward-work by Blake Griffin and Reggie Bullock. The Pistons were gearing to go on a run to tie this thing up, but a COOKING Kyle Kuzma stood in their way with a flurry of J's (he had a new career high of 41).
Once Kuz hit his career high, the fourth quarter began and Lakers proceeded to steamroll the Pistons inside out. Michael Beasley came alive in the fourth just like Monday against the Mavs with incredibly efficient play after play (19 pts, 4 assists, 2 blocks, 9/13 FG). They put this game out of reach with six minutes left in the fourth. Lakers win 100-113.
Takeaways
Yea, I had a feeling Kyle was due for one of these games. Right as this game was about to tip off, a camerman got in one of those prime positions from a ground-hugging angle which captured Kuzma looking upward with a look of determination on his face. Kuz had a look about him that said, "I'm coming out to get fuckin buckets tonight". He started out going one-on-one in a few entertaining exchanges with Blake Griffin in the first, and he really found the juice in the second and third quarters. That's when he started hitting the biiiig momentum grabbing shots. It reminded me of a vintage Kobe scoring display (the zero assists included). I was elated! Great job by Kuz tonight. He reminded us why he's our clear No. 2 scorer next to LeBron.
Moving onto team takeaways. They outrebounded the Pistons 34-47 and prevented Blake Griffin from getting ANY rebounds tonight. Blake put up a 16-point, zero rebound performance. I think this is exactly how this Laker team should've performed at home against the 17-22 Detroit Pistons. I feel like they left it all out on the floor. Lonzo and Ingram both acted like true facilitating leaders out there tonight, and Kuz secured the buckets like a shooting guard. Ingram and Lonzo didn't need to rack it up on the stat sheet tonight, they just needed to put their teammates in the best position to win.
Tonight's win and the success of the young guys felt like a team win from last year's LeBron-less Lakers. I almost forgot that James is a member of our team. That's how satisfying it was to see them all flow within the same wavelength tonight. Now the true test will be - can they do the day after tomorrow? Friday night they'll travel to Utah to face the Jazz in one of the NBA's rowdiest arenas. The tests never end until you're the last team standing.