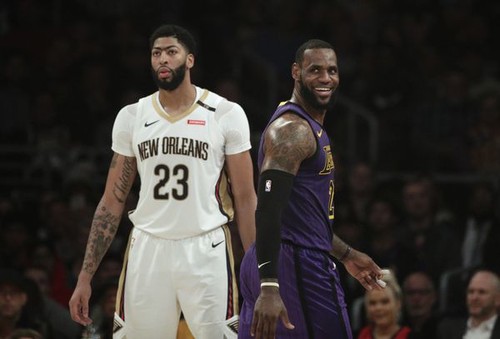 The New Orleans Pelicans are in the midst of a flurry of trade rumors regarding their once in a generation talent Anthony Davis. Today coach Alvin Gentry and other front office people remarked there they are in NO way trading Davis under any circumstances. I guess we should all be quiet now because they put that out there right guys?......
When the Pels came to visit the Lakers on Friday night it was staged to be a showcase of the two superstars - Davis vs. LeBron. But one thing absolutely nobody saw coming was the ascendance of fringe Laker big man Ivica Zubac. The man responsible for filling the void left by an injured JaVale McGee. Zu took complete advantage of his opportunity to the tune of 18 points, 11 boards, 2 steals, and 2 blocks (one block on Anthony Davis and a game-sealing block on former Laker Julius Randle). Bron was in a passing mood with 22 points, 14 dimes, and 12 boards to go with 2 steals.
Julius poured in 21 points with eight rebounds on 9/15 shooting. An efficient effort, but not the kind of revenge game that I pegged him as having tonight. He definitely was an integral part in the deciding play of the night - it just wasn't in the way he hoped it'd be. Have a look at the game recap and takeaways below!
_______________________________________________________________________________________
Game Recap
First Quarter
Ivica Zubac started in place of JaVale McGee for the Lakeshow, and he was FEASTING early on. Zu was 4/4 from the field with 8 points thanks to some great gimme's by LeBron. Bron & Zo were also playing well off each other, setting teammates up for hocket assists left and right. The Lakers were really humming in transition, but the Pelicans were right there with them 13-16 after the first timeout.
Brandon Ingram was looking fresh in his return to the court. He was executing some great cuts to the rim and prioritizing quick corner three's. All great things to see! But had yet to break out. BI was terrorizing the Pelicans guards and wings on the perimeter, reminding the Lakers that they sorely missed his length on defense. The Pelicans were in a steady groove though as we headed into the second with a tie game, 34-all.
Second Quarter
The bench units were left to their own devices to start the second quarter. After a few initial messy possessions, the Lakers discovered their rhythm with Rondo at the helm while New Orleans thrived with Randle & Holiday in control. The game was still neck-and-neck, but a spirited steal by LeBron led to a roof-raising and-1 for the momentum-grabber. Lakers eventually drummed up a six-point lead with under six minutes to play 54-48.
And then all of the sudden the Lakers went up by eleven points thanks to some excellent facilitation by Rajon Rondo. They looked like they were on the cusp of breaking out, but New Orleans charged back to cut the deficit to three 63-60. Anthony Davis stopped the Lakers from going on any serious run. LA walked into the halftime locker room with a four-point lead 69-65. Four Lakers were in double figures for scoring (Zubac, LeBron, Kuzma, Ingram) while Davis led the Pels with 17 points, 11 boards, and 4 dimes.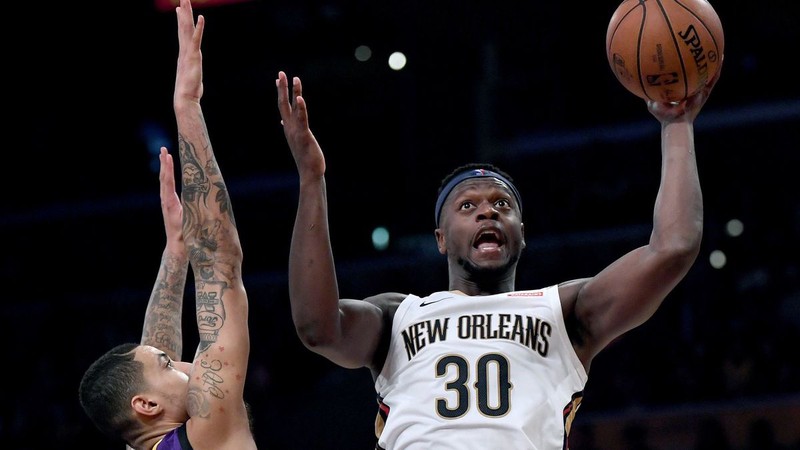 Third Quarter
Anthony Davis pulled up from three to bring the game within one at the start of the third, 68-69. Right after that, the Lakers proceeded to go on an 8-0 run with contributions coming from Ball, Kuzma, and Ingram. Kuz already tallied 16 points on 6/10 shooting in 21 minutes of work.
Kuzma was creating, but Ingram was doing a great job and being a threat off-ball as opposed to halting the offense with his isolation possessions. If we could get this BI every game, then we'd really be heading in the right direction with the offense. Lakers up ten 84-74.
The latter half of the third saw the lead balloon up to as much as thirteen before shrinking to five. The Lakers were on a three-minute scoring drought, which made it seem like the Pellies could tie it back up at any moment. By the end of the third, it was a six-point game once again 88-94. Onto the fourth quarter we went
Fourth Quarter
The Pelicans stayed challenging the Lakers to kick things off. Zubac was still having a hell of a game, earning fourth quarter minutes in a three-point game while going one-on-one with Anthony Davis. Rondo played the first few minutes of the fourth until Zo checked back in with seven minutes to play. An encouraging sign for those harping for Lonzo fourth quarter minutes!
The check-in was immediately followed by a wide-open Kyle Kuzma three assisted by LeBron. Bron already had 14 assists to go with 18 points. He was in a facilitating type of mood tonight. After LeBron pulled down a rebound to achieve the triple double mark, Lonzo stepped up and drained a deep triple to push the Laker lead to nine, 98-107.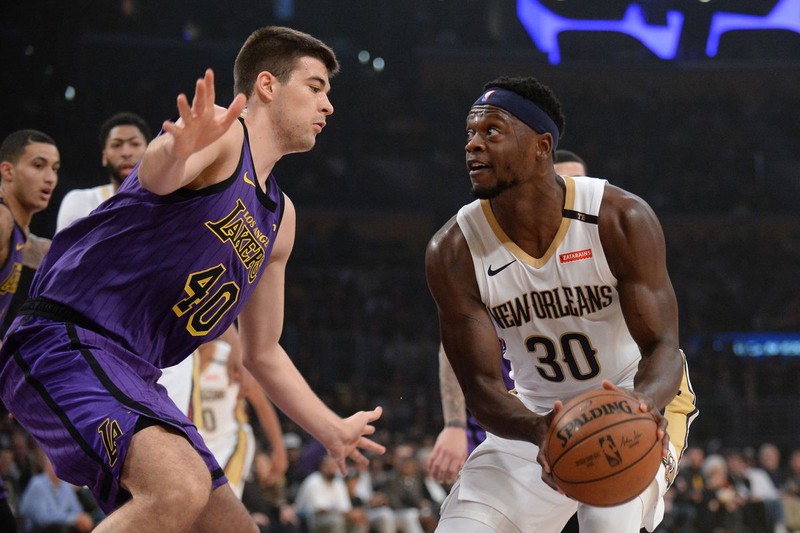 The Pelicans were staying in this thanks to their great hustle on the offensive rebounding end. They were out-boarding the Lakers 13-7 with four minutes left to play. Every time the Lakers had the chance to open this up by twenty, the Pels would come back with a big offensive board for a putback. They weren't going away any time soon.
As the game winded down, the Lakers receded into an iso-heavy mindset. Brandon Ingram started facing up and dribbling out the clock in favor of his early cutting ways. It was a five-point game once again 104-109 with three minutes left to play. The purple and gold were deep in another scoring drought before LeBron drove hard right for a muscle bucket, 104-111 Lakers.
Anthony Davis had a chance to cut it to five once again but he missed both of his attempts at the free throw line! If he ends up becoming a Laker, he'll fit right in with his missed free throws! Lakers got the ball back where they ran a LeBron drive - but he was fouled hard by Jrue Holiday and the officials swallowed their whistles. Only one minute left to play with the Pelicans still down by seven.
LeBron ended up going tot he line and missed both free throws to the chagrin of all Laker fans worldwide. Julius Randle got the ball and tried going up for the drive - but Ivica Zubac came up huge again with a clean block! The Pelicans didn't have enough time to mount a rally after that. Lakers win 104-112.
_______________________________________________________________________________________
Takeaways
The whole Laker team stepped up defensively in the second half (39 second-half points for New Orleans, 65 in the first). Maintaining defensive effort is a skill, despite our inclinations on whether some players are born with it or not. Our hot take sports culture likes to group people in a box of people that "WANT IT" or "DON'T WANT IT". People have off days where their execution just isn't there which therefore bleeds into their effort supply. It even happened to Kobe and Michael guys, no one is impervious. I'm glad the boys brought the effort in the second half after putting up a horrid one in the first.
And what a performance by Ivica Zubac. After looking like a sub-NBA player to start the season Zu carved out a nice game matched up against the top big man in the league. His teammates set him up beautifully for a lot of those passes, but the fact that he converted them is an encouraging sign. This dude used bumble every ball like Mark Sanchez rushing headlong into the sphincter of his offensive lineman! Tonight we finally got to see the good side of Ivica, and I'm not sure I've ever actually seen that against a good team with actual stakes on the line. Props to Zu, game ball well deserved.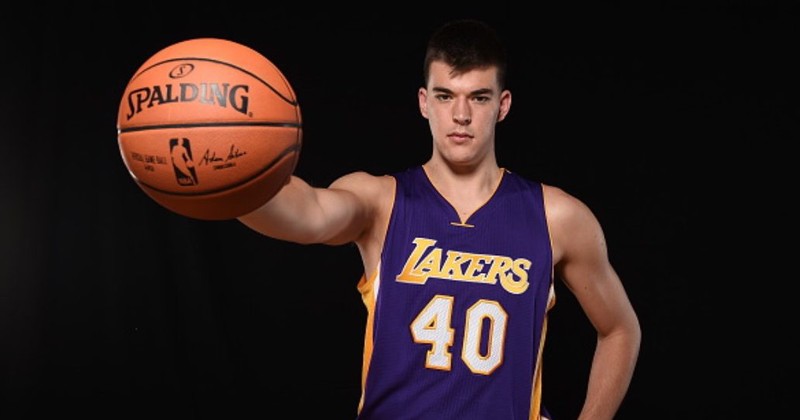 I was happy with Rajon and BI's performances after missing significant time. Usually guys are a step slow and need a few games to get their timing back. Timing didn't seem to be an issue at all for them as they made key plays in terms of both scoring and facilitation.
I loved seeing Brandon cut to the rim more instead of prioritizing his iso game. He fell back into his bad habits at the end, but I hoped he recognized how useful he can be as a lanky slasher with a long stride. I think Kyle Kuzma is much better at creating his own shot, so as long as we have Kyle on the team he should be the guy creating offense off the dribble like Brandon has in the previous games this year.
Kuzma limped to the locker room with an injury at the end of the first half which has me slightly concerned. Are we going to see some more BI with LeBron play like we saw Kuzma with LeBron? I'm still shaky on BI and LeBron's fit, but maybe Kuzma missing a bit of time would be a blessing in helping those two find their groove. If we can get both BI and Kuzma tapping into an efficient offensive rhythm while playing next to LeBron, then those two combined may equal the output of a second star. It isn't the solution long term, but it'd be the best thing possible for Year 1 of the LeBron era - which is basically a tryout for the young guys. Who will get the pleasure of playing with LeBron in his twilight years? Whoever plays the best next to James will likely be safe from the trade block.