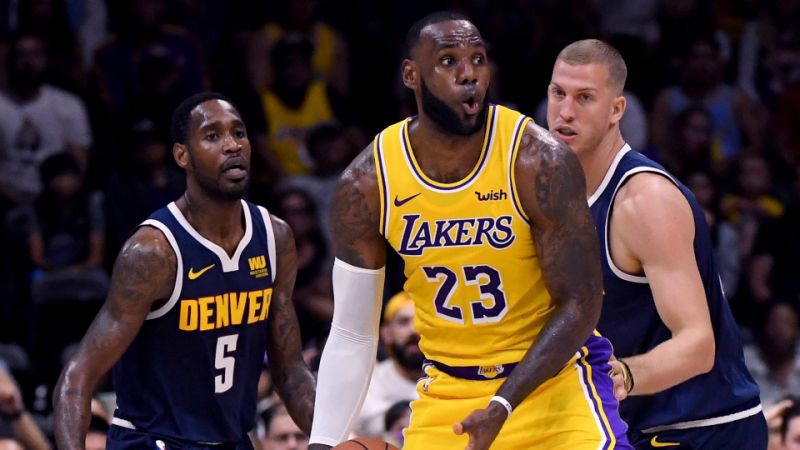 The Los Angeles Lakers played their first preseason game a couple days ago on Sunday in San Diego. On Tuesday night, they had the pleasure of suiting up and running onto the floor of their true hometown venue the Staples Center. It was the purple and gold public's first time seeing LeBron James play basketball in a Laker uniform under the bright theater lighting of downtown LA's marquee sports arena. The new Laker uniforms (which are a bit more yellow than in the past) have officially started growing on me since my initial shuddering at the sight of them. I just thought they looked too yellow, I prefer the darker gold hue. Somehow, the yellow was just looking extra clean tonight and I'm wondering if it had something to do with the indoor lighting or the contrast with the tint of the floorboards.
We will never truly know why I thought the Lakers uniforms looked nicer tonight than before, but one thing I do know is that this Laker squad looks like they're going to be a high-octane, up and down must-watch team in the NBA this year. It's all due to their aggressive new offensive approach with a focused and energetic new cast of characters.
Rajan Rondo and LeBron were the clear catalysts with the ball in their hands. They had the likes of Brandon Ingram, Kyle Kuzma Josh Hart, and JaVale McGee pounding the lanes hands up and ready to finish off plays in the culmination of transition. At times it felt like they were absolutely nonstop. Lead feet sunken onto the gas pedal much like the LA Rams offense of 2018. The 2018 Los Angeles Lakers are going to dominate teams when they're out and running in transition just like the Lakers of NBA lore in the 1980's Showtime era. This is just the team that Luke Walton is striving to shape these Lakers into.
LeBron put up 13 points, 3 rebounds, 3 assists, and 2 steals in 15 brief minutes. Josh Hart is playing for the long-term starting job at shooting guard over Kentavius Caldwell-Pope, and he got a decent 14 points and 4 assists. Rajan Rondo managed to pitch in 11 points and 7 assists while Brandon Ingram had a quiet 4 points with 6 rebounds. The diluted numbers on the starters can be attributed to their limited minutes.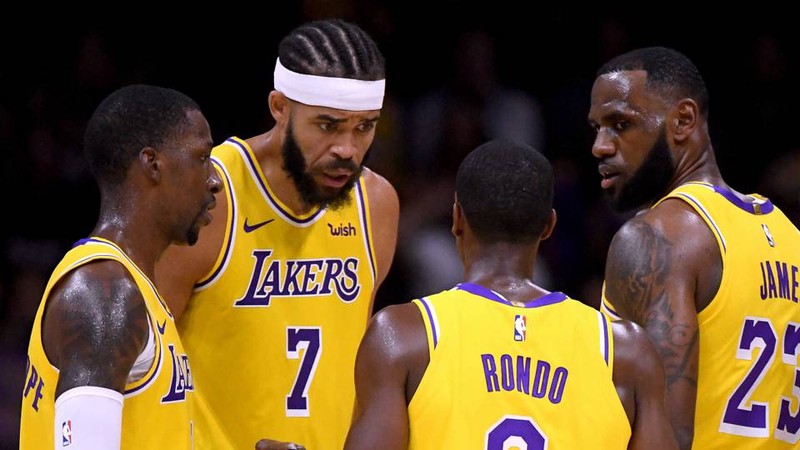 JaVale McGee actually put up a great night on the stat sheet with 15 points, 8 rebounds, and 5 fat blocks in only 19 minutes of play. He really benefitted from having two exceptional ball-handlers in LeBron and Rondo. He not only put the ball in the basket with satisfactory efficiency, but he also did a hell of a job controlling the boards and defending the rim. His set of skills may prove to be critical to the style of rim-running play that they want to pursue.
Play-By-Play Recap
Both teams came out moving and firing to start the first quarter. LA's players were moving well in off-ball motions which led to them getting open looks. They just weren't able to convert on many early on. They did get a manage to get a couple before the Nuggets drew up some serious momentum. When Luke Walton felt like Denver was about to go on a run he called a timeout to regroup.
That timeout paid serious dividends because the Lakers came out furious, looking to run in transition which led to three straight coast-to-coast baskets! This looked like the team that Luke and LeBron talked about wanting to build in the off-season. One that gang-rebounds and gets out quickly to run. That sequence of three quick plays felt reminiscent of Showtime Lakers basketball. It led to a 9-0 run which put the Lakers up 15-8 with six minutes left in the first quarter.
Denver came back out of their timeout and figured out their offensive game plan to bring it to a two-point game, 18-20. Luke Walton still kept LeBron on the floor to the delight of the fans seeing him play as a Laker for the first time. Right as I realized that he gifted LA with the first monster transition dunk of his Laker career. A classic LeBron hammer where he stampedes right down the middle and cocks that joint back for the thunderous slam. Luke gave most of the starters a rest a couple plays after that dunk. The Lakeshow looked a lot sharper than they did two days ago in San Diego.
Luke rolled out a Meme-heavy lineup of Lance Stephenson, Michael Beasley, Kyle Kuzma, Alex Caruso, and KCP. I initially wondered who was going to move the ball out of these guys, because it's mostly composed of one-on-one guys in Kuzma, Stephenson, and Beasley. They made it look pretty though. Lance definitely did have tunnel vision for the one-on-one but he was actually converting his attempts and following up with animated gestures to the crowd. I go back and forth on Lance, but I was pretty on board with that!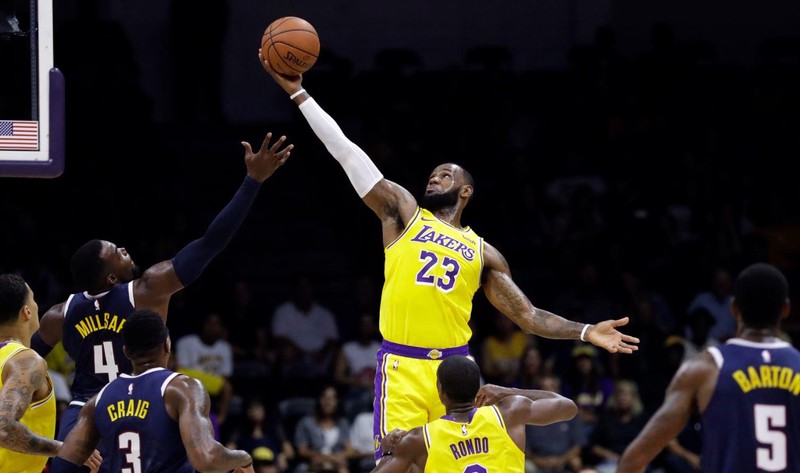 The bench began prioritizing ball movement and getting out in transition just like their starters. They closed it out up 7 on the Nuggets, 33-27. They only made one three-pointer the whole quarter, which was a testament to how much they were getting out to run.
The Laker defense fell asleep to start the second quarter, and Denver surged back to make it a 3-point game 34-37. Luke was still employing a lineup of mostly bench players. When some starters came back in the offense found some life in the form of a Kuzma to Javale alley-oop. Luke let them run the show a bit then he let LeBron and Rondo check back in with a little over five minutes left in the second quarter.
When those two came back in the team was off to the races! Everyone started getting some AMAZING looks up close the basket. The gravity that LeBron pulls defenders in with is going to give all the other Lakers nice looks all year long if they're ready for it. They pushed it to a 10-point lead, 48-38, and looked confident in their newly adopted fast-break playstyle. The defense was looking so-so. Occasional lapses in communication that will hopefully be corrected as the year progresses. The Nuggets hit timely three's to prevent the Lakers from blowing this game wide-open, but it already felt like a much more interesting affair compared to the stinker we saw in San Diego. The Lakers led by 11, 59-48, after the final buzzer of the first half.
When the third quarter was about to commence, we learned that Luke wouldn't play LeBron in the second half. Despite that, they came right out and went up by three more scores for an eighteen point lead, 66-48. They were moving the ball well, but their perimeter defense was horrible much like in their first preseason game. That allowed Denver to climb back in to make it a ten point game, 59-69. The bench mob wasn't really holding it together. The excitement and pace of the game took a serious hit. It started to look like a repeat showing of preseason game #1 where the Nuggets came back from being down big in the third quarter to blow out the Lakers. The quarter ended with the Lakers up by 6, 84-78.
The Nuggets rallied to start the fourth, and actually gained took the lead away from the purple and god. As LA tried to figure out a game plan with their third and fourth string guys, Lance Stephenson took the ball firmly in his hands and attempted to take over. He was actually getting buckets and making plays! All with the swagger that you'd expect from "Born Ready". He was able to grab the lead back 101-99 Lakers with four minutes to play. Things came down to the wire and the Lakers tried to jack up a game-winning three-pointer, but they weren't able t get a shot off. The Nuggets escaped with narrow victory 113-111.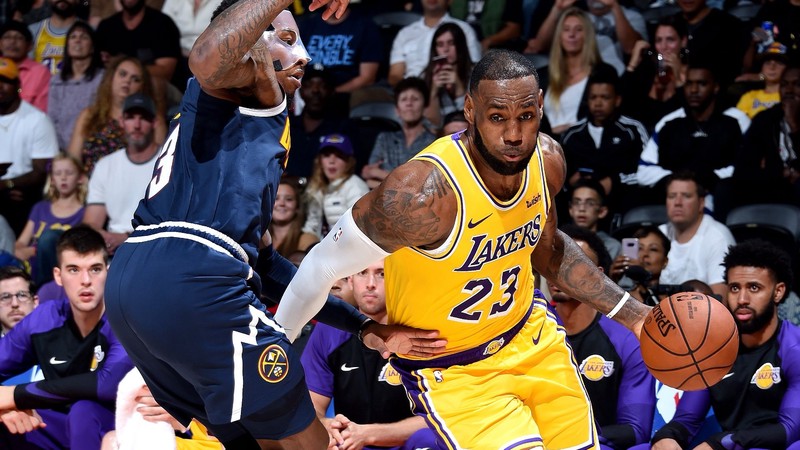 Afterthoughts
At the end of the day, I was just overjoyed that we got to catch a glimpse of this flowing Laker offense spearheaded by ball movement and straight up wind-sprinting. The defense was looking so-so tonight, but it improved greatly from the first preseason game. LeBron looked a bit more locked in on defense even for a pre-season game.
We are still two weeks away from the regular season, but it truly can't come any sooner. I just want to see LeBron out there playing a full game for us with something actually on the line. Odds are Luke Walton won't play him past one half of basketball for the duration of the pre-season. It's the smart move because there's no use in risking an injury early on with a precious commodity like LeBron. But the thought of two incredibly high-IQ players like LeBron and Rondo imparting their wisdom on the young guys has me more than excited for the real NBA season to start. I think if all of the kooky veteran role players are locked in and play close to the potential that they've been pegged as possessing (and the young kids manage to learn at a decent pace), this team is going to be better than a lot of people think. Check out highlights from the game below!