The Houston Rockets had this in the bag up 26 in the second quarter. Harden was hot despite playing with a minor shoulder injury incurred in this very game. The second half was a whole 'nother story though, as Paul George (45-11-3-1, 12/22 FG) did the scoring while Westbrook(21-12-11-2-1, 8/21 FG) filled in with all the hustle and ancillary categories, in addition to sinking the game-winning bucket in a 117-112 win over the Rockets. Dennis Schroeder also went God Mode in the third with some clutch scoring to rally his squad after the outlook for a win seemed nonexistent.
It was a vastly entertaining back-and-forth between two MVP contenders in George and Harden, to which both delivered satisfyingly with dueling 40-point games(Harden had 42-2-1-1 on 11/28). James took advantage of the refs in this friendly hometown atmosphere, but the surging Thunder pulled off the improbable with a 26-point road comeback. Could this be a preview of a second-round Western Conference playoff series to come? If it is, then we're in for a high-volume offensive treat. Check out the Rhythm of the Game and Takeaways below.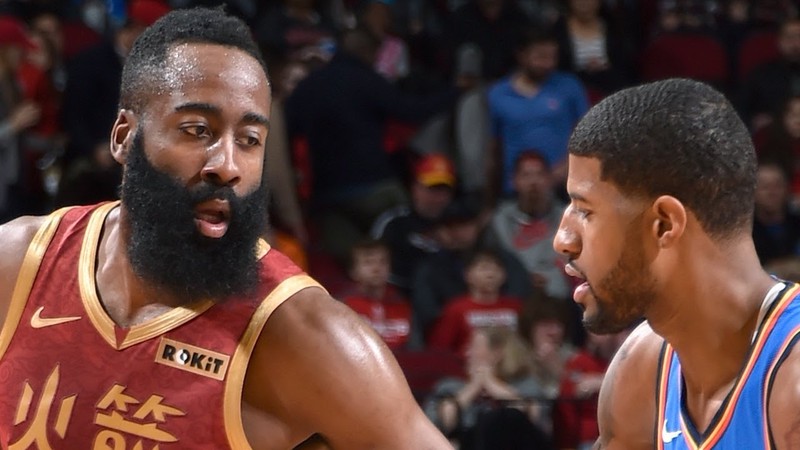 Rhythm Of The Game
This face-off between Western Conference powerhouses kicked off with an exchange of blows from three. Eric Gordon got cooking with two deep triples while the Thunder got predictable production from three in the early going. In the ensuing possessions, James Harden started forcing the issue with his offense. Getting into the lane, drawing fouls and draining close contested three.
At the very start of the game the Houston Rockets seemed like they were trying to get the whole team involved early, but now the plan had been reduced to running everything through Harden. That was probably due to Chris Paul getting a rest, but the Rockets strategy was good enough for a three-point lead at the end of the first, 25-28.
Chris Paul and the bench boys promptly hopped out to a ten-point lead to start the second period. When Harden came back, Houston just let it totally fly from three. They were on the way to burying the Thunder alive if they kept this pace up! Houston was getting some friendly calls from the refs though. They were predictably letting Harden run free and literally push defenders off of him to create space for shots.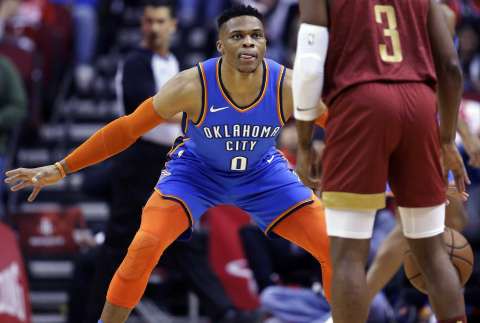 Color commentators Jeff Van Gundy and Mark Jackson remarked that the officials had a rough start to this contest and hey - you couldn't disagree with them. Rockets up huge on the visiting Thunder at the end of two, 48-70. Houston scored 42 points in the second quarter alone and Harden had 25.
Paul George was letting the refs get in his head all first half, which resulted in him having an underwhelming two-quarter outing. He came into the third a little more aggressive offensively and the team as a whole was way more locked in on defensively. Active hands, contesting passing lanes which led to turnovers and points on the other end. As a result, we saw OKC cut it the once twenty point lead down to eleven off a Terrence Ferguson three, 69-80! Finally, this felt like a game again!
The Rockets responded by getting it back over ten, but a few minutes down the road Dennis Schroeder caught absolute fire while Harden sat! He had 13 total points in the game but nine of them in the third alone. It was suddenly a two-point game in the waning seconds of the third, and then a tie game off a Schroeder jumper, 90-90! Third quarter was over and we had ourselves a REAL ballgame!
With a tall, arcing Paul George three at the top of the line, the Thunder took their first lead in the game since forever, 93-92. The Thunder lobbed another three-bomb to go up even more. What a turnaround by OKC! This could've been a prime moment to run away with the game but Houston struck back and came alive! Chris Paul and James Harden took over their main playmaker duties, getting guys like Kenneth Faried involved in the paint en route to recapturing the lead and momentum, 98-101. When it started feeling like the Thunders backs were against the wall, Westbrook tried taking over but it just seemed to result in a bunch of crappy fading bricks.
Paul George needed to take over here, and he did exactly that to tie the game up at 103 apiece. James Harden suddenly became the brickmaster as he tried to get his team over the tie-game hump. He needed to figure out how to get points back on the board, because the Thunder were up five now 108-103. Well in the blink of an eye, Houston's superstars tied it up with a three and two free throws to make it 108-all. We were coming down to the wire here!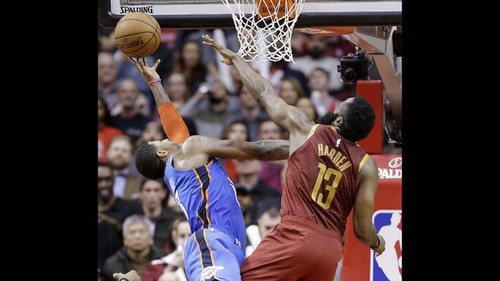 Houston's defense was coming up huge down the stretch. PJ Tucker in particular did a great job of staying with his man after getting slammed by screens and defending the paint from OKC's penetrators. He put several key possessions in Houston's favor with his defense, but a Westbrook free throw made it a one-point game with just over a minute left.
A pair of Paul George free throws then gave the Thunder a one-point lead - but a Harden floater retook it for Houston, 111-112! Then Westbrook split the defense for a bunny of a layup, OKC up again! Harden had the ball with only three seconds remaining, and he bricked off the back rim! Paul George grabbed the board and sank both free throws to make it a three-point game. 3.4 seconds to play and Rockets ball with the game on the line. For their final play Houston inbounded the ball to a curling Gerald Green, who tried to catch the Steven Adams-deflected pass and lost it out of bounds! OKC ball with two seconds to play. The Thunder made their free throws and there was nothing Houston could do. Thunder win 117-112.
Takeaways
I hope these two feisty squads cross paths in the postseason. Russ brings enough fire to a playoff series alone, but having him go against another hard-headed point guard in Chris Paul would be a treat for us all. Last year I wanted the Thunder to make an unbelievable run to the NBA Finals because I deeply dislike the Warriors and am turned off by Harden's foul-hunting style. This year's iteration of the Carmelo Anthony-less, Paul George MVP Thunder seems like a more promising prospect for a deep playoff run.
If they get Andre Roberson back, they'll be even more stout defensively than they already are. OKC used to have the #1 ranked defensive rating in the league, but that title is currently held by the Bucks while the Thunder sit closely by at #3. Roberson has suffered multiple setbacks since incurring that nasty injury last year, his latest coming in the beginning of December. We were last updated by coach Billy Donovan on January 18th that Roberson is still rehabbing but is nowhere near close to returning. The team is hoping he comes back for them this season.
Without Roberson, the team is still equipped to potentially get to the Western Conference Finals. But to beat the firepower of a team like Golden State, you have to have that extra wing defender to make life harder for Klay, Steph, and Kevin Durant. Not to mention, he'd help a whole lot with defending Harden in a potential seven-game series. Hopefully he makes it back to provide that extra force to an already stacked Thunder defense. You still got a top 3 MVP candidate in Paul George, who pitched in 15 huge fourth quarter points in the win.
As for the Rockets, you got to be disappointed as a fan if your team gave up the game when they were up by 26. That's some shit that my Lakers squad would do in the beginning of the season. They're probably getting used to having Chris Paul back in the lineup. Give the Thunder credit for really locking in on Harden at the end of regulation. Russell Westbrook got switched onto him when Paul George entered dangerous territory with his fifth foul. PJ Tucker also gave it his all defensively in the paint, but the Rockets couldn't execute on offense when the opportunities were there. It was an entertaining-as-hell matchup between two MVP candidates and I hope to God they meet in the playoffs